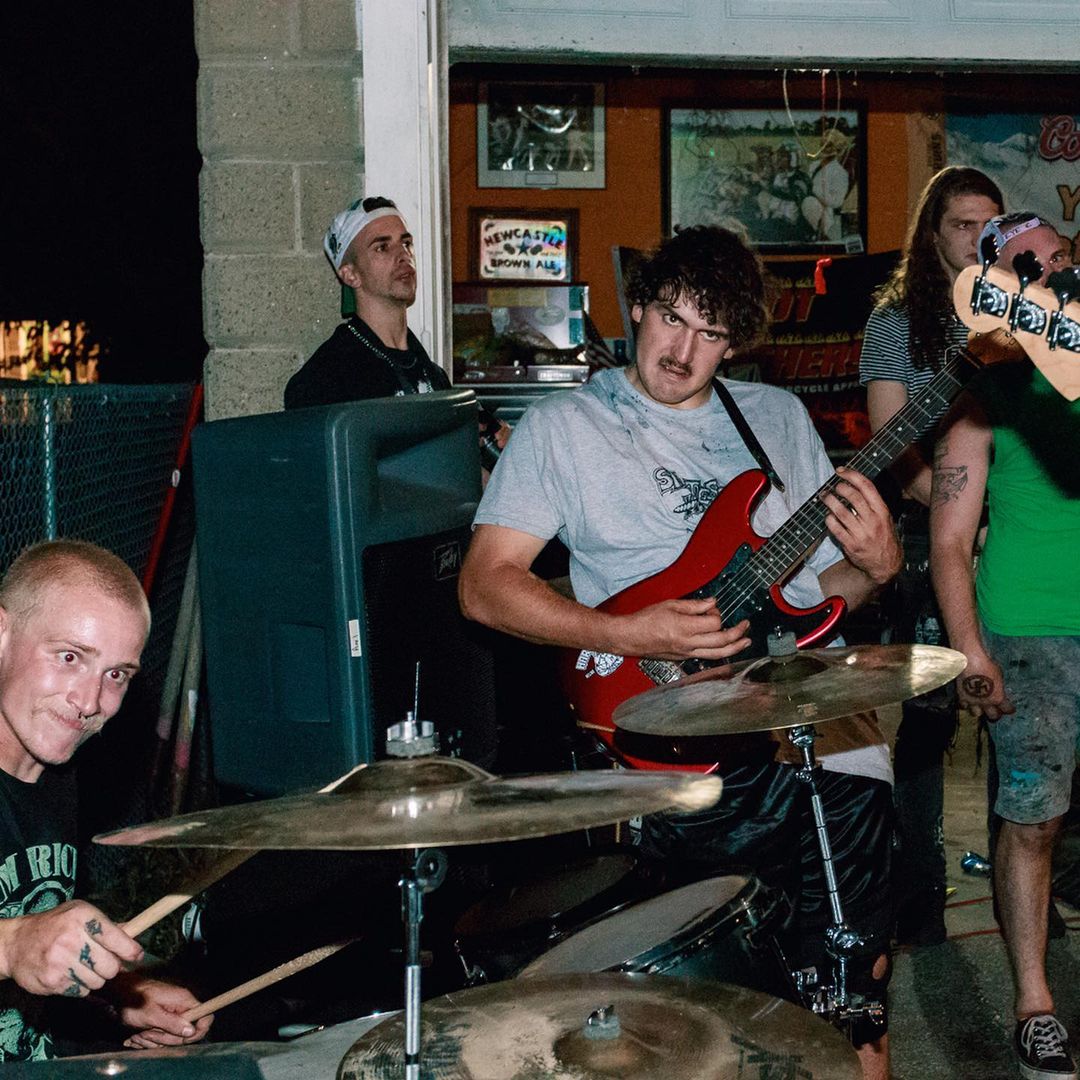 Shit happens in the pit. People leave shows in ambulances, trauma units on their toes. Of injuries in general, I'm told, "Oh yeah, there's been quite a few," as is tradition in the scene where a broken nose is a badge of honor. One such distinction bestowed upon a fellow by the name of Ben who real-casually had his face actual-broken by Sophisticated Adult bassist, Matty. Normal gig.
While the small confines of a basement show in Nashua didn't result in any such casualties, I still left with my fair share of bruises.
Sophisticated Adult is New Hampshire hardcore. Patti (drums), Matti (bass), Zaq (guitar), and Parker (vocals) already have a rabid following. Hailing proudly from Penacook which, call me ignorant, I had to Google to be sure was real.
To be fair (according to a cursory Google search) the population of this village within the city of Concord is 1,273.. maybe the population of a single building round my way.
Whatever the case of their overly north, altogether too-cold origin… the band fucks. In listening I'm made, with slight anxiety, aware of how violent these shows have the potential to be. The sound is warring, pacing, and vicious.
The type of music Sophisticated Adult that bestows upon listeners has super-human crowdkill strength. The kind of internal alarm you feel manifesting in your quickened pulse. The resultant fight-or-flight being a surefire way to know, as a band, you are doing something right.
Sophisticated Adult started as "jamming in high school" for drummer Patti and guitarist Zaq. I'm told that initially, their music-making was a jazzier affair. You catch a glimpse of this history at the start of track People Person from 2019 debut release, Entertainment.
Of their start, Patti says, "We played music together forever but never really had a band. We didn't really start doing it seriously until about 2018/19." The duo then "forced" various members into their current positions, making up the line-up you might now come across in a stranger's basement.
Of the genre, hardcore and punk seem to be the most commonly bestowed labels. This is certainly on-brand for the energy of the room during sets. There are though, not-to-be-missed drippy/sludgy moments like that in track "Doomed With a Spike" that, despite a slowed pace, offers no relent as riffs continue to taunt snarling predators into stage dives.
The gang is on-target, serving a third release in just as many years with just-dropped, Protect Your Face. As vicious as ever, and so good. The album came out on Xmas Eve and is available as a download and CD with records soon to be added.
Sophisticated Adult is most active on their Instagram where you can catch show details and pertinent announcements. If you can make it out to their next show, do it. The crew plays New England often. Bring pads if you're soft.. and maybe the card for your health insurance.
***
Help Support What No Echo Does via Patreon:
***
Tagged: sophisticated adult