Featuring musicians from such bands as Wisdom in Chains, Edgewise, and Floorpunch, the last No Echo heard from Nowhere Roads, they were gearing up for the release of their 2018 debut EP, Toil Every Second. Since then, they've kept a consistent live schedule, and most recently, got into a union with a new label. Yes, the East Coast hardcore unit is now part of the Safe Inside Records roster.
"I think I reached out to Burt [Jenkins] well before we spoke about putting out records," says Nowhere Roads vocalist Keats Rickard. "I was pretty into the Clear Focus record, as well as Pain Strikes, and I think I just hit him up to say congrats on putting those out. At some point, I think he knew the situation with CoinTossRecords (which we were on), so he reached out and we started talking about what our next release was looking like. We we're stoked because Safe Inside has been doing some really awesome shit, and not only is Burt a really cool guy — he's genuinely into it. It's a really cool thing because Burt has been in bands, and in/around hardcore for a while, so he knows what's up. So to be a part of that is an honor."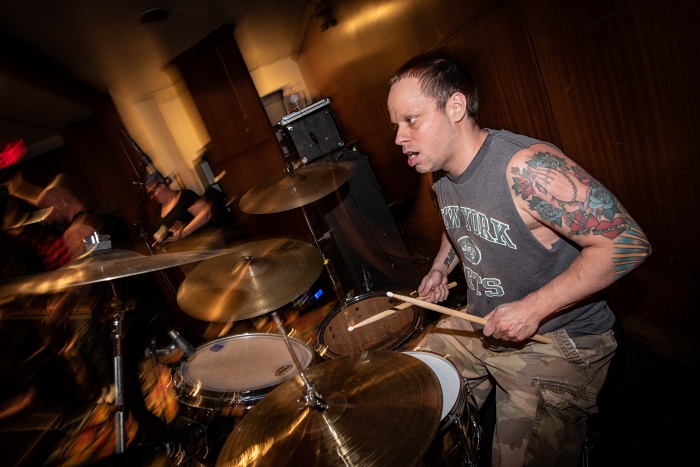 The first taste of the Nowhere Roads/Safe Inside Records partnership comes in the way of a new track entitled "Prosper." Keats gives up the details: "'Prosper' is basically a commentary on current social/political climate. The chorus — "we'll run through fire, burning ourselves to live" — is an important line because metaphorically, it can represent so many things. One is that so many people are fighting for something, steadfast, and are willing to harm themselves and/or others to be a part of, or 'be' or 'get' that thing their fighting for. It's generally a losing battle in many ways, yet they still charge into battle. In the United States, there are so many different sides, but the chips are seemingly stacked against 99% of them."
So, what is the next step now that Nowhere Roads have a new label behind them? "Right now, we have a flexi (and digital) coming out in a couple weeks. It's called Waiting and it has 3 songs on it, one of which is 'Prosper.' The next step (I believe) is to do a longer EP (5-7 songs) for release early next year and again play more shows.
"We might drop something small like a single in between the flexi and next year's release. We'll play shows to support that and we're also looking into some possible tour opportunities as well, but nothing is in stone, so no specifics on that yet."
Featuring cover art by Chris Smith of Grey Aria Design Studio in Pittsburgh, the Waiting flexi will be out soon via Safe Inside Records. Follow Nowhere Roads on Facebook and Instagram for more info.
Tagged: floorpunch, nowhere roads, wisdom in chains