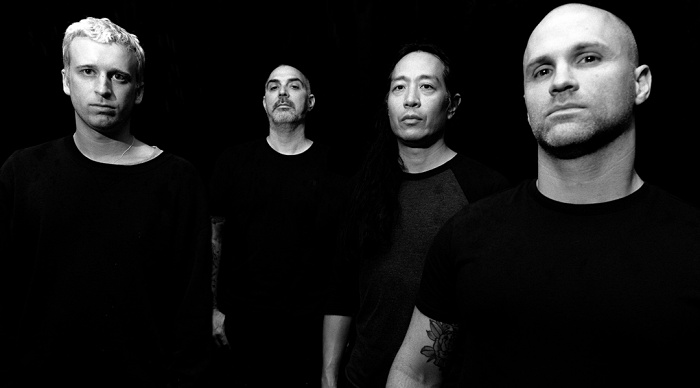 Tooth and Claw hit the scene with the aptly titled "Arrival" back in August and, as expected, No Echo was all over it. Considering the bonafides of the various members features such straight edge exemplars as Earth Crisis, SECT, Magnitude, and others; that shouldn't come as a surprise. Loathe though I am to use the dreaded "supergroup" tag, there are few better ways to pitch a project that arrived so fully formed.
As previously touched on, it was last year's initial shelter in place order that allowed for the long germinating project to bear fruit. This spring, we at last get to sample that ripened rage.
Having already dropped two superlative lead singles for the album, it's the most recent "Seventy Times Seven" that's had me ravenously awaiting the Good Fight Music debut full-length record, Dream of Ascension. With such a proven punk pedigree comes certain expectations and they're more than met. Replete with the bludgeoning chug of Earth Crisis and dovetailing metal leads of Undying (yet another of the members killer past lives), Tooth and Claw's greatest strength lies in their deviation from past works.
Though their "day jobs" always eschewed the heavy handed tropes of lesser edge bands, this band is instantly recognizable as more inward looking and, dare I say, cerebral. With a moniker pulled from Tennyson's masterwork "Nature Is Red In Tooth and Claw" and our Song of the Day that pairs numerology and symbols with crushing bleakness. Paired with an artfully rendered video, it typifies the band's fully formed mission. As they're based predominantly out of North Carolina, save a Texas member, live shows could certainly be in the cards for these heavies.
Despite the upfront, blunt-force groove of their previously released tunes, "Seventy Times Seven" opens in a moody haze. It quickly unleashes something a bit more primal, owing a debt to the stripped back vibe of Florida death peddlers Obituary and the unrelenting breakdowns littered across Destroy the Machines. That said, Tooth and Claw bring a bottom heavy assault that'd sound absolutely killer in a "big room" setting and litter the track with subtle flourishes rarely found across the varied discographies.
After a minute or so spent reveling in a half-time onslaught, there's an exhilarating and quickly fleeting run of panned riffs and furious drumming. Atop it all are masterful guitar runs that weave in and out, perfectly adorning vocals that call to mind Asphyx's Martin Van Drunen or Misery Index's dual throated approach as opposed to any hardcore barker.

At the 2-minute mark, there's a ripping solo that's as emotionally fraught as it is technically impressive.
Tooth and Claw again set the project apart with expertly employed spoken word buried just below the surface of the mix. As the song reaches its stunning conclusion, the vocals fade out painfully with a scream that feels as if it's being choked of life.
Tennyson also once wrote ".., into the jaws of Death, into the mouth of hell, rode the six hundred." Tooth and Claw could very well be the soundtrack of such a doomed and bloodied journey. Get on this now.
***
Dream of Ascension is out on May 21st and is available for pre-order on CD directly from Good Fight Music, and the label's Bandcamp page.
***
Help Support What No Echo Does via Patreon:
***
Tagged: tooth and claw