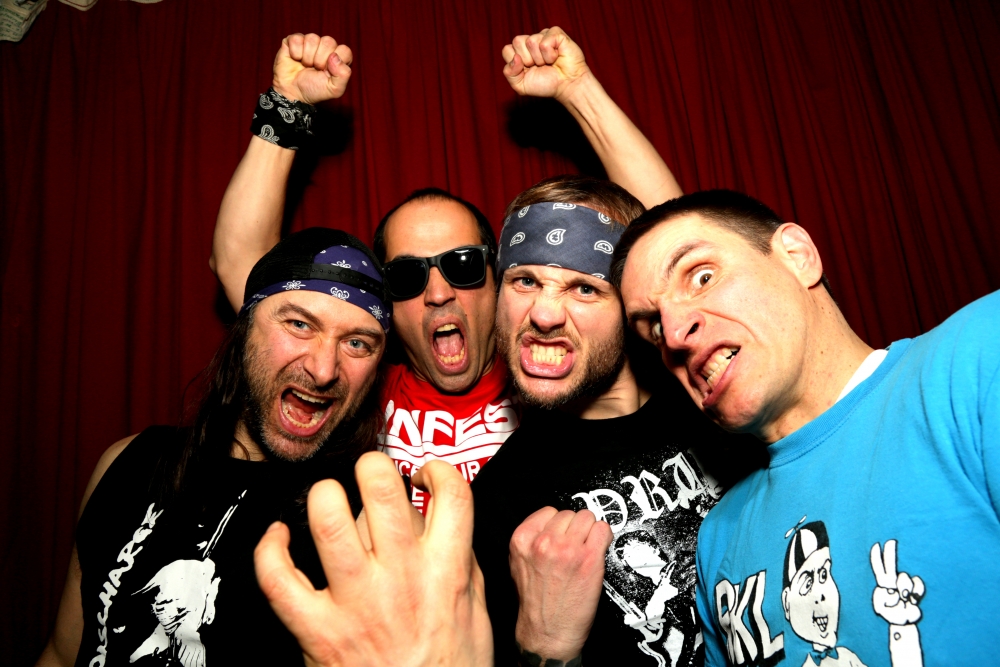 Vitamin X has been around since 1997, an eternity in hardcore. When I bring this up to guitarist Marc Emmerik, he laughs and then offers: "Well, the main thing is that we're having a lot of fun playing the music we love! Playing shows and seeing people singing along and going crazy in the pit gives us so much energy! Besides that, we're still progressing and growing. Musically, we still find a way to keep it fresh and exciting, and all of our albums have their own sound. We're also still getting more popular, playing bigger shows, reaching new audiences, etc."
Marc isn't kidding. Vitamin X's last album, 2012's About to Crack, found the Dutch thrashers reaching new audiences thanks to a combination of great tunes, hard touring, and the promotional push of Scotty Heath, the owner of their previous label, Tankcrimes. Since then, Vitamin X have inked a deal with Southern Lord, a record label who that has helped put bands like Power Trip and Nails on the map in a big way.
It turns out the Vitamin X and Southern Lord connection goes back a bit. "I personally have known [Southern Lord owner] Greg [Anderson] for a long time, and we had/have a lot of mutual friends and a mutual love for different styles of music. His band, Goatsnake, featured Guy [Pinhas], who was a good Amsterdam friend of mine. Just like Vitamin X, Greg originally comes from the straight edge hardcore scene, playing in bands like Brotherhood, False Liberty, etc., which makes him even cooler!"
That takes us to Age of Paranoia, Vitamin X's forthcoming debut for Southern Lord. Since I know people, I got my filthy hands on "Modern Man," the blistering opening cut of the album. I have to bug Marc for some insight into the song. "The lyrics are the starting point of a bigger theme; the age we're living in, is an age of confusion and paranoia. You could say its a concept album [laughs]. More than ever, we're controlled and affected by media, technology, mobile devices, Internet, social networks, governments, politics, climate change, pollution, fake news, etc. 'Modern Man' is a sarcastic song in which we wonder if our so-called 'progress'' isn't actually 'regress.'
Marc continues: "It's also about people who are only interested in their phones instead of participating in the world around them. Oh wait, they're also interested in drinking expensive coffee and selfies! Musically, the song features what Vitamin X is all about: short, fast, ripping leads, some sing-a-long parts, and everything is catchy as hell!"
As evidenced in the track above, Vitamin X's sound lends itself to have the band play on everything from punk to metal to hardcore shows. I ask Marc if there's a specific energy for each of those crowds that feels different when they're performing. "Well, usually we perform in front of a mixed crowd; there's people from all kinds of genres at our shows, and they all love it. I think nowadays everything is mixed anyway; people walk around with Black Sabbath and Black Flag patches. We do play festivals like Hellfest, in front of 20,000 people, but we play every show with the same energy. Even when the stage is too high, we jump off. Only at Hellfest the stage was so high, I couldn't get back on," laughs the guitarist.
Age of Paranoia will be out on LP, CD, and digital formats on May 18 and can be pre-ordered via Southern Lord.
Vitamin X tour dates:
5/03/2018 N8 Lounge - Bonn, DE
5/11/2018 Unies Sont Nos Cultures Fest - Lorient, FR
5/12/2018 TBA - Paris, FR
7/06/2018 Flugplatz - Zwickau, DE
7/07/2018 RIIP Fest - Tours, FR
7/14/2018 Woodstick Fest - DE
8/03/2018 TBA - Wroclaw, PL
8/04/2018 Novy - Jicin, CZ
8/05/2018 TBA - Bratislava, SK
9/07/2018 Chimpyfest -, London, UK
9/14/2018 Punk Rock Weekend Fest - Stockholm, SE
9/15/2018 TBA - Troisdorf, DE
Tagged: vitamin x