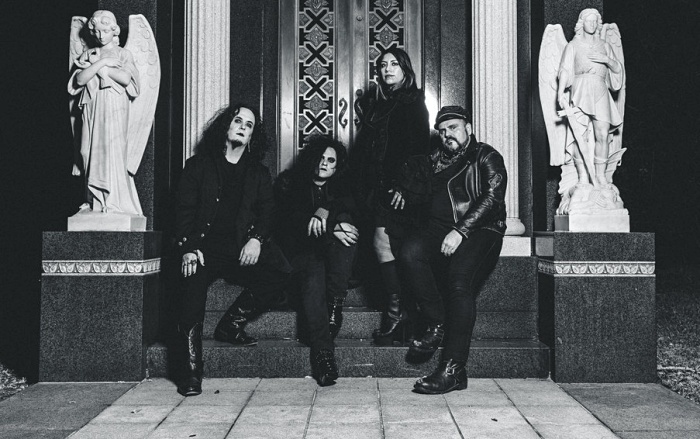 My friend Damien Moyal recently tipped me off to a Florida band called Obsidian that he had recently discovered and felt I might dig. He was right. Listening to the Florida group's late 2019 EP, Living Dead, I was instantly hooked into their driving take on goth, death rock, and post-punk. Plus, there were hooks to be found throughout its 6 songs, an aspect that's very important to me and my listening habits.
No Echo usually doesn't tread into this lane of music, but I wanted to help spread the word about the band anyway, so I spoke with Obsidian vocalist/guitarist Missy Mortis to get the skinny on what they're all about.
Give me the backstory on the formation Obsidian.
Obsidian was started after I had attempted suicide. The band is named after a rock specimen I had used to cut myself open with after a really depressed drunken/cocaine bender. The band was started as an outlet as well as a recovery for my depression with other people in the South Florida punk scene, such as Chuck Loose from The Crumbs, formerly of Lookout! Records.
How would you describe the band's sound? I would imagine most people refer to you as a goth band of some sort, but I would love to dig in further into that and your shared influences.
I would say our sound is definitely goth, darkwave, or deathrock. However, I feel our previous EP, Living Dead, focused more on our early hardcore and deathrock influences. We are greatly inspired by punk and try to bring our musical experience and origins into doing darkwave and goth music.
I'm personally inspired by a lot of post-punk, new wave from the '80s, and even Prince and the Revolution. I feel this may be why a lot of our songs are very lead guitar-driven and synth driven. The fact that we use a live drummer instead of a drum machine, I feel, gives us a different dynamic from our genre piers.
With all that in mind, how is South Florida for a band like Obsidian? How has your local scene received you?
South Florida has honestly been a great launching point for us. It is difficult to tour out of due to being so far out of the way on the Southeast trapped in a touristy swamp, but it has a pretty decent sized live music scene and even goth scene. I feel that we have been received very well locally and have experienced a lot of support from our scene and community which is really helped us push forward.
What are some bands you guys feel a kinship with, local or not?
Locally, we feel a kinship with bands like Denudes, Laboratory, Astari Nite, Donzii, Ghost Flower, and Hijas De La Muerte. Other Florida bands like Alien Witch, Le Montro, and Mother Juno, as well as other bands outside of our state like Sonsombre, The Kentucky Vampires, and Scary Black.
Tell me a bit about the latest Obsidian release.
Our most recent release, "Eros, Hypnos and Thanatos," is a single which is a breakup song that I wrote about an ex lover and the grieving process and reflection of dealing with such trivial things in retrospect along with handling the depression and substance abuse I was going through at the time and how it was reinforcing a toxic mindset. I essentially wrote the song by layering various riffs in A minor with the intention of causing anxiety inducing tension with how long it takes for the song to build up into a chorus.
I remember before recording the song I had intentionally stayed up all night partying to blow my voice out so it would have a harsh rasp and intoxicated slur to it.
Before I let you go, is there anything else you would like to push?
This band hosts a local monthly, some time bi-monthly, event called The Witching Hour Showcase, which focuses working with live gothic music/bands with the goal in growing and maintaining a safe and healthy live music scene for our subculture.
Obsidian on social media: Facebook | Instagram | Bandcamp
***
Donate a few bucks to help with No Echo's operating costs:
Tagged: obsidian