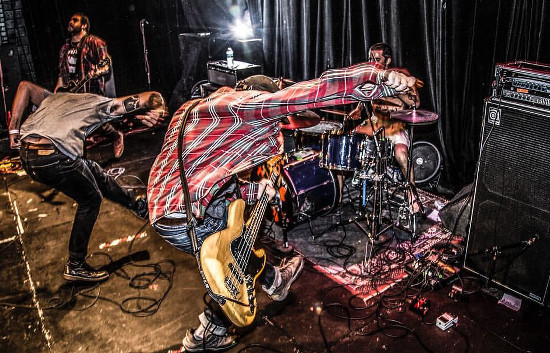 Last year, I posted a list of 12 newer hardcore bands I thought were worthy of your attention. It proved to be a success, and along the way reminded me that helping to turn people on to good music is why Andrew and I started this site in the first place back in 2014. So, in that spirit, here's my list of some of the bands in the hardcore realm that you should dig into in 2017.
Dead Heat (Oxnard, CA)
Dead Heat got on my radar while I was compiling this list thanks to their four-song demo that just showed up on Bandcamp a few weeks back. Mixed and mastered by Nick Jett of Terror, the demo finds the brand-new band firing on all cylinders with a sound that is influenced by East Coast metallic hardcore (Merauder, Biohazard, and Leeway come to mind). Hopefully a proper label steps up to the plate and snatches these guys up soon!
Lower Species (Olympia, WA)
The Breakdown and Outburst worship on Lower Species' demo/7" is real. They certainly aren't the only hardcore outfit doing this kind of thing, but these dudes are hard to beat. If Lower Species manages to get a full-length out in 2017, we could have another hardcore classic on our hands. Oh, and before I move on, make sure you forward to track #4 to hear some Leeway tribute action during the intro.
SEE ALSO: Interviews with members of Dmize, Charles Bronson, Shai Hulud, Unbroken, Sheer Terror, Undertow, Gorilla Biscuits, and more.
Concealed Blade (Pittsburgh, PA)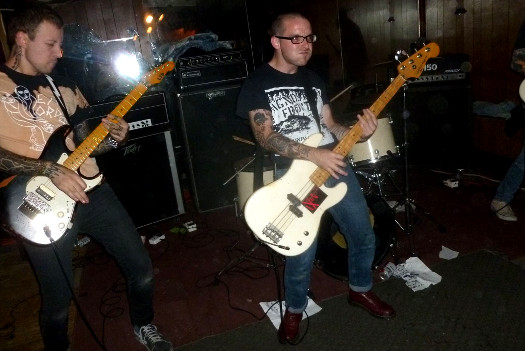 Pittsburgh's Concealed Blade is comprised of a nasty-sounding crew of miscreants. The vocals are particularly vicious, with an almost Infest-like approach in their attack. If "Euthanize Me" is any hint of what their upcoming eponymous 12" is going to be like, we're all in for a pummeling.
Krimewatch (New York City, NY)
Upon first listen, what instantly pulls your focus about Krimewatch is Rhylli's shouty vocal lines. Her manic style is a perfect partner to the band's punk-leaning jams. Rhylli sings some of Krimewatch's songs in Japanese, but no matter what language she chooses, her powerful delivery insures that her point always gets across.
Abuse of Power (Atlanta, GA)
While tipping off No Echo readers about the band in early 2016, my partner in the site, Andrew Aversionline, described Abuse of Power as "a mix of Judge via Mouthpiece plus a dash of Outspoken or early Strife," and he nailed it. Simply put, if you're a fan of any of those acts, you need to dig into this Atlanta combo.
SEE ALSO: Best Post-Desperate Measures Leeway Songs
Ponor (Zagreb, Croatia)
The members of Croatia's Ponor prefer their hardcore to be of the dark and metallic variety. Though it has a cleaner production sheen to it, the band's Ovo je Kraj album from late 2013 sounds like something that could have come out on Dark Empire back in the '90s. Ponor have a new record dropping this year, so keep your eyes peeled for that if you're a fan of bands like Pulling Teeth and Integrity.
Lock (Los Angeles, CA)
One word comes to mind when describing Lock's sound: raw. The California four-piece goes about things with a relentless spirit that seeps into every aspect of their songwriting and performances. The word on the street is that Lock has joined the Triple-B Records family, so get ready for an official release from the group in the near future.
Hotheads (New York City, NY)
Featuring musicians who have also played in such bands as NYC Headhunters, Shovelhead, and the aforementioned Krimewatch, Hotheads write straightforward hardcore that packs catchy hooks within each cut. Any good hardcore band from NYC worth anything knows how important a kickass intro is, and on Hotheads' recently released demo cassette, they drop one called "Make it Hotro" that should get any of their shows off on the right foot.
Drug Control (San Diego, CA)
Drug Control is a San Diego straight edge band that keeps their songwriting approach in line with second wave hardcore bands like Judge and Youth of Today. The breakdowns are hard and appear frequently throughout their recorded output to date. The group will start 2017 off with Stabbed, a new joint-label (New Age Records in the States, Straight & Alert Records in Europe) 7" that is Drug Control's tighest material yet.
SEE ALSO: Best Song on Every Sick of it All Album
No Pueden Matarnos a Todos (Santiago, Chile)
Translated from Spanish to English, No Pueden Matarnos a Todos means "They Can't Kill All of Us," and the name is as ominous as the sound of the band that chose it as their moniker. Featuring singer Juan Francisco, a former member of '90s straight edge band Distancia, the Chilean quintet's new Hablar en Lenguas EP marries fast-paced rhythms with dissonant guitar riffs and screamy vocals that often layer on top of each other. Hopefully NPMAT can get some attention outside of Latin America in the coming year.
Absolute Power (New York City, NY)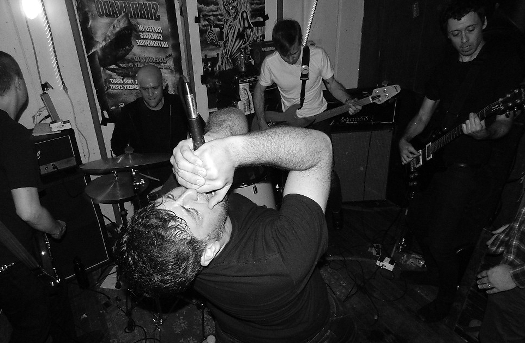 With Mark McCoy (Charles Bronson, Das Oath) within their ranks, you know Absolute Power is going to be on some seriously heavy shit before you even hear them. Their 2016 debut album is a rager that borders on powerviolence due to its unforgiving speed violations, and frontman Chris O'Coin's unhinged vocals are just as aggressive as the riffs they're piercing through.
Momentum (Los Angeles, CA)
Mouth-watering guitar riffs abound on Bliss, Momentum's recently released debut EP. The groove patterns sprinkled throughout its six tracks also contributed to Bliss getting a ton of repeated plays on my computer in the last month or so. The opening acoustic section on the song "Sundowner" is the kind of epic intro that used to show up on Bay Area thrash albums, so that's another sign these young men clearly have great taste.
Other Hardcore Bands to Watch Out for in 2017:
Tagged: 12 newer bands to check out, absolute power, abuse of power, concealed blade, dead heat, drug control, hotheads, krimewatch, lock, lower species, momentum, ponor