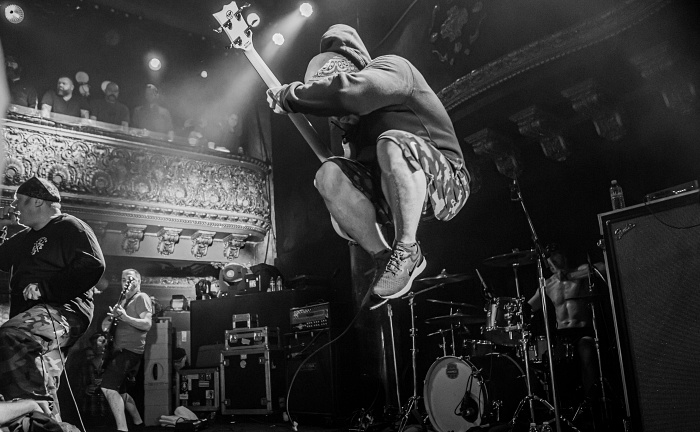 Last year, one of the few shows I got to attend before the world got sick was the Los Angeles installment of the California Takeover in Los Angeles. The bill was headlined by the triple-shot of Earth Crisis, Strife, and Snapcase, the same bands that played the original 2 California Takeover shows from 1996.
Earlier this week, it was announced that the 3 groups will be bringing the California Takeover to both Buffalo and Philadephia this coming October.
In this No Echo exclusive, I chat with members of Strife, Snapcase, and Earth Crisis about last year's installment, and the 2 shows coming this fall.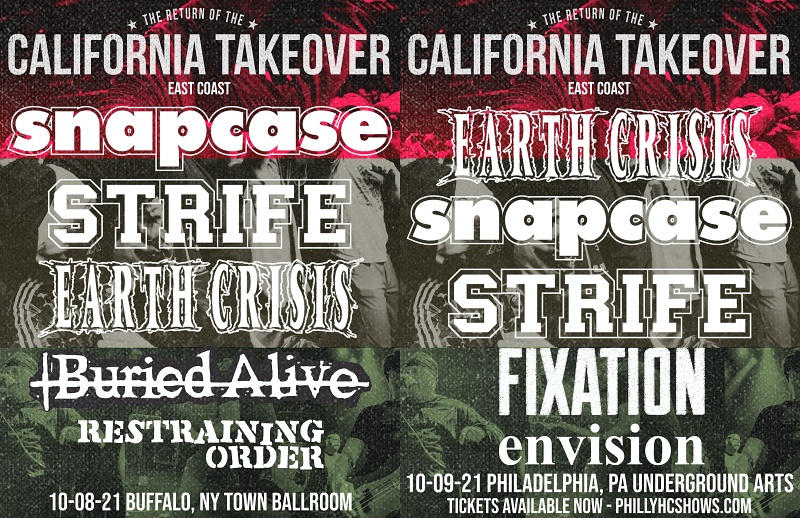 Was there ever discussion about mounting an East Coast version of the California Takeover when you first did it back in 1996? When did you begin to put these new shows together? Had you planned on doing it last year but then COVID happened?
Andrew Kline (Strife): In the '90s, Strife, Snapcase, and Earth Crisis played a lot of shows together... Always on the East Coast. The 3 of us even played a show (with Lifetime) in Josh Grabelle's basement! I think the original idea of the California Takeover was based on the fact that the 3 of us played together so much on the East Coast but never on the West Coast.
Our drummer at the time, Sid [Niesen], had the idea of bringing Snapcase and Earth Crisis out to the West Coast for two shows and recording it for a live record. We convinced Victory [Records] to make it happen, and had Dave Jagosz, who recorded One Truth, record the live sets. The rest is history!
The California Takeover shows were late February 2020, and were many people's last show before the lockdown. We definitely had the idea of bringing the California Takeover to a few more places, but obviously that all came to a halt.
We are happy that everyone's schedules aligned and that we were able to get these new shows booked. They are going to be a blast!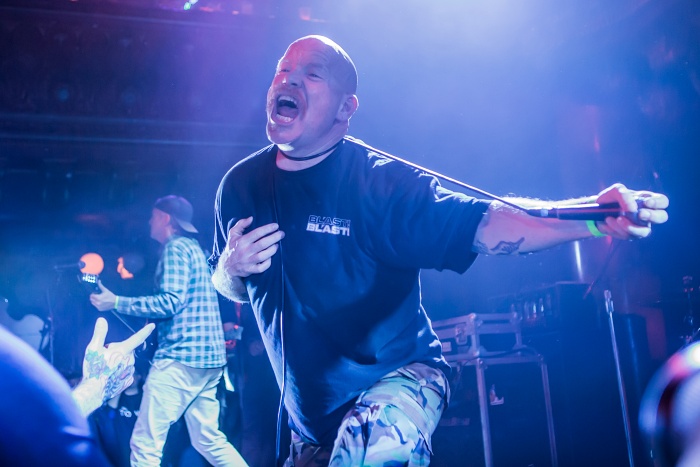 Daryl, I was at the Los Angeles show last year and you had both Davey Havok (AFI, Blaqk Audio) and Aaron Bruno (Awolnation, Hometown Hero) join you on stage. Was that a spur of the moment kind of thing, or did you have it planned on way in advance? Can we expect any guests at the 2 upcoming shows?
Daryl Taberski (Snapcase): With Davey he was just up front in the crowd dancing and singing along (because he's awesome like that) so after seeing him I just asked him to come up on stage to jump in on back-ups for "Caboose." It was fun, we had played a bunch of shows together in the mid to late '90s.
With Aaron we had talked a few days earlier and discussed him singing "Drain Me" which he had done once before. He was in a hardcore band called Insurgence back in the day and ours bands would hang out at and away from shows when we were in California.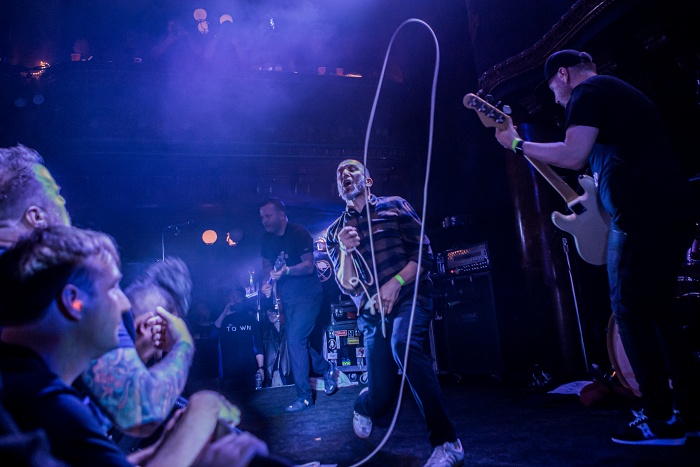 These upcoming shows are happening in Buffalo and Philadelphia. Tell me a bit about Earth Crisis' relationship with those cities. Since you've been playing them going back to the '90s, I'm sure you've had some great shows there, and also have made lasting friendships throughout the years.
Scott Crouse (Earth Crisis): Being from Syracuse, Buffalo was a sister scene to us. A lot of Buffalo bands played Syracuse often, and some of my earliest shows were seeing Buffalo locals like Zero Tolerance, Snapcase, and Slugfest.
Also, our drummer, Dennis [Merrick], is a Buffalo native. When Snapcase suggested making one of these a hometown show for them, it made a lot of sense considering one of our members lives there as well.
Philadelphia truly is a second home for Earth Crisis. Some of our best shows were at The Trocadero back in the '90s, and then when Joe Hardcore and Chris [Striegel] started booking there, they've always treated us very well.
Philadelphia has shown us a lot of love over the years, and we are happy to give back a little by choosing them to host this show. Also, I feel like it's the perfect location since it's 2 hours from NYC and DC, it's easily accessible from the northeast and the some of the south too.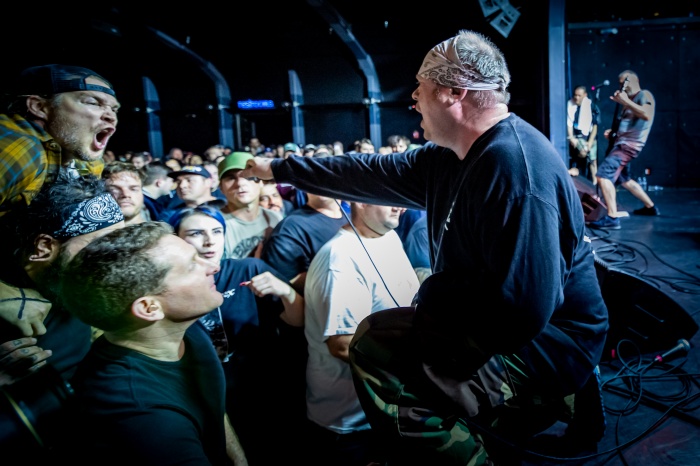 You guys recorded the LA show for an upcoming album, The Return of the California Takeover. How did that come together?
Andrew Kline (Strife): When we announced the West Coast shows, our old friend Aaron Bruno (Awolnation) approached us about recording the show for a new California Takeover record. His old band, Insurgence, actually played night 2 of the original California Takeover at the Showcase Theatre.
I reached out to all of the bands and every agreed to make it happen. The record was produced by Aaron Bruno and Eric Stenman and engineered and mixed by Eric Stenman. My good friend, Arthur Rizk (Sumerlands, Cold World), mastered the record. I tapped Linas Garsys to do the art and the record will feature a 24X36 poster as well.
How does this new record differ from the original The California Takeover... Live album that Victory Records released back in 1996, and when will it be released?
Andrew Kline (Strife): The new record features 4 songs from each band, and like the original features some in between song banter. The set list is totally different, and features songs from across all three band's discographies. The Return of the California Takeover is set to be released at the end of October on WAR Records. I couldn't be more excited to be releasing a record like this on my label!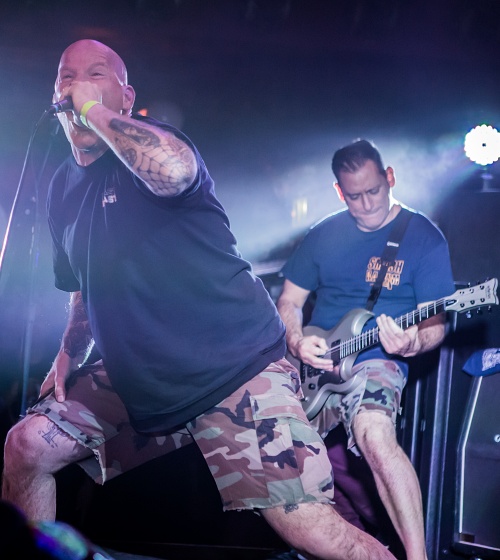 Outside of California Takeover, have you guys been planning out some more shows/touring? Also, can we expect any new music from Snapcase in the near future?
Daryl Taberski (Snapcase): Nothing planned right now, we were lucky to play those California Takeover shows right before COVID hit and didn't have any next steps planned. These upcoming shows were put together on short notice but should be really fun to make it happen again!
As for new music, we've put together some new songs (or parts of new songs) over the years but haven't stuck with it enough to complete them and go into the studio. Some of us also have other projects/endeavors that we're working on.
What's on deck for Strife for the rest of 2021 and early 2022? Have you guys been able to plan stuff out in advance now that shows/tours are back in swing?
These upcoming shows are the first that we have booked. We started working on a new LP, and we are hoping to get that wrapped up before the end of the year.
***
Tickets for the California Takeover 2021 shows are available now:
October 8 @ Town Ballroom, Buffalo, NY w/ Buried Alive, Restraining Order (tickets)
October 9 @ Underground Arts w/ Fixation, Envision (tickets)
***
Help Support What No Echo Does via Patreon:
***
Tagged: earth crisis, snapcase, strife