The last time Alison Braun was featured on No Echo, it was via our Photographer Spotlight series back in 2018. This time out, we're here to celebrate the Los Angeles native's, In the Pit: Photography by Alison Braun 1981-1990 (available here), her essential new book that deserves a spot in your hardcore punk library.
Comprised of 86 pages featuring pics from her favorite portfolio photographs and flyer art from the '80s. Some of the bands included in the book include Bad Brains, Wasted Youth, Social Distortion, Black Flag, 45 Grave, Soundgarden, Misfits, and many more.
In this No Echo photo feature, Alison chose a few photos from In the Pit, along with her memories of the show.
***
Bad Brains
Westside Community Center, Santa Barbara, CA - 11/26/86
"5 years I was chasing him around the stage, missing every single shot. I was always about 1 second off. He was a whirlwind, a tornado and like a candle blown out switched off he could stop in a midair thrash and land on a reggae vibe like no other. That was HR and my 5-year struggle to capture a decent shot of Bad Brains live.
Every time they would tour through Los Angeles, I would show up hoping to capture something that would tell a story of that very moment when all hell broke loose."
Discharge
Florentine Gardens, Hollywood, CA - 10/02/82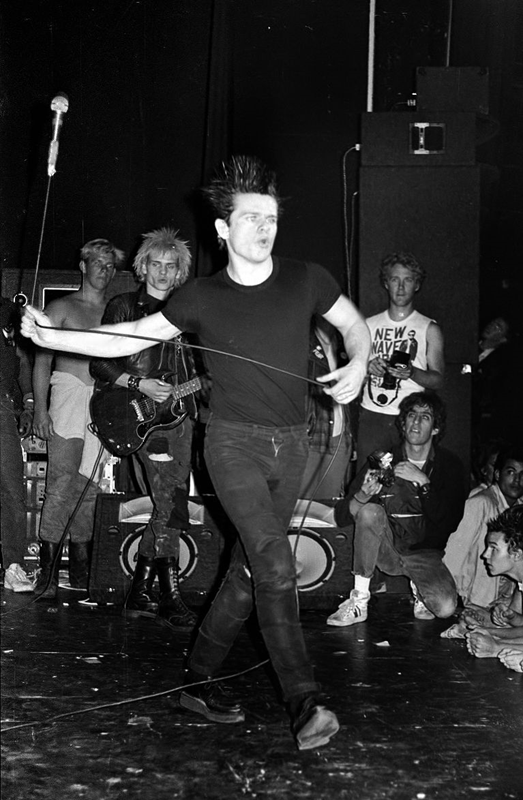 "There are times a crowd goes nuts, and then there are times that they are so mesmerized that they look on in awe. Being a fan of the music, I knew what to expect from the sound but was completely blindsided by the fury.
"Then there was the swinging mike cord. Around and around in a huge angry ring. That at one point came so close to my head, it nearly touched my hair. Damn that was close. I dodged the next upswing and moved closer."
7 Seconds
Lazaro's Ballroom, Los Angeles, CA - 12/19/82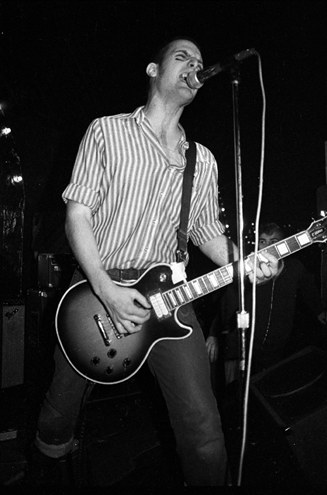 "Los Angeles was full of old dance halls. It was easy to find a building but not easy to get the manager to agree to rent their facility for a punk show. I was also under 18 and as a minor was probably prohibited from legally entering a rental agreement. My friend Jorge Newberry was over 18 (barely) and we partnered on finding a hall for a show.
"Lazaro's Ballroom was located at 10th and Vermont and still had the quinceañera decorations up from their last event. It was perfect. Lazaro was the owner was very specific he didn't want punk (apparently that episode of CHiPs scared more people than I thought).
"Reflexively, both Jorge and I blurted out it's not punk but new wave music in unison. With a handshake and a short rental agreement we were done. The show was wildly successful and marked 7 seconds first time playing in Los Angeles."
GWAR
Country Club, Reseda, CA - 09/01/89
"I normally like to shoot bands from the stage with a wide-angle lens. The intimacy adds to the energy of the moment. GWAR was a wholly different beast. It got messy. Really messy, fast. Weird liquids, blood, and people were flying from the stage. A woman was lowered into a giant meat grinder.
"I moved to the side of the stage to watch the intricacies of the performance choreographed like a Broadway musical, until me and my camera were splashed with goop. My hair was sticky, and my camera was wet. Was it worth the effort? Of course, it was."
Descendents
Godzilla's, Los Angeles, CA - 01/14/82
"It was a night at Godzilla's, Descendents were playing, and I was getting out of my dad's car. Right in front of the car is a big fight. Not just a pushing match but a real Donnybrook. One dude sucker punches the other and he hits the ground, whereupon the other guy starts kicking him with his boots. My dad yells something and gets out of the car. (My dad carried a 38 in a holster on his belt.) I am beyond embarrassed.
"Stan (dad) gets in the middle of the fight and starts yelling in his best Brooklyn accent: 'If you want to fight, fight like men and have a fair fight!' He took issue with the guy getting kicked while he was on the ground. And you know what? those numbskulls listened. That was my dad, Stan Braun"
***
In the Pit: Photography by Alison Braun 1981-1990 is available now via No Plan Records at this link.
***
Help Support What No Echo Does via Patreon:
***
Tagged: bad brains, book, descendents, discharge, gwar, social distortion