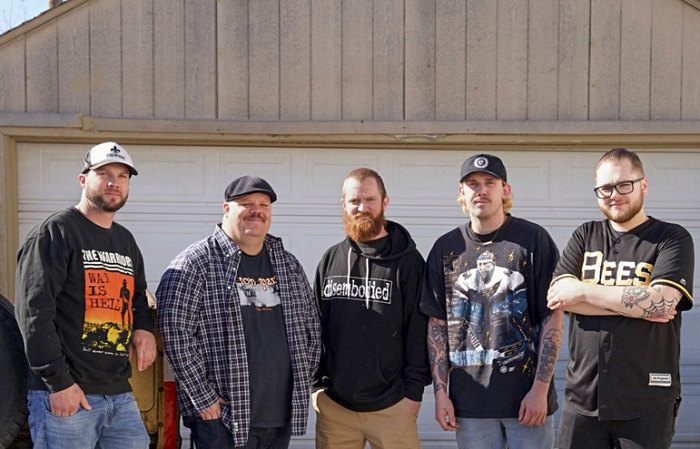 Starting back in the late '80s, Salt Lake City has produced such hardcore bands as Insight, Clear, and Triphammer. The origins of Crow Killer can be traced back to Aftermath of a Trainwreck, Cool Your Jets, and Close Grip, three other underground outfits from Utah's capital city.
Fusing together a metallic hardcore sound that brings to mind the H8000 scene (Congress, Liar) and the heavy mosh of groups like Detain and Vamachara, Crow Killer have previously released an EP entitled Becoming an Object of Fear in 2016, also appearing on the This Is Hardcore bill a year later. The band spent the winter of 2019 working on their forthcoming debut album, Enslaved to One, which will arrive in stores this coming spring.
New Age Records will be issuing the Crow Killer album and just hooked No Echo up with the premiere of "Bring Back the Blood," a track from the LP. The song features guest vocals by David of Sanction and Megan Golden:
Crow Killer will be heading out on the road in March with Sanction, See You Space Cowboy, Vamachara, and Typecaste. Check out the dates below and give them a follow on their social media pages (Facebook, Twitter, Instagram) for more info on the forthcoming album and other live dates.
Tour dates:
03/06/20 . Salt Lake @Kilby Court
03/07/20 . Denver, CO @Lost Lake
03/09/20 . Kansas City, MO @ Davey's Uptown
03/10/20 . Iowa City IA @Gabe's
03/11/20 . Minneapolis MN @Whiskey Junction
03/12/20 . Chicago IL @Cobra Lounge
03/13/20 . Detroit MI @ The Sanctuary
03/14/20 . Toronto ONT @Sneaky Dee's
03/15/20 . Montreal QC @Bar Lee Ritz
***
Donate a few bucks to help with No Echo's operating costs:
Tagged: crow killer