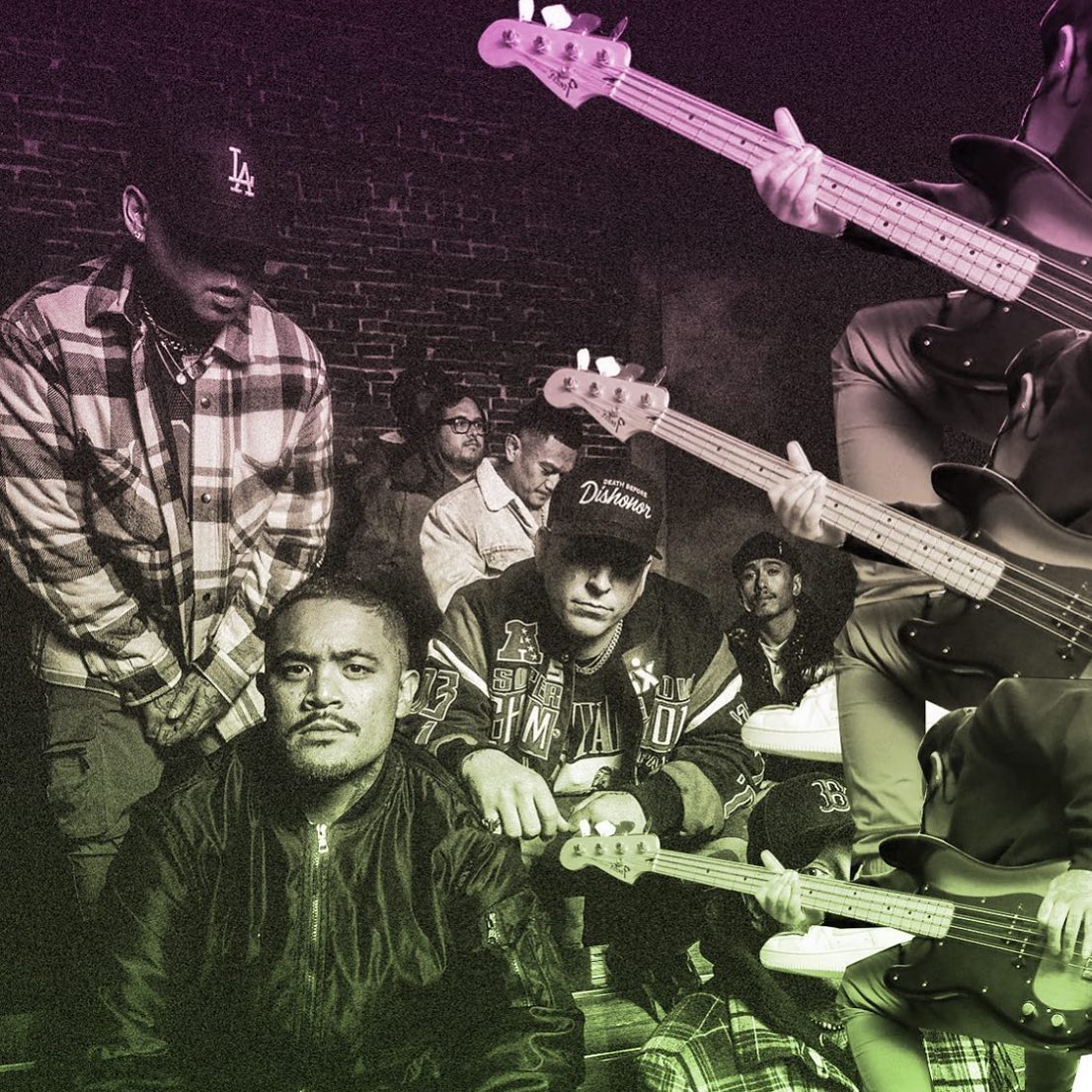 We don't throw the word "supergroup" around very often in the hardcore scene because it can have some venom to it when considering what the term has usually been defined as. It's commonly used to refer to groups made up of members of monumental acts making music together, though it's not always up to snuff with their better-known work.
Hardcore is about avoiding all that big rock act shit and The World subverts what a supergroup has been defined as. With members from such bands as A Loss For Words, Cruel Hand, and Black My Heart coming together with rapper Vane from Houston, The World has already situated themselves as a force to reckon with within the scene.
Forming last year and announcing their arrival with their self-titled EP, The World quickly organized a notable and enticing identity and sound. Five of the six tracks on the EP are rumbling, energetic hardcore, showcasing the band's interlinked rhythm section and powerful vocal work from Matty and guitarist Nick Molino, whom they credit with being the brains of the operation.
"Me and Nick used to play a lot of Call of Duty during the pandemic," Matty tells me, "and one day he was like, 'Yo, I have two different songs written, what do you think I should do?' And when I asked him what mood he was feeling he just said, 'I'm pissed off as fuck.' I heard them and I asked him to be on it and we went and recorded it."
The track's lyrics focus on topics ranging from social issues to depression and the anxiety of living in America. The most apparent is on the song "1312%," which is their shortest yet most direct song on the EP. Beginning with a repeated chant of "1312" which is reminiscent of the chants seen during the Black Lives Matter protests against police brutality in the summer of 2020. The band debuted a video for the song which features footage of police brutality, making their stance on the matter clear without even having to say very much.
The rest of the tracks contain features from members of other heavy-hitting bands such as Nate Rebolledo from Xibalba, Mexi Mike from Section H8, and Martin Stewart from Terror and God's Hate. All these features add to the idea that The World is a hardcore collective, gathering members from bands all across the scene and putting them on tracks that blend elements of hardcore and hip-hop together.
Guitarist Tyler commented on their blending of genres stating "There's no difference between the two styles of music anyway, most of it comes from the streets and has a street aspect to it. They borrow a lot of the same ethical guidelines and boundaries."
The melding of hip-hop with hardcore has always been a controversial issue, especially in the Boston scene where bands like Slapshot and Blood For Blood decried such notions in the '90s and early '00s, but as bands like Cold World have shown, the two genres can in fact mingle. The World's take on the style, however, works because of how ingrained in the culture all of the members are, bassist G in particular made a name producing trap beats long before The World was even a band.
"There's a lot of bands who have mixed the styles together but we're doing a certain style of hardcore and mixing it with a certain style of hip-hop," G explains. "Cold World was doing more like 'boom-bap' mixed with hardcore, and I don't even fuck with that stuff so that's not what we do. Hardcore isn't one particular style of music, you can't limit it to one sound so I'd like to see it become where people can distinguish certain sounds of hardcore and certain sounds of hip-hop."
Houston rapper Vane was brought into the project after Matty and G saw a video of his latest track and each said, "We gotta put that guy on our record!" Despite having a career in the rap game, Vane is no stranger to hardcore and heavy music. "Once I started in middle school, I got into Metallica, Korn, Slipknot, and Mudvayne," the rapper says. "Mudvayne's like one of my favorite bands ever, fuck anyone who hates on them. From there I got into hardcore I went into the crazy stuff like Trash Talk, TUI everything. I love rap, metal, hardcore, death metal anything now, man."
Like the rest of the members of The World, having credibility within the rap genre Vane conversely has also established his credibility in the hardcore scene as he came up alongside it. He's never put in the backseat when it comes to rapping like many hardcore acts that inject hip hop into their formula. His solo track, "For Some of Us," is a two-minute freestyle marked by his distinctive flow as well as looming trap beat produced by G himself.
The World's most recent track, "Hated On Mostly," sees them expanding their blueprint even further with more features and even a full rap from Vane over a hardcore soundscape. "Yeah, I do hardcore vocals now," Vane jokes when talking about the track, which also includes members of Boston hardcore bands Risk and Instigate on vocals as well. Continuing on with their hip-hop mindset they also collaborated with Boston Hardcore band Street Power for the song "Pay the Price," which follows a similar blueprint.
With songs like these being collaborated on, it seems like the scene is ready for more intricate features in their songs, whereas before you'd bring a vocalist to fill a verse or a chorus in a hardcore track. Songs like "Hated On Mostly" and "Pay the Price" open up a huge door for dynamic features and song structures in the hardcore scene.
The World's inaugural year has been one of immense success and prosperity and overall unpredictability. Having already toured the country, played This Is Hardcore Fest and playing alongside big name bands, The World already seems to be living up to their namesake. "They're gonna take over the world, dude," states Instigate vocalist Brad, who is sitting in the room during my interview, no truer statement is made.
"I'm truly blessed to be able to make music with everybody in this room," states Matty. "Everybody brings different things to the table, it's tough to do as we get older. I feel like if we were kids though this would be a whole different operation I feel like but we all have respect for each other as musicians."
Speaking on The World's goals and why they got into doing this, G comments: "I never wanted to start another band unless I truly believed in what I was doing with it. I didn't really have a goal in mind but I knew I wanted to put a lot of effort into it to really feel like I fulfilled myself in music."
With what they've already accomplished this past year, it's clear that they take this seriously but each member has also said that The World is all about having fun for them. "I wouldn't trade this for a six-figure job or a mansion. The best times I've had in my life have been broken down, cold on the side of the road with my friends and even in this band that's happened," Tyler says.
G also chimes in: "We come into this with a purpose and everything but once the fun's gone then everything just sort of digresses I feel like."
Currently the band's foreseeable future includes a run with NYHC legends Madball, and an appearance at the For the Children festival in Los Angeles this Sunday, December 18th: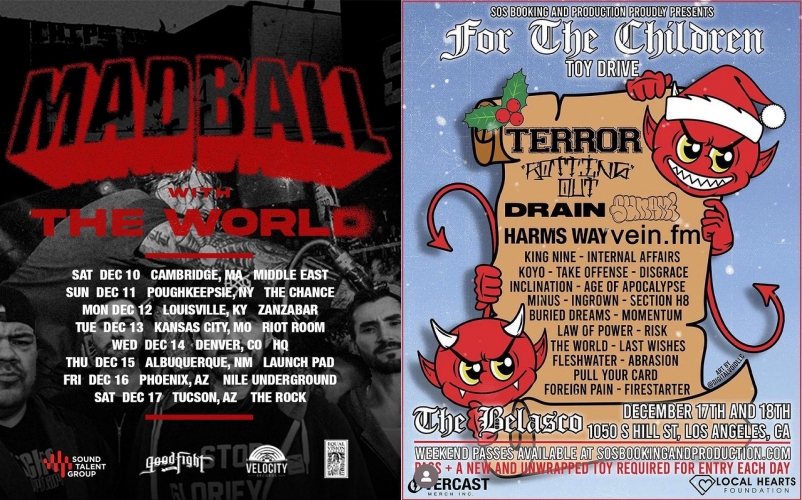 After these monstrous shows, The World plan on working on their next EP, hopefully due for release early next year.
The World would like to shout out: Grimy Kids, Houston Texas, my mom and my grandmother, shoutout to everyone in this room and everyone at this show, No Echo, everyone down with mental illness (stay strong), all the girls out there (stay strong as well) and shoutout to my plug for always being there for me.
***
The World on social media: Instagram | Twitter
***
Help Support What No Echo Does via Patreon:
***
Tagged: the world