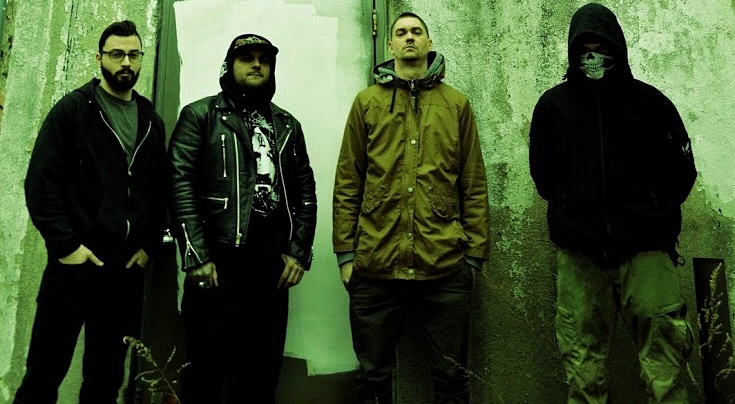 With such bands as Rule Them All, The Fight, and Hangman all making noise in the last couple of years, Long Island's hardcore tradition is clearly holding strong. Featuring Tension vocalist Mike Rubino, Crime Pays is one of the newest acts to come from the NYC suburb. "In 2019, we formed under a cathartic chord that ran through us all, to play music as a release to the struggles in our lives," Crime Pays bassist Tom LaSala tells No Echo. "The band was established to preserve our roots of hardcore culture and create a timeless EP that would capture people, and have them connect with it for years to come.
The EP Tom mentions above is called Corruption at Its Finest and from what the bass player tells us, its lyrics definitely reflect its bleak title. "The songs are tales from the front lines of segregation, the underworld, political corruption, destruction of the family unit, addiction and the enslavement of the human race through technology, deception & the surveillance state."
Listen to Corruption at Its Finest below:
Tom expanded on Crime Pays' point of view: "The EP was largely influenced by historical political corruption on Long Island which started with Robert Moses and has extended to almost every facet of how our world is run. From county supervisors and executives, police chiefs, high-profile businessmen and the like, our home has been more like a C-list version of wannabe mafia tough guys studying the KGB than a democratic rule.
"Luckily, a lot of them have been ousted and charged accordingly. The newspapers full of stories of how a new one is being convicted each day. Actually, one of them died during the COVID-19 outbreak and I cracked open a cold one to celebrate... This is beyond good and evil. Micro to Marco… while global corruption is also inspirational, we look around our home first. Solidarity and unity are important to us as people, our community is everything. At the end of the day we just want to bring people together and inspire them to prevail."
No Echo asks Tom how he thinks Crime Pays fits into the current hardcore scene, and what bands he feels they have a stylstic connection with: "Coming from a cornerstone of '90s LIHC with our vocalist, Mike Rubino, we had a large fanbase the moment this project was announced.
"Overall, we have a strong connection to Biohazard, Madball, Cold as Life, Agnostic Front, Hatebreed, Terror, Bulldoze, Deftones, Sick of It All, Max-era Sepultura, not in sound but spirit, Rolling Stones, Mobb Deep, Alice In Chains, and Guns N' Roses.
As far as current local hardcore bands, we look at the realms Hangman, Sanction, and Incendiary have laid down and think they are a good representation of Long Island right now."
Crime Pays on social media: Instagram | Facebook
***
Donate a few bucks to help with No Echo's operating costs:
Tagged: crime pays