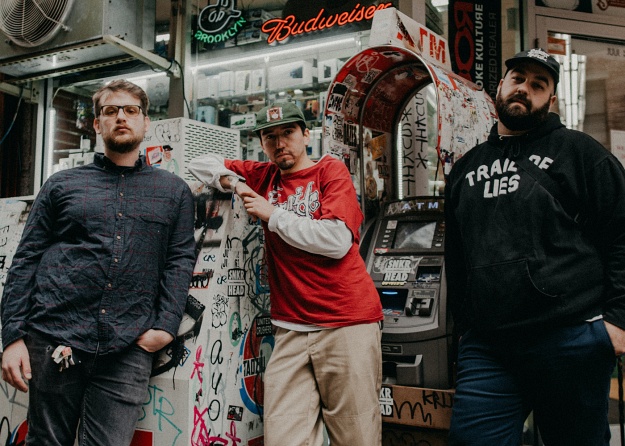 Utmost is a hardcore band with melody coursing through its veins.
Formed in 2018, the Staten Island-based trio counts such wide-ranging influences as Battery, Seaweed, Mental, and Farside, which supports the previous statement.
With a few singles, and a full-length (2018's A Garden, A Grave) already in their discography, Utmost is starting the year off with a refreshed sound they're showcasing via "Big Dose," a shot of energetic melodic hardcore also featuring guest vocals from Dom Fox of the bands D.O.G. and Bad Luck.
"Being from Staten Island, one of the smaller forgotten boroughs of NYC," Utmost vocalist Alex Allen tells No Echo about the band's music video for the new song, "I would always want to venture out to the city to skate with my friends when I was younger, and when it rained I would watch tons of old skate videos. All I wanted was to just recreate those days again.
Thankfully, I was able to get one of my dream cameras and just asked my friend Joseph Domino to film him skate around the city for the music video."
"The song was written within the earlier quarantined months," says Alex about "Big Dose" and its creation. "I just wanted to write a song that sounds like a love song about someone but it was just me wanting to be good at skating. Since all the tours I had scheduled during 2020 got canceled, I would skate around with my mask on, come home, and write.
"When I had this song done, I drove to Buffalo, where our bassist lives, to work on it. Then, he came to Staten Island a few months later to record it. I also wanted to feature my bud Dom Fox on a song and it seemed to just work out for this one. Dom helped me finish up the lyrics, and we recorded vocals together with his brother in Brooklyn."
"Big Dose" will be officially released as a digital single tomorrow (January 29th) via Sunday Drive Records. The label also has a new longsleeve inspired by the new track up in their store.

Utmost on social media: Facebook | Instagram | Bandcamp
***
No Echo has launched a Patreon with 3 tiers offering all kinds of hardcore-related goodies to help support the site:
***
Tagged: utmost