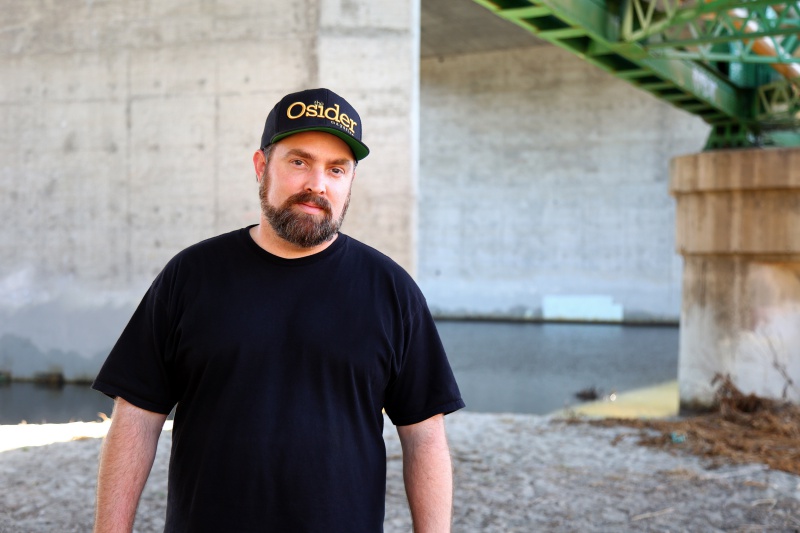 Zach Cordner is a photographer and Creative Director who has been documenting the underground music scene since the '90s. Though I'm concentrating on his No Echo-friendly work here, Zach has also shot everything from hip-hop and pop artists to celebrities throughout his career. An in-demand commercial photographer, the California-based music head has worked with such companies as Simon & Schuster, Vans, and PETA.
I'm happy to have Zach join the Photographer Spotlight series.
Where were you born and raised, and were your parents into the arts?
I'm from Riverside, CA, the heart of the Inland Empire. I lived in the same house my whole life until I moved out for college. Neither of my parents are very artistic or musical but they have always had a deep appreciation for music and the arts. They encouraged me to play instruments and pursue photography. For that I'm very grateful. It's also kind of funny that I became a photographer when my parents and grandparents were all notorious for cropping off heads and limbs in family photos.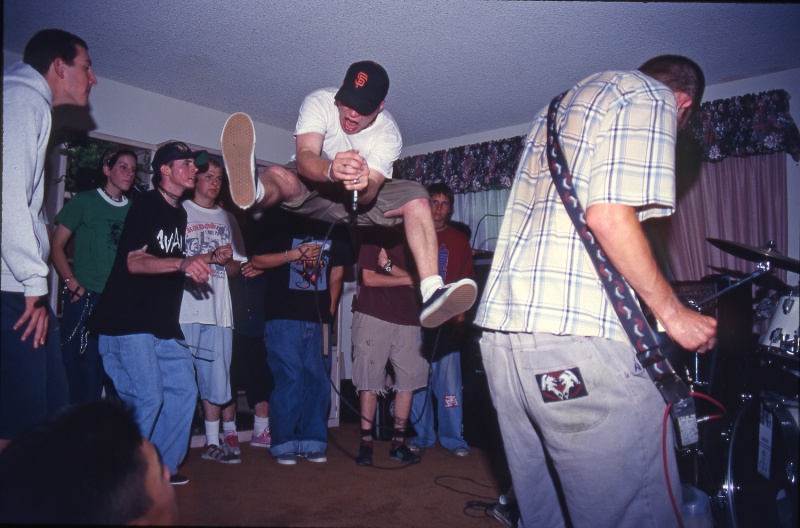 What was your first musical love?
I was raised in the late '80s listening to classic rock. I would listen to the legendary DJ Jim Ladd on LA's KLSX every night when I did my homework. I learned so much about rock from listening to him. My first band obsession was Led Zeppelin. My parents had some of their old LPs and I'd blast them on my record player in my bedroom. Once I got into skateboarding in the 7th grade I was exposed to heavier music like D.R.I. and the Circle Jerks. Thrash and punk lead me down the road to straight edge hardcore, which became my life during high school and college.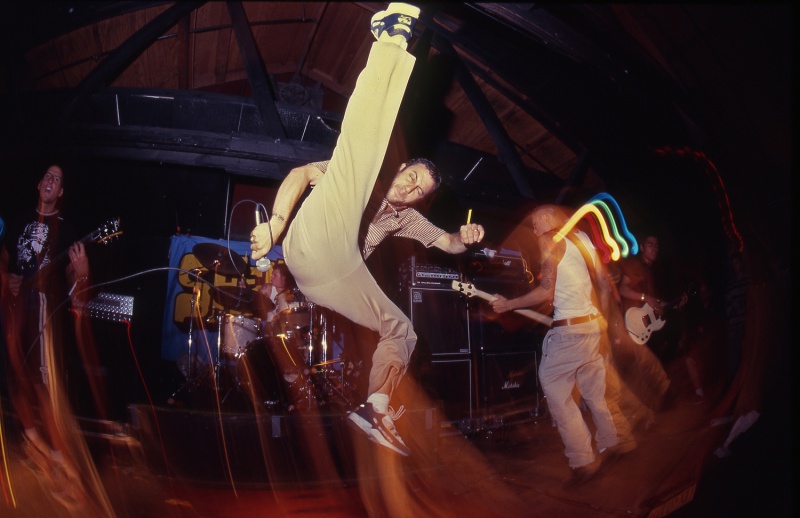 What is your camera and post set up?
Right now I use the Canon 5d Mark III and 1DX bodies. My go-to lenses are the Canon 24-105mm f/4 and 100-400mm lenses. For post, I use Adobe Cloud Photoshop, Bridge and Lightroom to process images with iMac and MacBook Pro.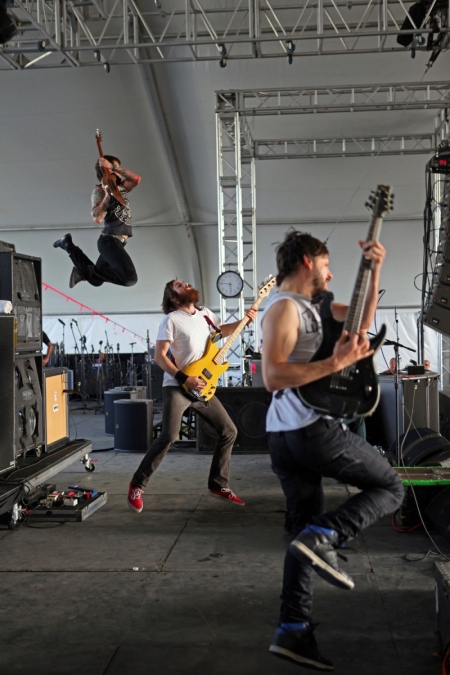 Who are some of your favorite bands to shoot?
Strife has to be one of my all time favorites. Rick Rodney's stage presence is second to none in hardcore. Plus, it's always fun to guess if he'll be rocking a long Hobbit beard or a porn star mustache at their shows. I do know he will be be smashing his forehead to a bloody pulp with the mic and that's always fun to shoot.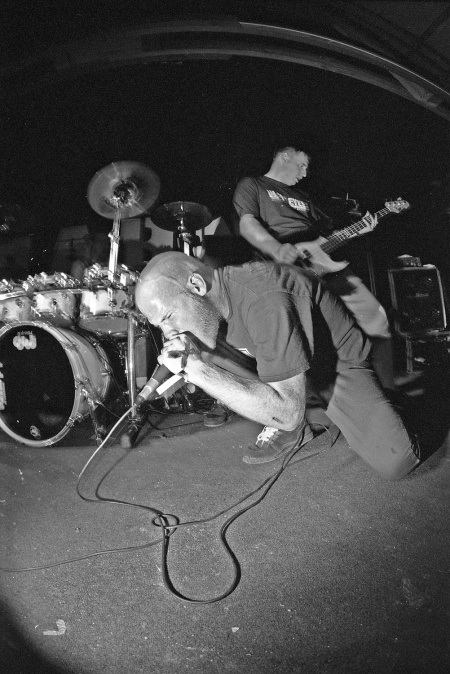 If you could go back in time, who are some bands that you would have loved to shoot?
I've been lucky enough to shoot a lot of my musical heros live over the years but there's a few I would loved to have seen in their heyday. That would include Led Zeppelin, Jimi Hendrix, James Brown and Minor Threat. They're all high energy performers in their own respective genres and that always translates into dynamic live photos.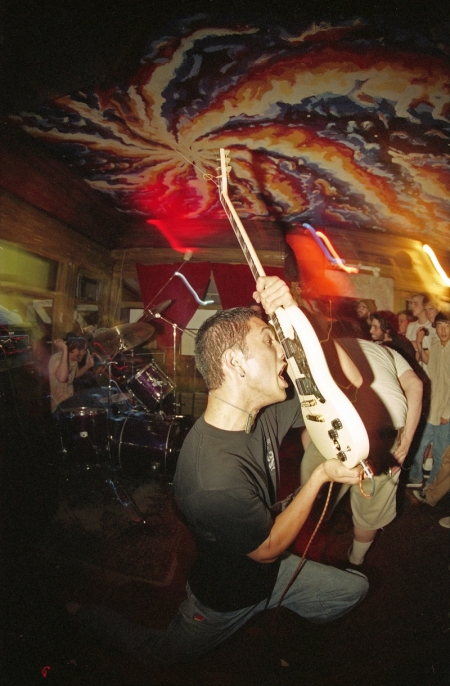 What are the toughest aspects to shooting live shows?
There are so many factors that you must go through to get good shots these days. It starts with just getting access to shoot the damn show. Getting credentialed to shoot has become way more strict in the last couple of years. Now big festivals are opting to control their imagery by hiring staff photographers and supplying media with their own approved images instead of letting media outlets shoot their own photos. It just makes it that much harder for a music photographer to make a living these days.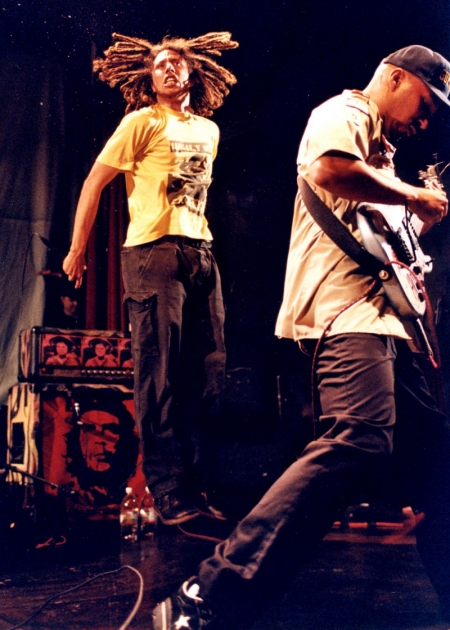 Another tough aspect is dealing with each band's photo policy. Some allow the first 3 songs, others its one or two songs. You might be allowed to shoot from only one side of the pit, the soundboard or in the back of the venue. Every band/venue has their own policy and it sucks. They can make it really difficult to get good images.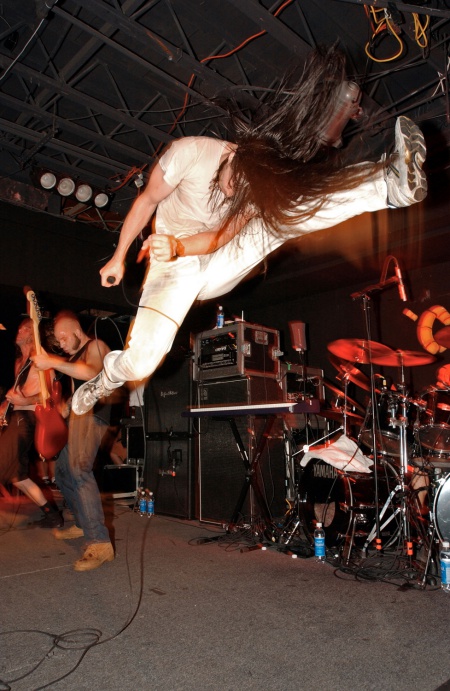 Is it getting tougher to carve a space out at venues since there are so many people shooting these days? How do you feel about that?
I've always been used to shooting in crammed spaces thanks to all of the Hardcore shows I shot as a teenager. So a crowded photo pit doesn't bother me too much as long as the photographers have some etiquette.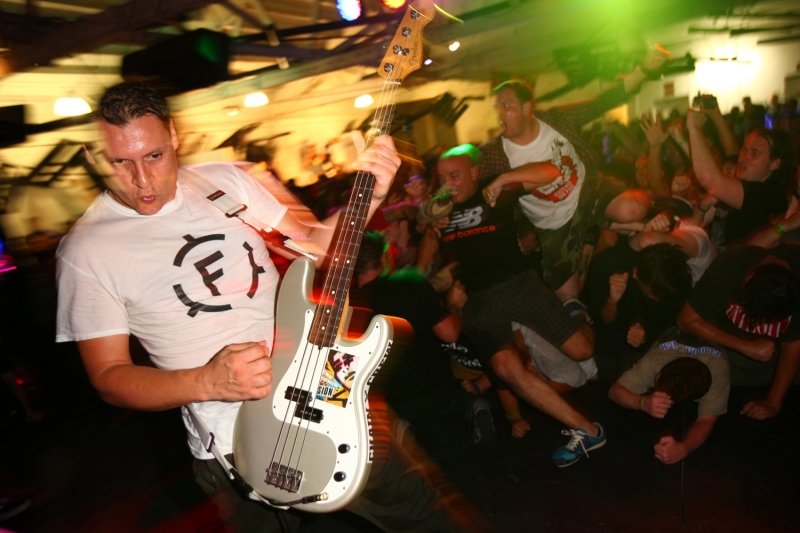 First thing, if you see a photog staked out in a spot before the band goes on, don't try to squeeze between them and the stage. Give us space!
Also if there's a bunch of photographers shooting behind you in the pit, don't hold up your camera in the air, you're blocking everyone else's shot behind you, you inconsiderate bastard.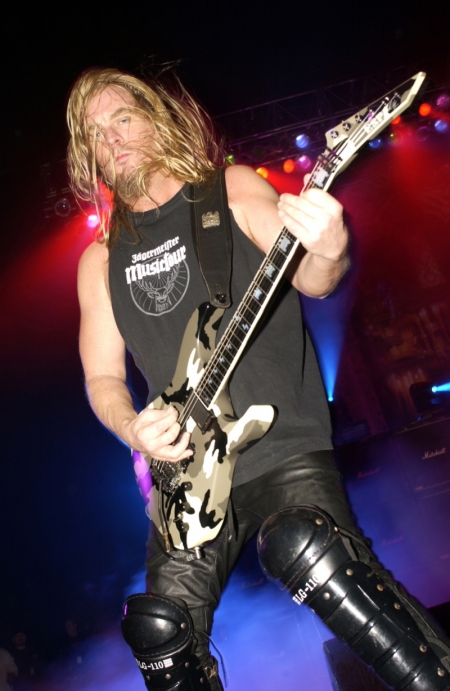 Since we are usually limited to shooting the first 3 songs, I try to move around to different spots in the pit for the second and third songs. It's called "Doing the Dance" where you trade spots with other photogs once you know you've got the shot you need from that angle. Get your shot and move on. Let others get theirs and you can move to another area to shoot from. If photographers can move around the pit in harmony then everyone wins!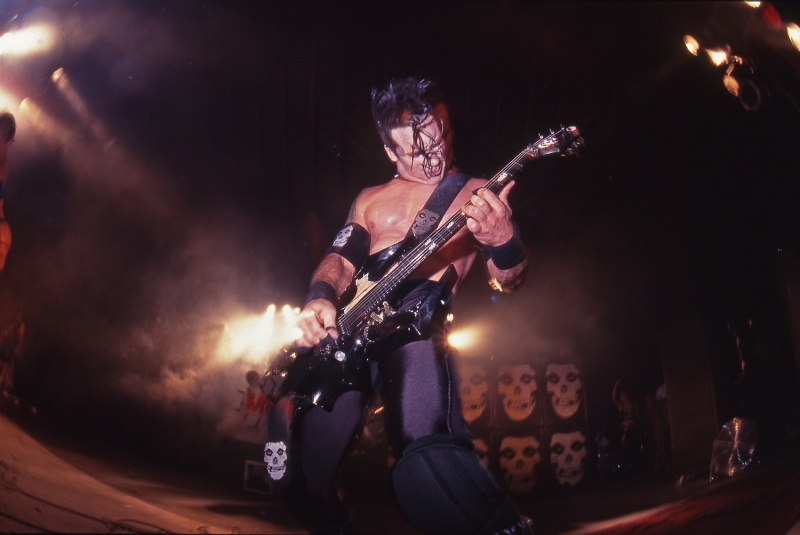 Tell me about some newer bands that we should all be on the lookout for.
I'm into the San Diego bands that are keeping psychedelic rock alive like Earthless, Petyr, and Harsh Toke. I also really dig bands like Iron Reagan and Warbringer that are keeping the thrash scene alive for generations to come.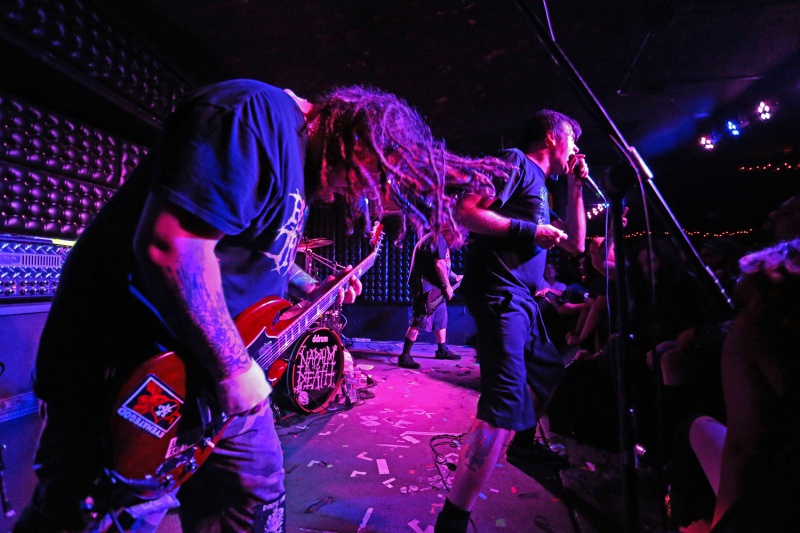 Who are some modern-day photographers that you admire?
There's a few photographers that have been influential on my career. First, all respect should go to Glen E. Friedman, his imagery of music and skateboarding had a great affect on me growing up. Also the legendary skateboarding photographer J. Grant Brittain gave me pointers as a kid on how to shoot better skate pics. Who knew a few years later I'd be a photo editor at TransWorld working in the same building as him?! I also respect and admire the portrait work of Dan Winters, Frank W. Ockenfels III, Art Streiber and Jonathan Mannion. They're all accomplished editorial photographers with their own distinctive style.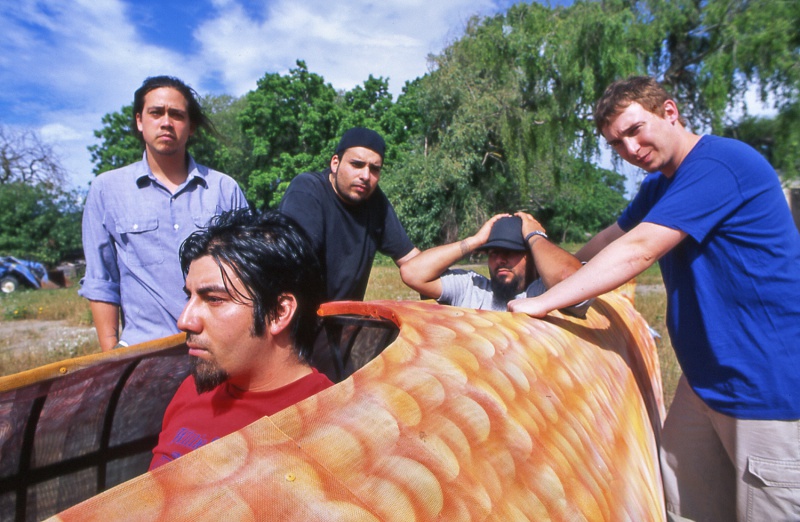 If you had to pick one of your photos that best encapsulates why you love shooting bands/artists, which one would it by and why?
It would have to be my jumper photo of Rick and Chad from Strife taken at the Showcase Theater in Corona, CA back in 1995. I took it when I was 15. It's the kind of image that encapsulates the loudness and aggression of '90s hardcore. Hardcore music is what got me into music photography and this image has my heart and soul in it. I processed and printed this roll of Tri-X film in my bathroom that I converted into a darkroom at night. When you're involved in shooting, processing and printing your own photos, a lot of yourself goes into that photo.
***
See more of Zach's work on his website and give the guy a follow on Instagram.
Tagged: photographer spotlight