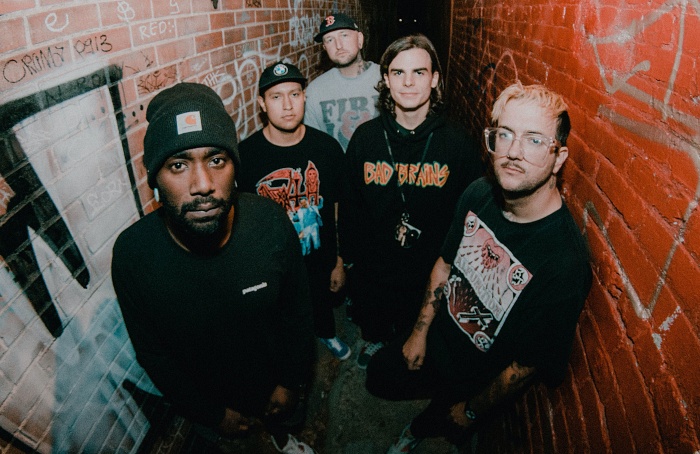 Colorado's Mindz Eye have just dropped one of 2020's most intriguing and unique hardcore collections, and likely the best yet in their own growing catalog.
Biting at the heels of their vitriolic single, "Street Justice," released this past July with its proceeds going to NAACP, the band's True Blue EP is classic hardcore informed with the best parts of recent Title Fight and Turnstile.
In a year that despite itself has boasted an excellent outpouring of emotional, uncompromising hardcore, Mindz Eye's newest 4 songs are all the above, while also possessed of an undeniable air of much needed fun in these darker times.
There's a counteractive yet synergistic bounce to the natural heft of the songwriting, most evident on third track "Brain Wavez." In the absence of live music, in which True Blue would be right at home, it's nice to hear songs that elicit a similar feeling.
The airy production does wonders for the slow-build melodic opening of the title track as it winds itself into an elegant two step that swells into a boisterous finale. Bryce Hudgin's venomous spit occasionally arcs into a clean howl that sends the songs into a dream-like orbit.
The spacy guitar tone sneaks itself into True Blue's most traditionally hardcore moments, flavoring what would be ordinary mosh-inducing passages with uncommonly ornate texture, best exhibited on "Oblivion (Borrowed Time)."
The straightforward pummelling of the final track, "Rat Race," is a fitting outro that is as direct as it is joyfully violent. Enhanced by guest vocals from Jairus Sturgeon of Arizona's Arms Reach, the track hits the EP's most exacting moment in its finale, anchoring the 4-track collection with decisive, lingering sting.
True Blue is available now on Bandcamp.
Mindz Eye on social media: Facebook | Twitter | Instagram
***
Donate a few bucks to help with No Echo's operating costs:
***
Tagged: mindz eye