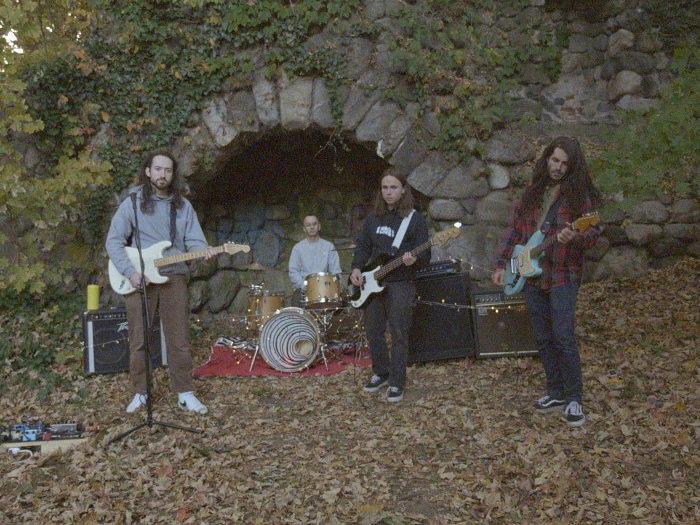 Formed in 2020, five friends from the same Boston suburb came together to form a bubblegrunge group known as Crescent Ridge and releasing their first seven-inch, Days End, that year.
Wasting no time, the band hit New Alliance Studio in Somerville, Massachusetts less than a year later to record the follow up with Chris Johnson (Deafheaven, Dwelley), who also produced the record. The result was their debut LP, Garden of Fools, coming out on September 12, via Chico, California-based label Forever Never Ends.
No Echo has the exclusive stream of the album's fourth single, "Suddenly":
With a small handful of shows already under their belts on the East Coast, the band are embarking on a tour of California in September to support the LP. Performing seven shows in six days, Crescent Ridge will sink their teeth in both the northern and the southern regions of the state. Supported by the bands Little Low (Wiretap Records), Shutups (Kill Rock Stars), and Clear Capsule, each show will be an assured delight for avid indie/emo music adherents.
Crescent Ridge recently released a music video for "Stuck," the latest single from the LP. The video was directed and edited by Caleb Gowett (Deathwish HQ alumnus). Scenes of the video are reflective of the group's dichotomous surroundings in Stoughton, which is a theme represented throughout the album. Seen below, the video provides an excellent visual representation for what's to come within the record's collection of songs.
As the labels "alternative" or "indie rock" becomes increasingly less relevant with the passage of time, it seems like we're getting new genre names almost daily. Bubblegrunge is an interesting genre tag that seems to describe your sound accurately. What are some of the influences you pulled from to develop your sound?
Kevin: It's funny really—there's always some wild subgenre popping up and it's all kind of bullshit you know? Like, yeah, I agree bubblegrunge could probably describe us but what does that even mean? You could make one up right now and no one would even question it! "Yo, you hear that new stinky pop band? Yeah they're sick." I hope people hear our music and make up something crazy.
Mike: I just say we are "alt rock," which I feel fits pretty well. The influence list is endless but in short I'd say I listened to the Pixies, Smashing Pumpkins, and Dinosaur Jr. a lot while this record was being written.
Derek: What inspired the record was a combination of the energy and emotion of DC hardcore ala Fugazi, the beauty and textures of shoegaze/rock ala Smashing Pumpkins and Hum, and the pop sensibilities of late '80s bands like The Replacements and The Jesus and Mary Chain.
How did you get hooked up with Forever Never Ends Records, who has mostly only worked with powerviolence and hardcore bands?
Kevin: Mike who plays part-time in the band is homies with Jared from FNE. I dunno how they linked up though, probably from Beartrap days. All the bands they put out are sick though so I'm amped to be a part of it.
Is this y'all's first time playing California or have you been here with any past bands?
Kevin: Gill, Mike and I have played California a ton in Mike's old band Beartrap. Mike took me on two back to back full US tours right after I graduated high school and the California legs of those tours always stick out in my mind more than anywhere else.
First time we played a week with Rotting Out and I got to play Chain Reaction. Second time for me we got stuck in Sacramento for like six days while our van was getting fixed. Gill definitely has some hilarious stories about California too. Pretty sure that's the tour their old drummer flew home and bailed like a complete fuckin' loser. Good times.
Mike: Everyone in this band except Derek has played at least one Beartrap show in California, I live in California now and used to tour a lot, so I have played here in several bands now.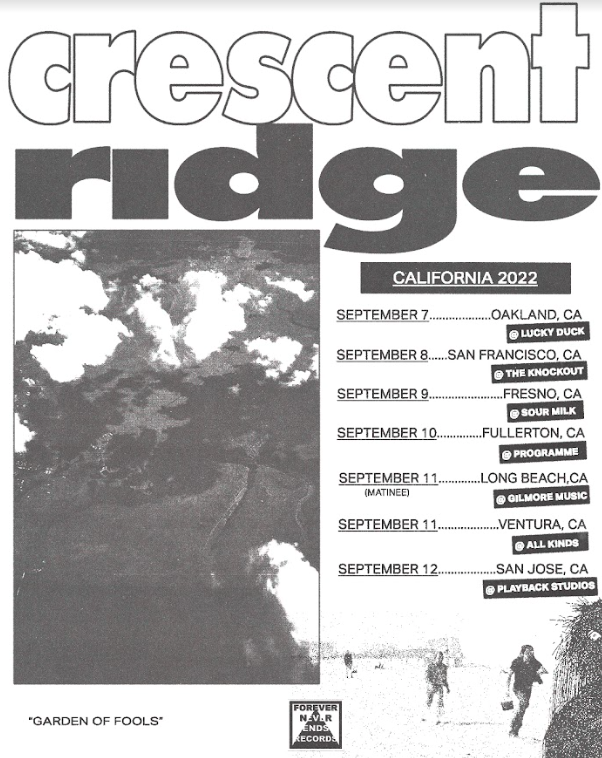 Do each of you have a favorite song on the record?
Kevin: "Bloom"
Aaron: "Suddenly"
Derek: "Freak Out" is about my dog, Kappy, but "Suddenly" is my favorite track because I think it best captures all of the facets of what the band is and can be. The dynamics between loud and soft, aggression and introspection are on full display. It evokes feelings of being melancholy juxtaposed against moments of bliss. Lyrically, it was the easiest song for me to write as a way to deal with what I was going through at the time. I hope above all anyone that listens who has or is going through their own struggles, can relate and take what they need from this song.
Mike: "Big Feeling"
Gill: My favorite song on the record is "Garden of Fools" cause it feels like it captures a piece of our hometown, Stoughton and how it feels like you can't ever get away from it sometimes. Almost everyone I know is from there. It's like magnetic and always pulling me back in.
The song is me seeing my time growing up there as something special and reconciling with the expectations my younger self was so caught up in. Being totally unprepared to try move thru life cause you're too caught up worried if it's extreme enough, or if it would make a funny story, or if aligns with whatever lifestyle I thought I had.
***
Pre-order the Garden of Fools vinyl via Forever Never Ends Records here.
Crescent Ridge on social media: Twitter | Instagram | Bandcamp
***
Help Support What No Echo Does via Patreon:
***
Tagged: crescent ridge