Gym closed? Luckily, I've unearthed the soundtrack for your jailhouse workouts. Look no further than I Am Your God, the devastatingly heavy new LP from New Zealand's Xile.
Dropping via Beatdown Hardware Records, a German label well worth digging into, this shit is hard. Sitting somewhere between the venomous hardcore of their local scene and Euro-beatdown, Xile's full-length is an apocalyptic treasure. Having honed their craft zigzagging their way across the globe, this is the sound of a band dead set on dominating stages. Get killed Kiwi-Style!
Evidently named after an album track on Slayer's second act masterwork God Hates Us All, the Grafton hardcore act first dropped the "E" and bolstered their arsenal with beatdown, metalcore, deathcore, and slam metal. With members having served time in local favorites Antagonist A.D., The Burial, Too Late, and Superior Vision; Xile is the finest distillation of their bleak and negative worldview yet.
From the concrete corner vibes of Street Soldier and labelmates Wolfpack to the big-room hardcore of Kublai Khan TX, Xile fits well in an international scene still experiencing a Renaissance of all-things heavy.
I'd imagine Xile would gladly wax poetic and extol the virtues of Slayer. The influence of the aforementioned Big 4 retirees shows up all over the LP. From the shredding lead squeals to the reverse gallop rhythms, the Hanneman/King reverence is giving top billing. Opener and title track, "I Am Your God," wastes no time easing us into the album. Within a minute, their opening gambit is replete with wild riffs, mechanized rhythms, and absolutely savage breakdowns stacked atop each other like increasingly weighty anvils. They manage atmospherics, however fleeting, that allows for the build and release of tension.
Whether intentional or not, they scatter a few references to other albums across the ten tracks. "Diamond Eyes" shares little with the Deftones 2010 landmark and late album track "Damaged" does little to conjure the decidedly comparatively lo-fi watershed moment from USHC. The former is a masterclass in bruising Euro-style metallic hardcore a la Malevolence or their pals in the genre-baiting crew NASTY. They play with a machine like precision, all pinch harmonics and palm-muted destruction.
The latter unleashes a thrash lead and, later, a violent storm of tremolo picking. Sonically, it's miles away from the black metal "bees in a biscuit tin" treble-heavy mix. Instead, the production courtesy of Sean Delander from Thy Art Is Murder is impossibly loud, crisp, and dense.
Boasting no connection to the hardcore band of the same name, "World Demise" is an absolute monster. Fittingly, the LP's lead single keeps it wisely minimal. Their recipe of pummeling breakdowns, death metal leads, and bilious vocals that feel vomited forth is unchanged. Resident mouthpiece Luke sounds utterly possessed across the LP, keeping the affair decidedly hardcore with his nihilistic and piercing screams.
Even Robert Smith wouldn't likely co-sign the gloomy textures comprising "Disintegrate" and its follow up "Empty Chamber." They both spit out the sort of chopped and devastating groove often employed by the recently re-energized Acacia Strain. They even find time to work in more trad metal inspirations, featuring speedier gallops and triumphant lead guitar parts. Yet, as they're wont to do, the blasting midsection gets choked by another suffocating breakdown. As predictable as Xile might be, when it's executed at such a high standard, it's undeniably fucking great.
They save some of their more metallic caveman tendencies for "So Much for Love", a more mid-paced assault that likely owes a debt to slam pioneers Dying Fetus or even Devourment. There's thankfully a noted lack of pig squeals, as again the vocal approach is inspiring far more by menacing beatdown hardcore or death metal than a number of their contemporaries.
The clear through line to death metal is also evident in the drumming, which swings violently courtesy of death metal-schooled drummer Jai. It also highlights some of their best guitar work, all the while letting their guitar histrionics ultimately get swallowed whole by a morass of breakdowns and sludge.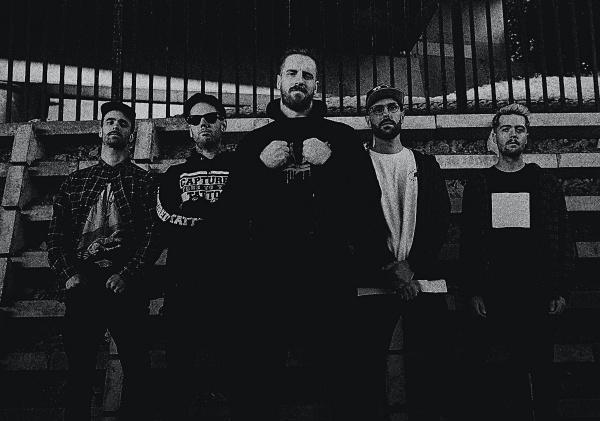 After a lurching opening salvo, "Legacy of Disgust" takes the quick route outta town. It crams double time vocals and frenetic bass work into their down-tempo destruction. As expected, they save one of the album's heaviest breakdowns for the end, even pulling off an "arf, arf" in tribute to one-time tourmates Knocked Loose. Two minutes in, you've been trained to wait for it. The entire song presages what you know is coming, but the breakdown will still kill you.
Get It
Tagged: xile