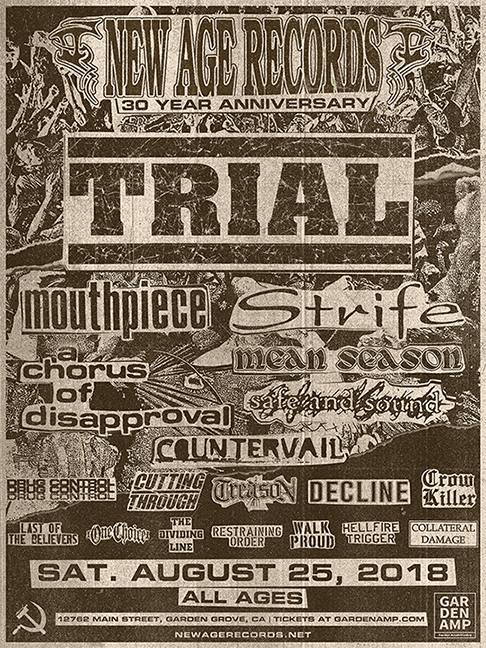 This article is not intended to be a comprehensive guide to Orange County. It is specifically being authored to speak to hardcore kids traveling from out of town to attend the New Age Records festival in August of 2018.
I have lived in Westminster, the city directly adjacent to Garden Grove, for over 3 years, and have had family in Garden Grove since 2009. These streets are my home town now. This is where I eat, where I shop, where I go to the doctor, etc. Anyone who has driven around with me knows my love for this area.
I often see people with questions like, "I'll be in Anaheim for work, where should I eat nearby?" which gets answered with dumb ass shit like "yeah man, go to Crossroads it's sick!" So this article is meant to customize a trip here for food, coffee, records and some mild sightseeing. If you have any further questions, please feel free to contact me directly before any other citizen of the entirety of Orange County.
VEGAN FOOD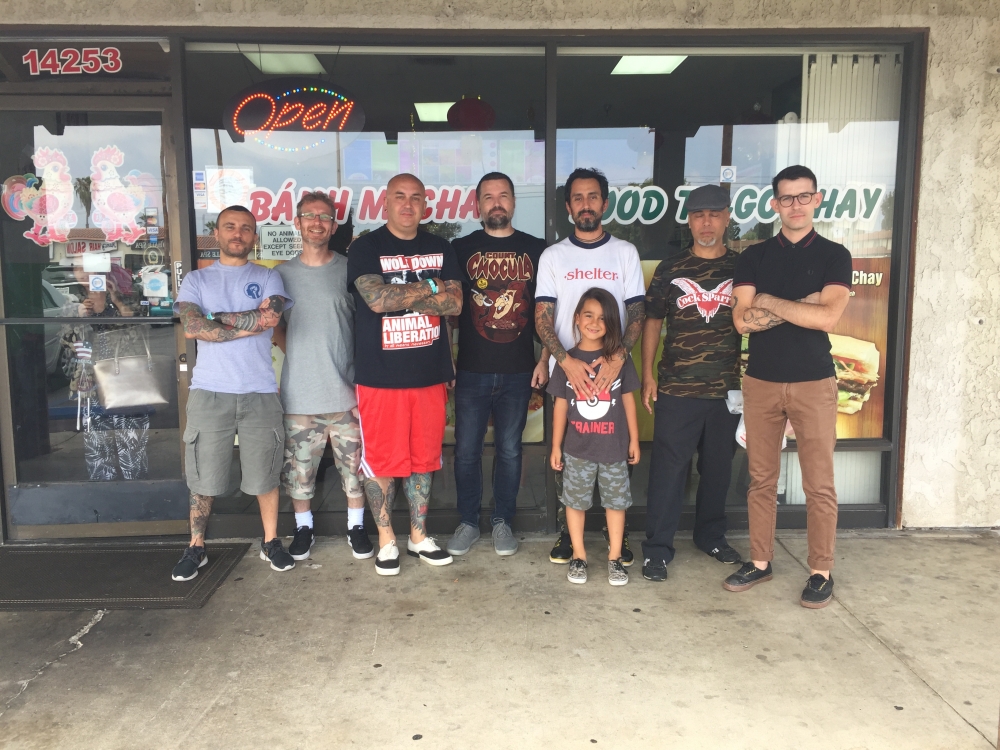 Thien Dang will be my #1 suggestion for food. It's authentic Vietnamese food, it's hella fuckin' cheap, and it's close to the venue. Totally vegan, but I wouldn't ask them about gluten free options. [Thien Dang: 14253 Brookhurst St, Garden Grove, CA 92843]
Vegan Pizza is my second favorite restaurant owned by a cult. Located in Garden Grove, this small pizza place has some really good specialty pizzas and calzones. Also located in the same parking lot is a Loving Hut, but they are just whatever. [Vegan Pizza: 12022 Chapman Ave, Garden Grove, CA 92840]
Also, the pizza at Pitfire Pizza in Costa Mesa is fanfuckingtastic, and they have a really solid house made vegan cheese and gluten free crust option. We go there regularly, good people and good food. [Pitfire Pizza: 353 E 17th St, Costa Mesa, CA 92627]
Healthy Junk in Anaheim is just more on the junk side than the healthy side, but they have a decent menu, lots of communal seating, and are in a food court with a bunch of other non-vegan options. [Healthy Junk: 201 W Center Street Promenade B, Anaheim, CA 92805]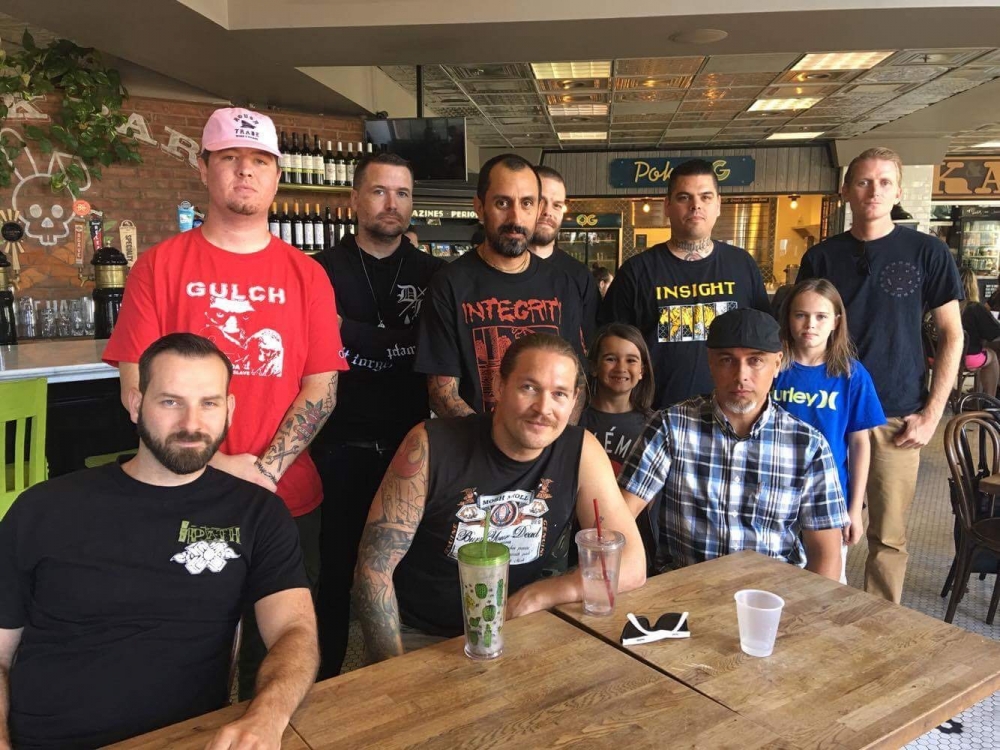 If you need a vegan breakfast or brunch, you're either going to have to go to Cafe Gratitude in Newport Beach and pay $$$, or head up to Long Beach and visit The Grain Cafe. [Cafe Gratitude: 1617 Westcliff Dr #112, Newport Beach, CA 92660] [The Grain Café: 4403 E 4th St, Long Beach, CA 90814]
Long Beach is only like 20 minutes, and there's a lot to eat and drink there. There is also a cafe in Garden Grove called Auntie Yese's, that allegedly has vegan options but I've never personally been there. Apparently, Freesoulcaffé in Tustin has good breakfast, but I've only eaten there once and wasn't fucking impressed.
[Aunt Yessie's: 12444 Brookhurst St, Garden Grove, CA 92840] [Freesoulcaffé: 191 E Main St #1b, Tustin, CA 92780]
Lots of coffee shops in the area sell these small ass vegan donuts, and there is a donut shop in Huntington Beach that sells "vegan donuts", but I don't fuckin trust them and I'm going on record saying there's no good vegan donuts in Orange County and you would have to drive to Donut Friend. Change my mind.
My favorite all-vegan dessert place in Orange County is very close too, and it's called Hug Life. Plant based milks made into iced cream, lots of gluten free options. I always get the one with mango and chimoy and tajin and shit cause I'm like, part Mexican. They have a small selection of snacks that you can take with you too. [Hug Life Anti-Dairy Ice Cream n' Stuff: 14241 Euclid St c115, Garden Grove, CA 92843]
The Loop: Handcrafted Chrurros is pretty close too, it's not all vegan but they have some options. [The Loop: Handcrafted Chrurros: 9729 Bolsa Ave, Westminster, CA 92683]
Many out of towners enjoy Veggie Grill. There are a few in Orange County and one in Long Beach. They are pretty reliable, but I would rather recommend local establishments. [Veggie Grill: 6451 Pacific Coast Hwy, Long Beach, CA 90803]
COFFEE
There are so many good coffee shops in Orange County and Long Beach. My favorite shop that's close to the fest is Hopper & Burr, otherwise I would suggest going to Long Beach. But, if you really want to fuckin party, then you go to Almond Haus in Garden Grove. Anyone from out of town that I have taken there can attest to it's accidental vegan glory. You have to order that shit without the sea salt cream if you want it vegan. Otherwise, if you don't care, prepare for pure liquid crack. [Hopper & Burr: 202 W 4th St, Santa Ana, CA 92701] [Almond Haus: 10100 Westminster Ave, Garden Grove, CA 92843]
RECORD STORES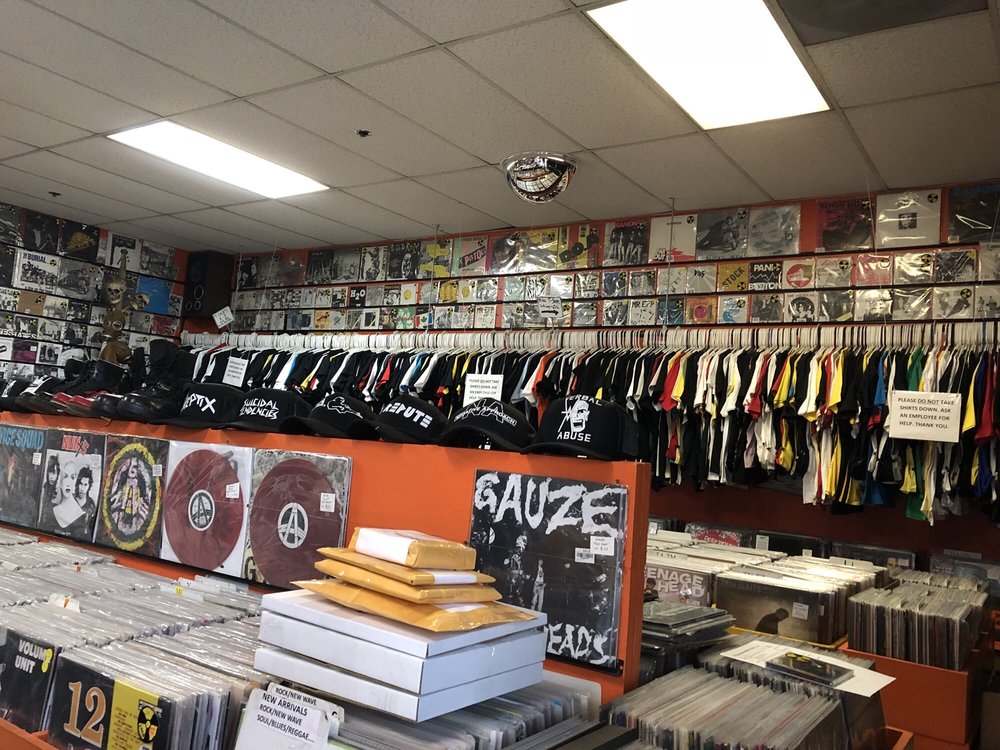 I'm going to just say that there are no amazing record stores in Orange County. You can go to a couple shops and do some serious digging and you can find stuff here and there, but don't expect too much. Radiation Records, TKO Records, Factory Records, and Vinyl Solution could all potentially provide you with some fun, but don't expect to get your fuckin' mind blown.
Actually, Programme Skate & Sound in Fullerton has a good selection of punk and hardcore and have shows there after they close. [Programme Skate & Sound: 2495 E Chapman Ave, Fullerton, CA 92831]
OTHER STUFF
There are plenty of grocery stores where you can stock up on "healthy" and vegan options, like Whole Foods, Sprouts, and Mother's Market — all in Huntington Beach.
The beach is like 20-30 minutes away from Garden Grove, I would suggest Huntington or Newport. If you want to do touristy shit, stay near the piers.
Downtown Santa Ana is rich with Mexican culture, and if you don't care about eating vegan, then I highly suggest just going down there and grabbing some legit tacos or whatever.
Of course, Disneyland is close, and Knott's Berry Farm as well (which has more roller coasters and rides).
There's lots of hiking, and a couple of museums, and stuff like that, but I don't have any good suggestions for that stuff, just Google it!
Tagged: new age records