Patrick Kindlon doesn't just love stress; he uses it as fuel to bolster his creative process. That holds true whether he's writing comics, writing lyrics for his bands or performing that music live.
As the frontman for the storied Self Defense Family and rambunctious Drug Church, Kindlon's had numerous opportunities to hone-in and perfect his hoarse, rough-around-the-edges delivery. It's almost an anomaly; Kindlon's gruff wails and unconventional cadences have found a home in the two respective projects—whether its through the expansive soundscapes of Self Defense Family, or the simple, driving melodies of Drug Church. It's a sing-talk style not uncommon in the genre, yet, it's still got its own flavor. The two projects are impressively active, which has pushed Kinlon to be a dominant force within its niches.
So when the latter received the green light for a new full-length with ample studio time to produce it, fans were eager to listen to the final product. Here was Kindlon in a vulnerable state, this time he had to deal with the luxury of time. He told Noisey that Cheer would be the Albany, NY quintet's sellout album—a record that was meticulously crafted from the ground-up that boasted days of studio time, which was new for a band that rested on its DIY laurels. It was ambitious in a different sense from what the band was used to.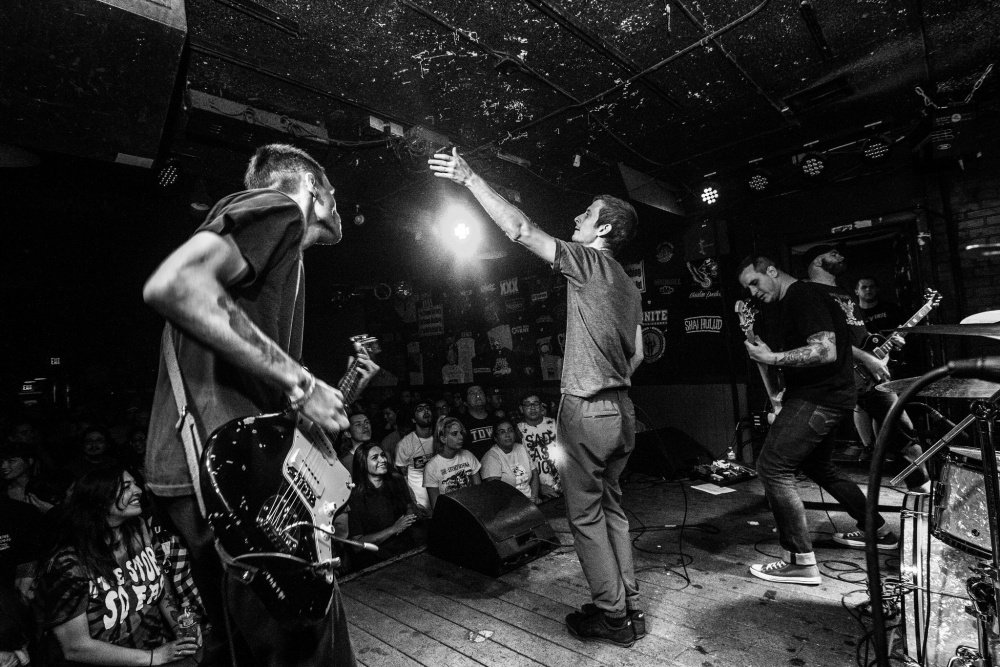 Oddly enough, Cheer is Drug Church at its best and most pure—a raucous, yet polished concentrate of gritty grunge guitars and gruff vocals with lyrics that tap into the dark and comedic. It's the record that Drug Church was destined to make, and it's a succinct testament of the band's larger vision and work ethic.
This time, the quintet succeed in going the poppy route by penning some of the catchiest songs in its tenure. Songs such as single "Avoidarama" and "Strong References" flirt with pop structures and melodies while retaining Drug Chruch's gregarious punk flair and Kinlon's delivery.
And if you're looking for proof that more studio time yielded a better product, listen to the unabashedly aggressive opener "Grubby" and "Unlicensed Hall Monitor—" the songs are structurally simple on the surface, but layered vocals and sharp guitar leads make for some dense cuts. Kindlon's And the songs sound great; we'd be remiss not to mention that the album sounds lush, polished, and objectively full—perhaps another testament to additional studio time.
Drug Church might not be able to shake its proverbial backdrop of '90s grunge and post-grunge influences, but Cheer makes a case for and against that. The beginning guitar strums of "Weed Pin" sound as if they were lifted from a Foo Fighters single. While that may sour the mouths of some, the leads function as hook to draw listers into the band's dense wall of loud guitars and distorted synths. "Fuck you and your 50 an hour / I should've started a chemical fire / I should've burned this place to the ground!," Kindlon wails. Cheeky, yet critical, his off-kilter lyrics provide a snide glimpse into the life of a modern creative—which is entirely complementary to the music.
In summation, Cheer is an amalgamation of everything that makes Drug Church great—smart and snide lyrics layered above infectiously catchy, well-written compositions with huge hooks and leads—polished, and packaged in a succinct package. Don't let this go under your radar—considering how catchy some of these tunes are, you may have a hard time doing that.
Get It
Tagged: drug church