Gray Muncy is one of the best live music photographers around today documenting the hardcore scene. Based in Texas, he's a fellow music lifer who isn't afraid to get in the middle of the action to capture his shot. You have to respect that.
It's about time Gray joined the Photographer Spotlight club.
Where were you born and raised, and were your parents into the arts?
Born and raised in Fort Worth Texas. My parents were not into the arts at all and neither really was I.
What came first, your love for music, or your love for photography?
Definitely my love for music came way before photography. I didn't start shooting shows until 2009.
What was your first musical love?
My first musical love came from skateboarding and skateboarding videos in the '80s. When I was growing up you were only really introduced to punk or hardcore through friends where I grew up. I remember almost wearing out a Minor Threat tape and an Agent Orange tape. I picked up a lot of my music from skateboarding and skateboarding videos and Thrasher magazine. Also while I was in Junior High there was a local show called Radio Free Burro on local Dallas community radio and I remember staying up until like midnight to listen to it while I was in Junior High. Just a few years ago I was able to track down the two guys on Facebook who did that show and tell them how much it meant to me and how it helped me come to love punk and hardcore way back then and how it has still stuck with me. Current day kids have it made when finding new bands/genres due to the Internet. They can check out a band or download their whole discography in seconds. While I was growing up you had to have someone give you tape or let you listen to some of their music.
Who were some of the photographers you looked up to during your formative years?
Growing up, I really got into the skateboard photographers in Thrasher and Transworld. Guys like include J. Grant Britain, Bryce Kanights, and Craig Stecyk, and music photographers like Glen E. Friedman, Edward Colver, Jenny Lens, and Ken Salerno. What I like best about those show photographers is back then not a lot of people documented shows and they were all really good at it. At current day hardcore shows there seems to be about twice as many photographers shooting photographs than people in the bands.
What is your camera and post set up?
For camera, I have a Canon 5D II with a 24-70 2.8L and a 16-35 2.8L and I also have a Canon 40D with a Tamron 17-50 2.8 and a Tokina 10-17. For shows I really worry about breaking gear I usually take my 40D. For flashes, I have a couple of 580EX II flashes. My post work is all done in Adobe Lightroom.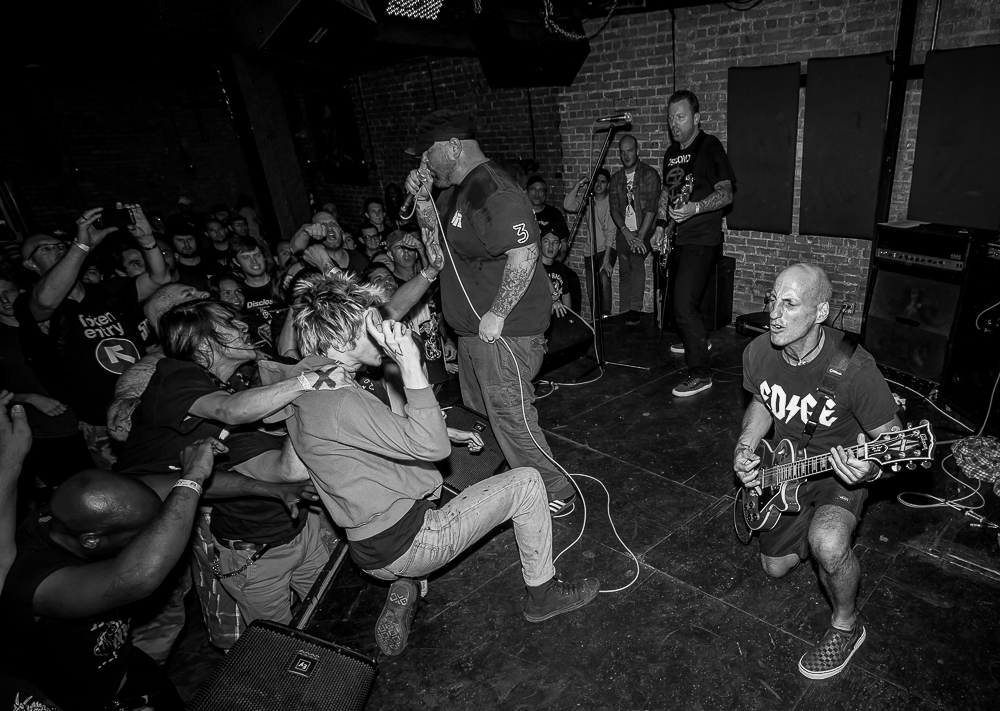 Who are some of your favorite bands to shoot?
My favorite bands to shoot are the ones that bring a lot of crowd participation, stage dives, and sing-alongs. When I shoot a hometown Power Trip show the photos seems to almost make themselves with the great crowd interaction. But I also enjoy shooting Rotting Out, Rival Mob, Bane, Turnstile, Trapped Under Ice, Infest, and Judge. To me, it also seems that the more I personally like a band the harder it is to get good photos of them.
If you could go back in time, who are some bands that you would have loved to shoot?
If I could go back in time a photograph some of the older bands it would definitely be Bad Brains and Minor Threat...and Rich Kids on LSD.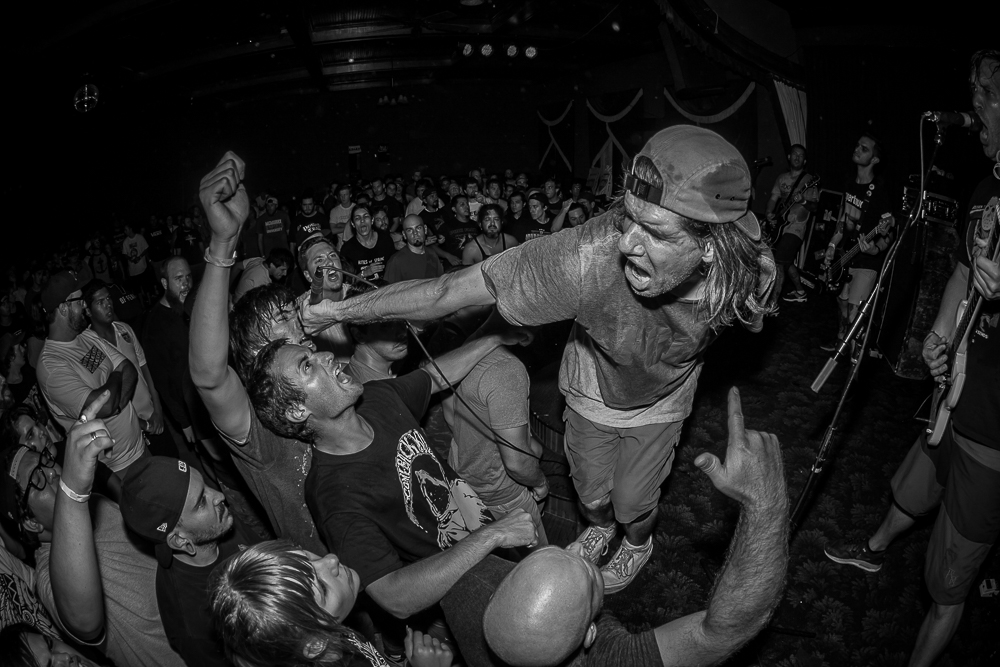 What are the toughest aspects to shooting live shows?
I like to shoot hardcore shows and the hardest aspect for me is not breaking gear or my flash or having people land on me. I have slowed way down on shooting the heavier hardcore shows with the crowd killing moshers after getting hit in the head shooting from the pit during a Vein set and almost blacking out. When I got up off the floor I couldn't hardly walk straight.
Tell me about some newer bands that we should all be on the lookout for.
For newer bands, I listen to a lot of newer bands but I still get in the rut of listening to the same 5-10 bands I have always listened to. But I am really liking the new Line of Sight.
Who are some modern-day photographers that you admire?
I enjoy looking at a bunch of other modern-day photographers and there are a few that I really, really like and when I look at their stuff I say to myself "I wish I could incorporate that," but for me to list a couple of them I feel like I would leave too many out that are very talented but they know who they are. To me, I still like to see the people that shoot from the pit or the floor. Or the kid that may not have the best gear or the best skills but still gets super stoked to create photos for bands they really like and are is doing what makes them happy. Too many people seem to make it a competition but for the most part all the hardcore photographers I have met are pretty cool. I tell people that I grew up going to hardcore shows and I don't sing or play an instrument and my crappy photos are all I have to give back to something that meant so much to me and still does.
If you had to pick one of your photos that best encapsulates why you love shooting bands/artists, which one would it by and why?
If I had to pick one photo that would why I love shooting hardcore it would probably have to be a Power Trip crowd shot photo. The crowd goes off for a hometown Power Trip show and the energy transformation from the band to crowd and vice versa is great. I always tell people that my photos would not be what they were without the crowd interaction and I appreciate it. Or the Rival Mob photo with the mic cord (seen earlier in this article), but I have to go with this Power Trip photo from 2014 at the historic 100 plus year old Sons of Hermann Hall in Dallas, TX.
***
See more of Gray's work on his Flickr page, and he's also on Instagram.
Tagged: photographer spotlight