This April, Positive and Focused Records will be teaming up with Speedowax Records for a boxset in honor of the long-running Youth Crew compilation series. The package will include 6 X gold 7"s in poster wrap and will also feature new artwork for all of the editions which will be printed on collector cards that include inside stories for the tracks.
The Youth Crew compilation series started all the way back in 2008 and the boxset will include 51 hardcore bands throughout. Mindset, Berthold City, Spirits, Bystander, and True Colors are among the many acts featured in the package.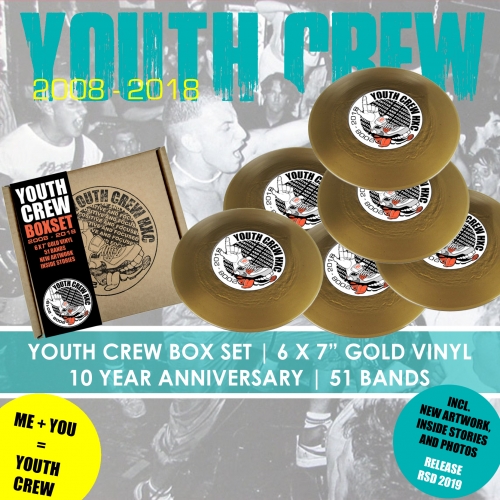 Since many No Echo readers are proud vinyl heads, the 50th pre-order for the Youth Crew boxset will win the original YxC2008 masterplates. Pretty sick: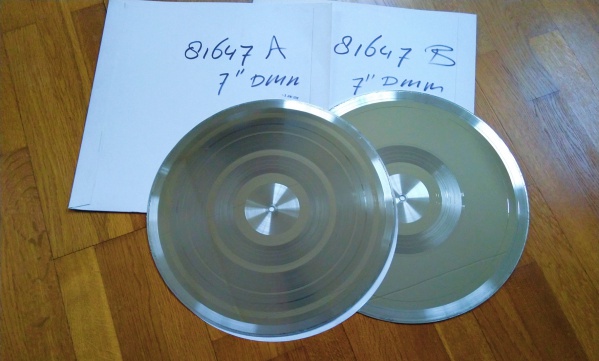 The Youth Crew boxset will be released on April 20 and the pre-order is live today. Stream the compilations below and see who will be appearing on the boxset:
Youth Crew 2008
Side A:
True Colors - "My City"
Mindset - "Building Tomorrow"
Break Through - "What You Seek"
Things We Say - "Move On"
Side B:
Fired Up - "Overruled"
One Voice - "Human Demise"
Go for Broke - "The Difference"
Times Together - "To Learn"
Youth Crew 2010
Side A:
Alert - "Nowhere to Turn"
Pressure - "Pressure"
Fumbles in Life - "The Long Run"
State of Affairs - "Turn it Around"
Forever Young - "Kids on the Run"
Side B:
Reveal the Truth - "Look Around"
Half the Battle - "Legacy"
Rearranged - "Letter to a Friend"
Staid - "We're Here to Stay"
Outlast - "No Better"
Youth Crew 2012
Side A:
Chain Reaction - "Rage and Focus"
Truth - "Just Understand"
Make A Change - "Strive for Unity"
Enough - "Stop the Hate"
Side B:
Truth Inside - "Abstain"
Currahee - "The Fight Goes On"
Step Aside - "Reaching Out"
You're Next - "Start Again"
Flex - "Void"
Youth Crew 2014
Side A:
Right Mind - "Still My Mind"
Clean Break - "Cut and Run"
Nothing Remains - "Conviction"
Kid Armor - "Temper"
Side B:
Safe and Sound - "Excess"
Cut Loose - "Falling Down"
Dedication - "Out Time"
Clearsight - "Nazi Gang"
Youth Crew 2016
Side A:
Modern Problems - "In Your Eyes"
Stand Clear - "Reach the Sky"
Toma El Riesgo - "Bases Solidas"
Awake - "No Longer Home"
Side B:
Face It - "Misguided"
Zero Eight One - "Lies"
Tomar Control - "Consciente"
Spirits - "Dirty Freedom"
Youth Crew 2018
Side A:
Berthold City - "Broken Foundation"
No Wasted - "Young Age"
Kind! Crew - "Risk! It/ Juntos Somos Fuertes"
All In - "Before It All Ends"
Side B:
Bystander - "Go Without"
Feel the Burn - "No Compromise"
Animal Club - "Elitist Fools"
Protein - "Not For You"
Tagged: berthold city, bystander, kind crew, mindset, safe and sound, spirits