Grady Allen is a 17-year-old hardcore fan from the small town of Darien, CT. He recently came home from a tour with his band, Anxious, who is in the process of recording a new record. Naturally, Grady loves searching for hardcore vinyl, so join me in welcoming the youngest person to join the No Echo Record Collector club.
How long have you been collecting records?
I have been collecting records since I received a turntable as a Christmas present from my father in the 7th grade. It was an old Technics SL-1200mk2, and is still the one I use today. I went to the local record store a couple of days after and purchased Walk Among Us by the Misfits and Damaged by Black Flag. I would later discover many of the classic "hardcore quintessentials" in this same store: Gorilla Biscuits, YOT, Rites of Spring, etc. My love of record collecting was pretty much set from there.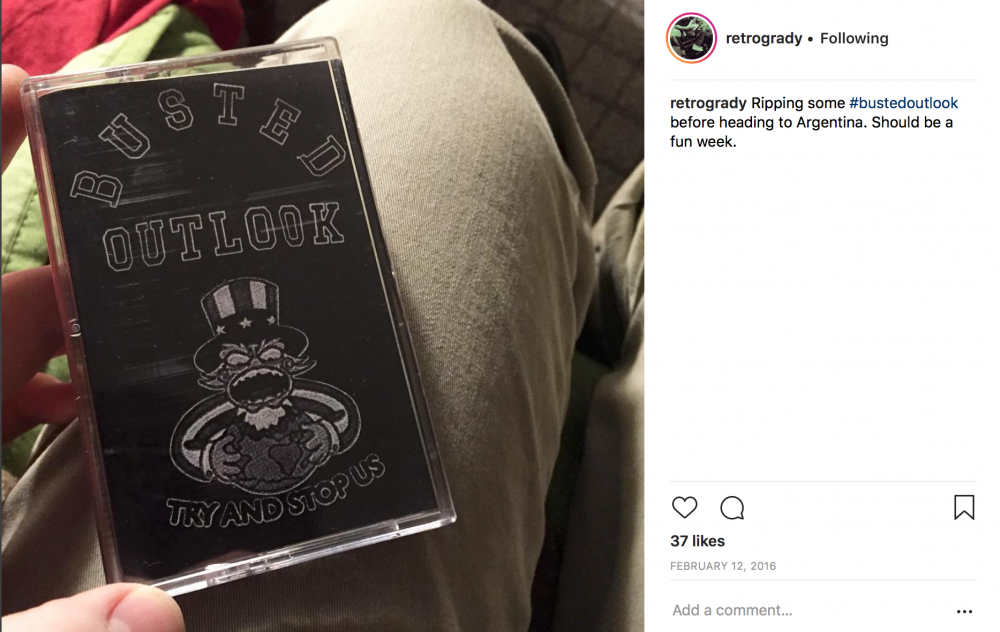 Where/how do you usually find your records these days?
The past year or so I would say that I have obtained the majority of my records from buying directly from the band at shows or through a label's online store. I wish I could say that I was shopping more at local stores but in a small town in Connecticut it can be hard to find the specific releases you've been tracking. While my band was on tour this summer, however, we stopped at local record stores almost every day and I walked away with some big holes in my collection filled.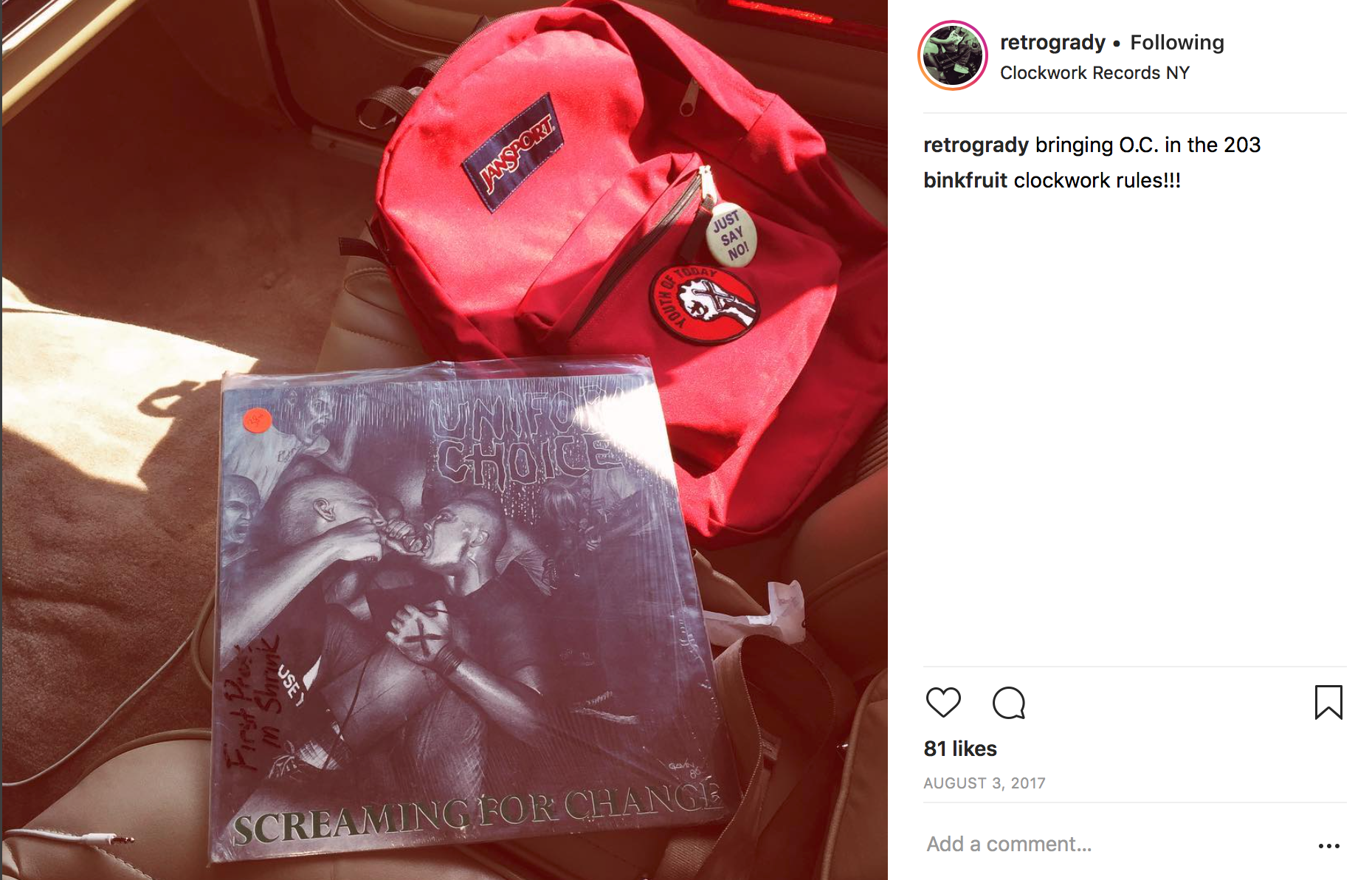 What is the most you paid for a single record, where/how did you obtain it, and what was it?
The most I have paid for a record is about $115 for Release's The Pain Inside 7" (#605). I had always admired the layout of that 7", I think it captures the aesthetic of what a Youth Crew straight edge record should look like perfectly. Needless to say as well, "Drug Free Youth" is a straight edge anthem. I wish there was a cooler story behind me purchasing it but I just randomly stumbled upon a copy of Discogs while using my computer in chemistry class. It had been a grail of mine for awhile, so I bought it immediately.
I've been incredibly lucky, however, to find some very rare records for very cheap in stores where the owner just doesn't know what they have. In a quiet second hand record store in upstate New York I found a first press of Uniform Choice's Screaming for Change still in the shrink wrap under a giant stack of old jazz records. I paid about $15 for it. That was pretty cool. The drummer of my band, Dante, and I also found a first press of Fugazi's Repeater in a tiny antique shop in Hudson, NY. We paid $12 for it and Dante was nice enough to let me keep it.
If you had to pick one record label you feel had/has the best track record of quality releases, who would that be and what are some key titles you love?
I think Triple B-Records has a pretty amazing track record of signing great bands and putting out quality releases. Their discography is also more diverse than I think some realize, with Sam working with bands far across the spectrum of sounds. Bands such as Ecostrike, Magnitude, Candy, and Freedom definitely paint the heavier side of the label (and do a fucking amazing job) but Triple-B's history of bands is more than just that. The work Triple-B has put out from more melodic bands such as Westpoint, Give, and Self Defense Family contrasts really well with the label's heavier releases and creates a really well balanced back catalog full of diversity, at least in my opinion.
My top 5 favorite releases from Triple B (in no particular order) would be:
Westpoint, Dive 12"
Ecostrike, Voice of Strength 12"
Give, I Am Love 7"
Fury, Paramount 12"
Free, Ex Tenebris 7"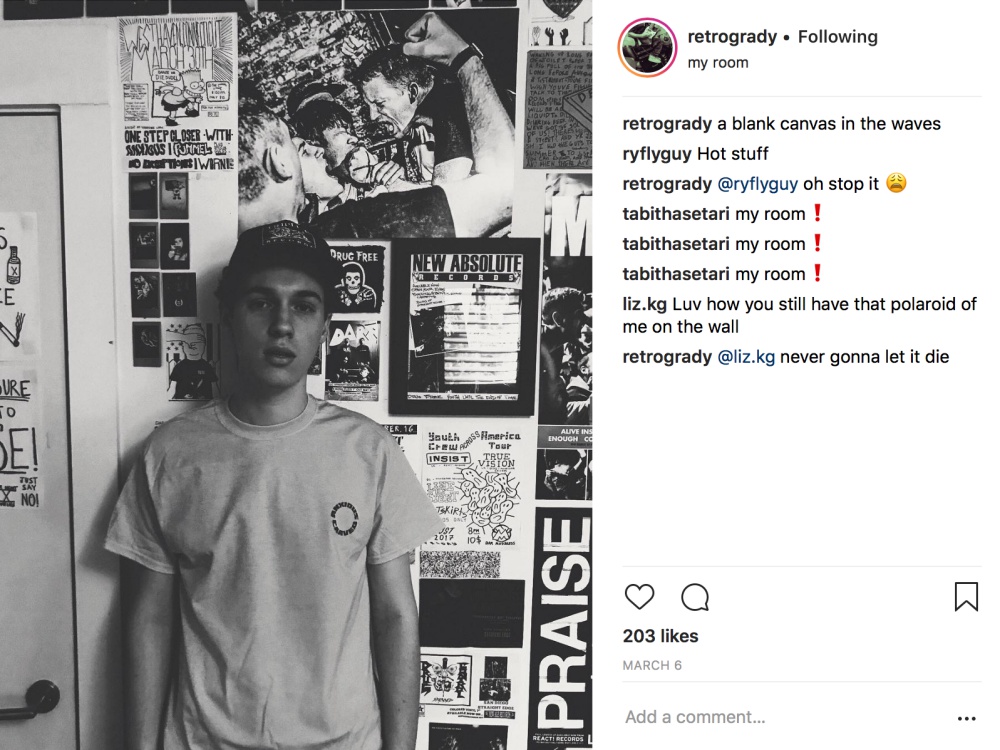 Of everything in your current collection, what is your most prized record and why?
This record came out this year and is by no means hard to track down but it is personally the most important record to me out of my entire collection: Fiddlehead's Springtime and Blind on Bone vinyl, from Lockin' Out. In my opinion, this is a perfect record. Pat's howling vocals are so full of expression and his lyrics are just poetic and unique in a way no other songwriter can capture. The musicianship is utterly beautiful with every note that Alex, Casey, and Dow play just ring with emotion. Shawn Costa's drumming is something to behold too, he's an incredibly expressive drummer. This record is incredibly important to me. I remember being hunched over my computer hours before the pre order went up just so I wouldn't miss the Lockin' Out colorway. It was the most excited I've ever been for a record that I can remember. The bone pressing is also the rarest I believe (tied with the oxblood pressing), so that's cool. Amazing band, amazing record, all very nice people as well.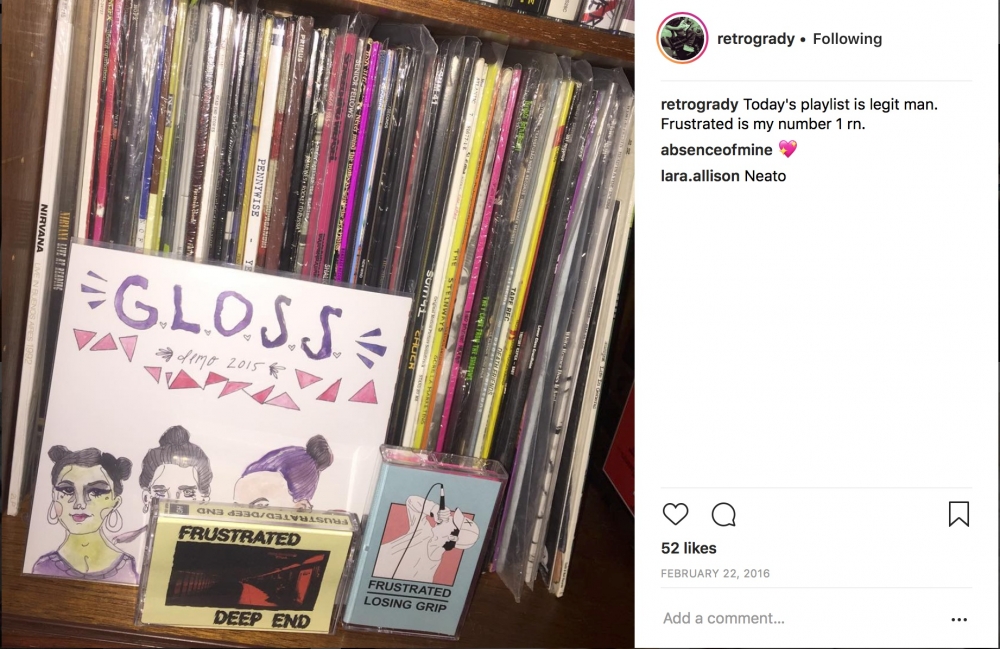 Is there anything that frustrates you about the current record collecting scene?
I think collecting records is an amazing hobby and one a lot of people can enjoy. That said, it's very frustrating to see it become a game of who has the most money, instead of who has the most passion and excitement for a certain release. I know record collecting can be incredibly expensive (especially in the world of hardcore), but it's hard to watch some people over twice my age who might not even be invested nor excited about a release get a version of it that I wanted so badly just because they had a couple more dollars than I did. It's especially difficult when the record is just treated as a spot filled in their collection and not actually appreciated as it should be.
For me, especially with newer bands, buying the record is an act of supporting the band, the label that put it out, as well as the scene that the band and label combined are trying to create or improve. I understand wanting to complete a collection and the satisfaction that comes with having every pressing and every colorway, but that desire should be rooted in the appreciation of the band, not just a desire to "have it."
Which records are still on your want list that you've had a tough time tracking down through the years?
I'm still trying to find an original version of Ecostrike's Time is Now 7" on Plead Your Case Records. It's been a few weeks since I've checked Discogs, however, so I should look this up. I'm also trying to find any of the XelegyX tapes but it's near impossible since so few were made and they're in such high demand. I'd love to find an OG copy of Wide Awake's CT. HARDCORE 7" as they were one of the best bands to do it and I'm from Connecticut so...duh. This record has continued to evade me, however, as it's an incredibly expensive record. I'm also trying to complete my Title Fight collection because I have some major holes that need to be filled. The same can be said about my Samiam collection. I really need to bridge some gaps in that collection.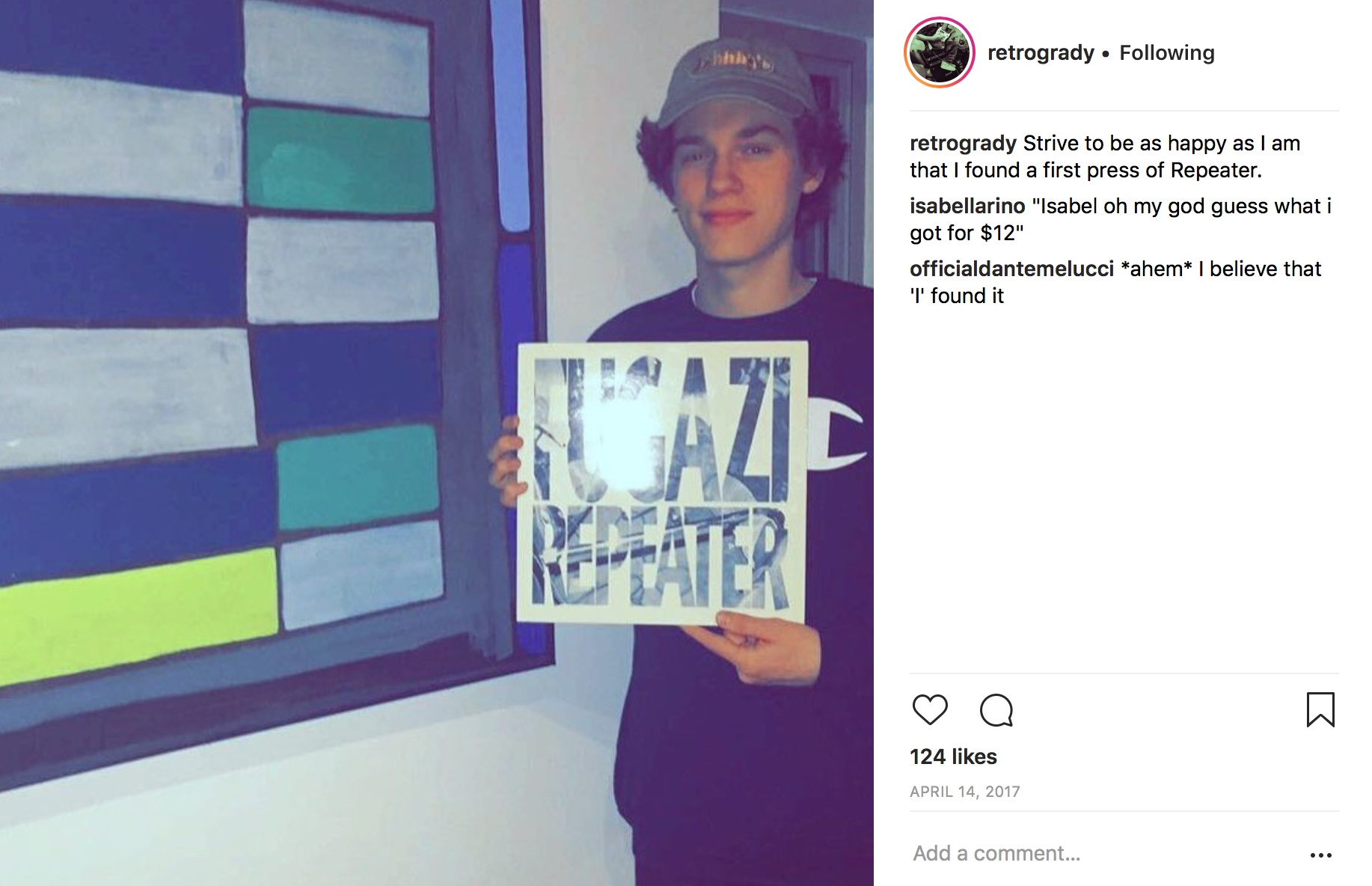 ***
Follow Grady on Instagram, and while you're on there, Anxious also has a page.
Tagged: record collector