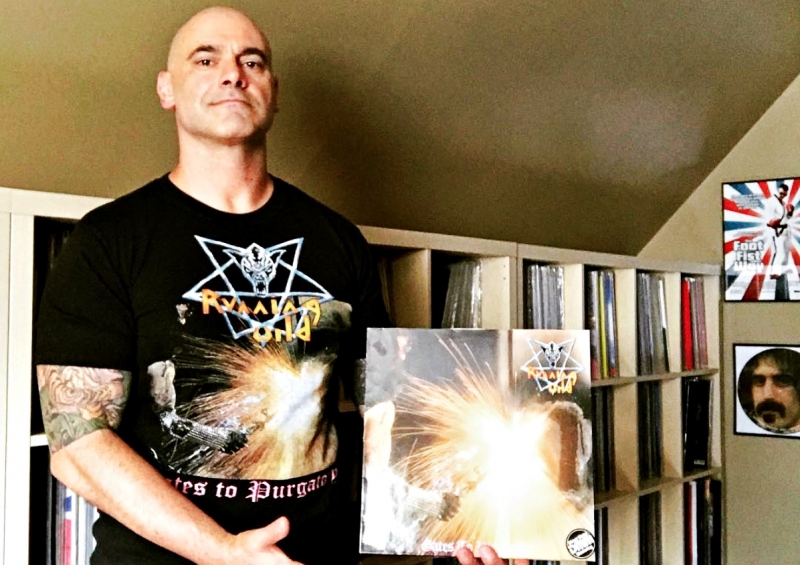 Exumer is a German band that has been delivering thrash greatness since forming back in 1985. Last year, Metal Blade released The Raging Tides, the group's fourth studio album, which was produced by heavy metal studio wiz Waldemar Sorychta (Moonspell, Asphyx). When I was first getting into the harder side of the metal spectrum as a kid in the late '80s, Exumer's Possessed by Fire (1986) and Rising from the Sea (1987) albums were huge for me.
Just recently, a friend and fellow Exumer fan let me know that the band's vocalist, Mem V. Stein, was a massive vinyl collector. After some digging, I found his IG page and have been enjoying his posts since. I reached out to Mem and invited him to be part of this site's Record Collector club. As you'll see below, the guy's obviously got countless metal gems on display in his house, but his musical tastes are far more broad than just that.
How long have you been collecting records?
I have started to collect records in 1979, buying my first albums with my allowance from my parents.
Where/how do you usually find your records these days?
I mostly shop online at distros, labels, eBay and Discogs. However, I still go to brick and mortar stores and buy records wherever I can, including fairs.
Since you play in a well-known metal band, has that helped you in any way when it comes to the collecting thing?
Not really, I always support artists and pay for records, just like I would hope people do the same with Exumer records.
What is the most you paid for a single record, where/how did you obtain it, and what was it?
I used to have Bathory's "Yellow Goat" and then traded it in 2000/1 with a Bathory super fan. I repurchased the album again I think in 2015 for $550, at a local store that did not want to send the album via Postal Service and therefore did not auction the record. So, Bathory, "Yellow Goat" complete copy with insert in near mint condition.
Of everything in your current collection, what is your most prized record and why?
I really love the original Pentagram album. That one is probably really essential in terms of metal.
Is there anything that frustrates you about the current record collecting scene?
Not really, outside of people talking about how much a record cost or how rare the pressing is. The music is what counts, not cost or variant.
Which records are still on your want list that you've had a tough time tracking down through the years?
The Canadian/Banzai pressing of the first Bathory album for a decent price. That is pretty much it and some obscure '70s heavy psych albums...
***
Follow Mem's personal and Exumer Instagram pages, and also check out Metal Blade's Exumer page to see some of the band's recent goodies.
Tagged: exumer, record collector