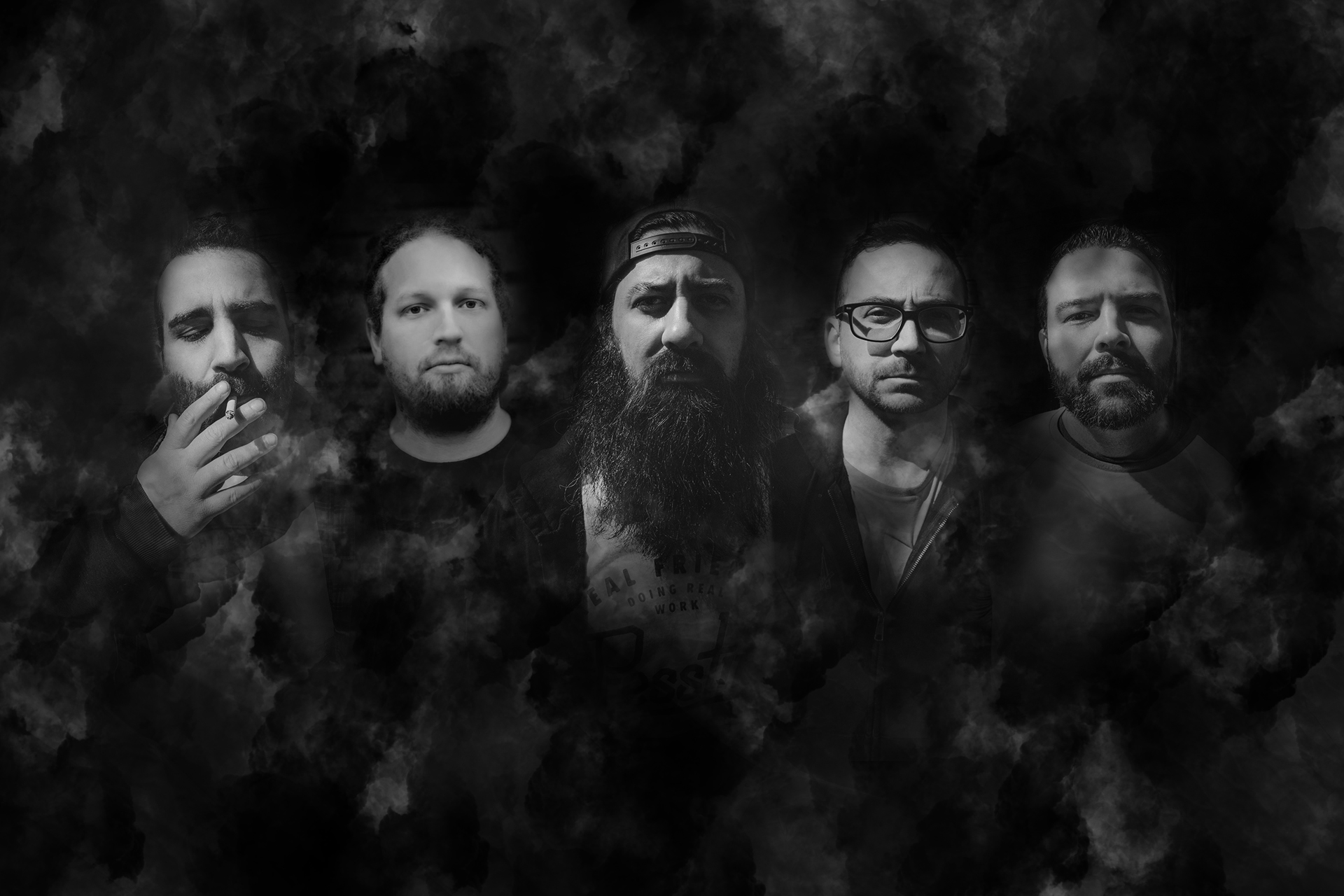 Sky Caught Fire is a Canadian metalcore band that was formed in 2020 by vocalist Craig Laro, formerly of American Hell. "Matt, (who was also in American Hell) reached out expressing interest in starting something new with our pal Steve Driscoll," Craig tells No Echo. "We reached out to a couple other friends to round out the band and ended up having one jam before the pandemic hit.
"With months of not seeing each other, being able to jam or play shows, Matt and Stevie dedicated their time to just keep writing music. Near the end of the year we had solidified a drummer (Josh Learn), began tracking and were able to finally announce Sky Caught Fire as a band. We released our first single, 'Ghost In Me,' to end the year. We followed it up with two more singles ('Dead Inside,' 'Redemption') and then dropped our debut album, l-No Cure for Violence, in May 2021."
As you see, things have been moving fast in the Sky Caught Fire camp. Craig continues: "In September of 2021, we welcomed close friend, Andrew Danch, also formerly of American Hell, to play bass, which solidified our lineup and allowed us to play our first shows in late 2021."
Sky Caught Fire's latest single, "See You In September," dropped last month:
How would Craig describe Sky Caught Fire's sound? "This question has been really tough for me to answer in this band, which I think is a good thing. I feel we bring a whole wide range of sounds and influences to our overall sound. We love punk rock, melodic hardcore, metal/metalcore, and post-hardcore, and I feel that shows in our music from song to song.
"You can listen to one of our songs and say we're a metalcore band and then hear another and think we're a melodic hardcore or post-hardcore band. Vocally, I'd say I'm heavily influenced by punk hardcore bands like Comeback Kid, Bane, and the tougher hardcore vocals like Terror and Hatebreed.
"Our overall influences are all over the place. Anything from To the Wind, Stick to Your Guns, The Ghost Inside, and Refused to metalcore bands like Killswitch Engage, Misery Signals, Polaris, Architects, Wage War, The Amity Affliction and even local legends, post-hardcore bands Alexisonfire and Silverstein."
No Echo asks Craig about Sky Caught Fire's local scene in the Ontario region. "The Niagara, Ontario scene used to be such a popular touring stop but with the loss of promoters and venues over the years it sort of cooled off. Alexisonfire are from our area and are playing some local shows this summer which should help re-ignite the scene.
"As previously mentioned, our region is rich with talent with heavyweight bands like Counterparts and Silverstein, along with Alexisonfire, all from nearby and I'd be on the lookout for bands like Dead Days, Teeth, Rules, Hellbent, The Holdouts, Eaten By Sharks, and IOSO."
Sky Caught Fire's next album, II-Blind Loyalty, is expected to be released sometime this summer.
***
Help Support What No Echo Does via Patreon:
***
Tagged: sky caught fire