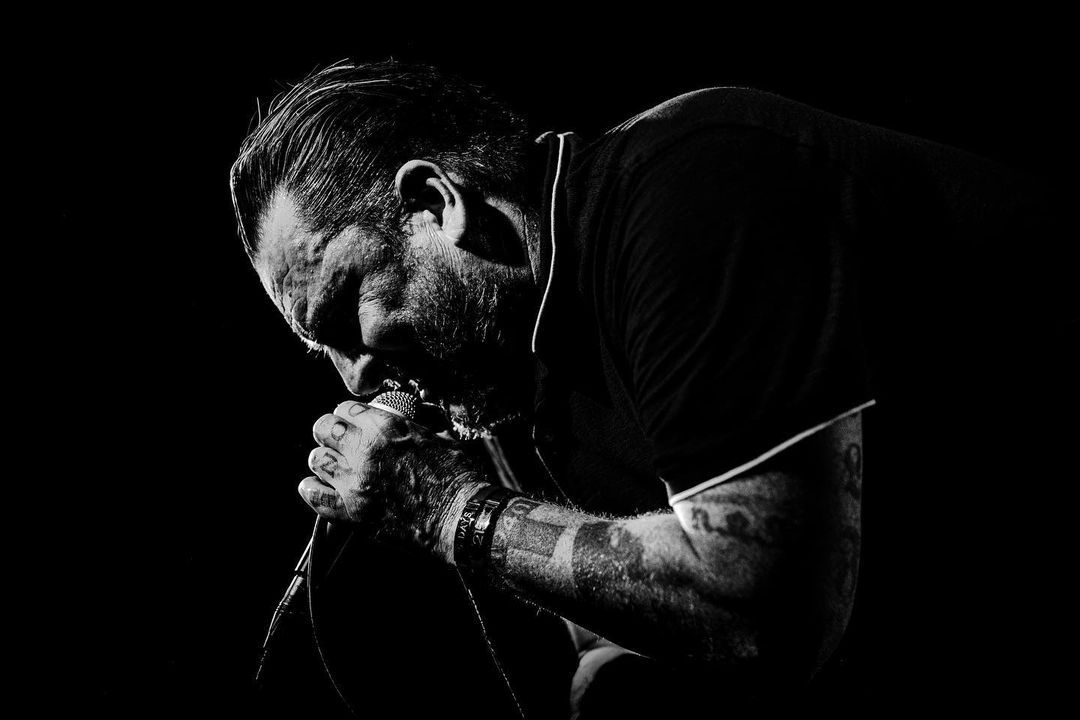 "I think it's ungrateful to not respect that people's fondness for your past work paves way to the present, but for me, personally, 411 was a much more important and challenging band than No For An Answer ever was."
That pull quote comes from a 2017 interview piece I put together on Dan O'Mahony, one of the California hardcore scene's most prolific musicians. Going back to the '80s, the vocalist has played in such bands as No For An Answer, Carry Nation, God Forgot, Speak 714, John Henry Holiday, Done Dying, and Shiner's Club. But 411 is what brings me and Dan back to chat today.
Also featuring guitarist Kevin Murphy (Headfirst, Farside, God Forgot), bassist Josh Stanton (Farside, This Runs Through), and drummer Mario Rubalcaba (Clikatat Ikatowi, Rocket From the Crypt, Earthless, OFF!), the melodic hardcore-minded outfit released 1990's Say It (Thoughts That Feed the Fire) 7-inch and the following year's This Isn't Me full-length LP, during their brief time together.
411 is one of those examples of a band burning out fast but bright because in the years since their early '90s breakup, their influence still lives on within the hardcore community, especially the groups that lean into the melodic corners of the sonic spectrum.
Since they recently announced two reunion Southern California shows coming up in July, I figured it was a good time to chat with Dan again, this time focusing solely on 411's past, present, and future. I hope you enjoy it.
Tell me a bit about how you, Kevin, and Josh became friends in the first place. Did you guys initially all connect through the Orange County hardcore scene? Why do you think you hit it off so well with them?
I met Kevin during Workshed's release of the Headfirst 7-inch and got to know him better when he was living with [Final Conflict vocalist] Ron Martinez and company at the Fat House in Buena Park. Josh and I grew up blocks apart in Huntington Beach, our whole connection was OCHC. The chemistry then was easy as we were all friends before we were bandmates.
When did the initial talks to start 411 begin? Also, did you guys have a clear sonic blueprint you wanted to try and build off of from the very start, or did that develop as you began writing?
Talks started in 1990 and existed in a few different spaces with a few different sounds in mind. Our initial plan was to go much heavier. That all changed when I heard a four-track demo Kevin had made of the two songs that eventually became the debut 7-inch. The tunes instantly caught my imagination and a whole vibe came into view. There was no going back from there.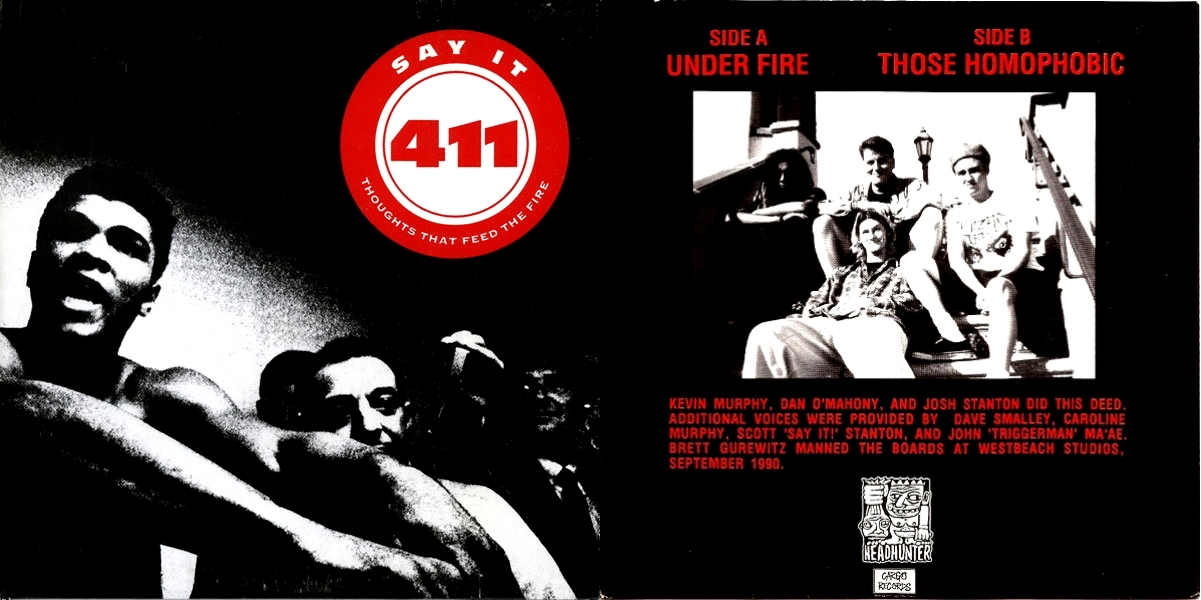 Since the Say It (Thoughts That Feed the Fire) single was the first time most of the world heard 411, what do you remember the reaction being like? Were the more staunch hardcore fans that knew you from No For An Answer fine with you exploring a far more melodic sound?
Live the reaction was intensely positive, in fact I'd say we were always spoiled by the over the top energy given to us by the crowds. The 7-inch itself was crisp and hardcore enough that it didn't really ruffle feathers. The vocals on the LP are the first time I remember people who wanted more of a No For An Answer/Carry Nation gorilla vibe really pushing back.
I got called a crooner and a wanna-be Sinatra, but truth be told the biggest influence on those tracks for me was Shawn Stern and Youth Brigade is a source I'm happy to cite. They were groundbreakers and innovators. Something I at least aspire to in each creative effort.
How did Mario come into the picture? Had you been friends with him long before he joined 411?
I met Mario through Chuck Treece from Underdog and McRad when he and I were partnering on the Voicebox EP. I believe I drove him to a studio to meet with Mario's original band, Commited, as he was playing something on a recording they were working on.
The exact context there could be off, time is like that, but I just remember seeing this teenage pile of dreads flying all over the kit with perfect fluidity and knew he was as good as anybody my path in music had exposed me to. I had no further contact with him until I reached out asking him to play in 411.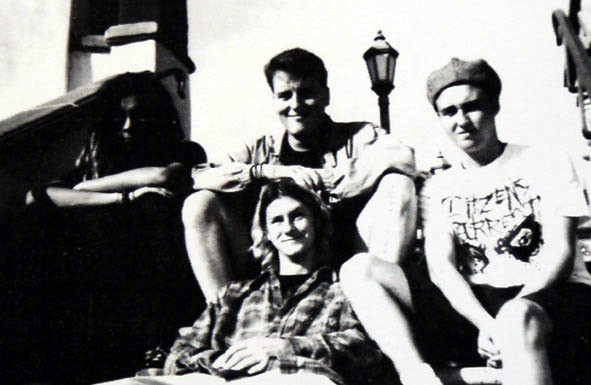 What do you remember about the shows 411 played back then? Did you find yourselves on more musically diverse bills than the ones you played with No For An Answer?
All bills were more diverse the further back you went in my opinion, so in a sense the variety NFAA experienced was better than people might expect. The all straight edge, Youth Crew thing occurred more frequently if we were back east, but [legendary Southern California clubs] Fenders and the Country Club served up a pretty broad spectrum.
That said, 411 did make an effort to play with everybody from Jawbox to Neurosis to Fugazi to Christ on a Crutch. Hell, even in booking us now, Ron [Martinez] from Crawlspace and I are reaching for that diversity of sound and presence.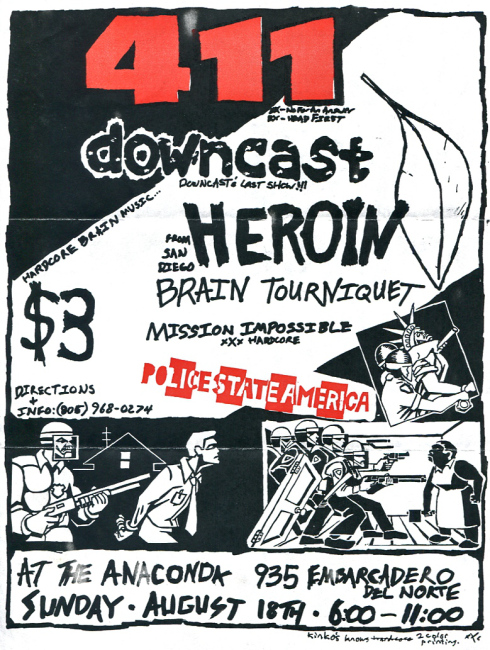 Share some memories of the making of the This Isn't Me album. I never visited Westbeach Recorders but that place has so much rich punk history to it.
First off, we recorded in two different locations that went under the Westbeach banner, both of which were owned by Brett Gurewitz [also of Bad Religion and founder of Epitaph Records]. I remember the small one based in a little house in Hollywood far more clearly than the second location.
Also, the first record was produced by Brett the second was not. That adds to my fondness for Westbeach OG. The 7-inch production has an immediacy I feel the LP lacks.
What else do I remember about making the 411 album? Lots of liquor store porn on the coffee table that seemed to be there for shits and giggles but made me squirm, and a leaky ceiling that I believe may have factored into the relocation.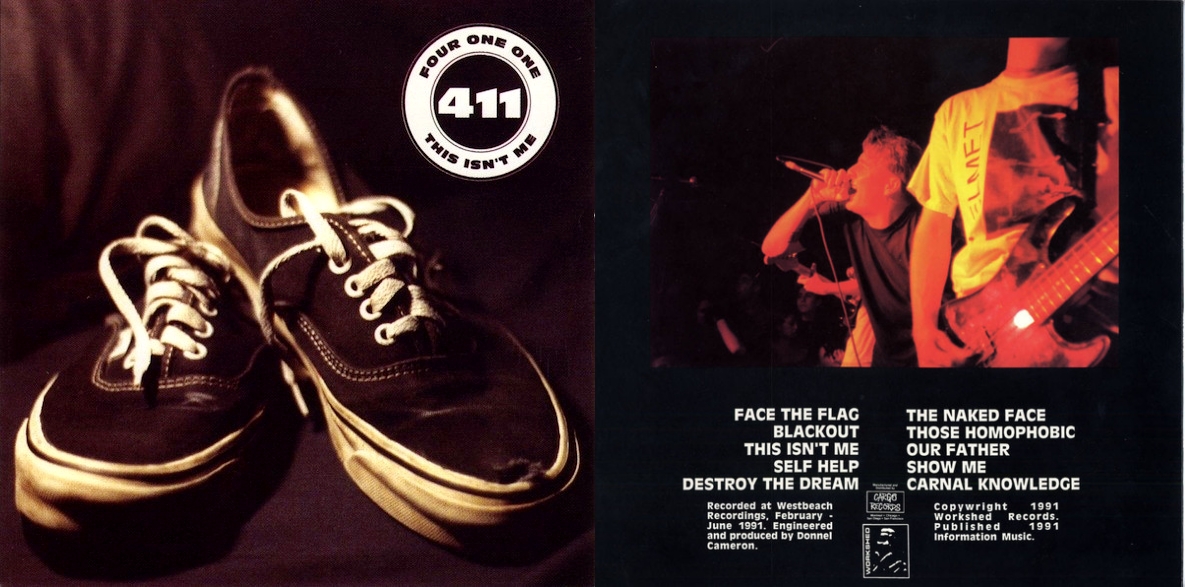 411 would go onto release This Isn't Me via Workshed Records, a label you owned and operated that was distributed through Cargo Records out of San Diego that had also put out the debut single through their Headhunter Records imprint. Was that simply a decision based on being able to control how the release was handled from top to bottom, or did you also entertain the idea of working with a different label?
Kane Boychuck, who ran Headhunter, and who had hooked Workshed up with Cargo, asked for the 411 EP to help launch his label. Enough said, I was happy to oblige. For the LP, however, I wanted things under my own tent.
Over the course of 411's existence, there were minimal talks with Alternative Tentacles, and a few others, never particularly serious, but I'm glad we stayed in the Shed.
What led to the breakup of 411? Did you always plan on burning bright and fast, or did something else come into play?
I do remember we were grinding on each other's nerves a bit by the end of the second US Tour, but as much as anything, we just kind of disintegrated as I stayed in the Bay Area at the end of the final show and essentially came home 7 years later. Our disintegration was neither planned nor announced.
When and how did these 411 reunion talks begin? Were you hesitant at first?
It had come up a few times in recent years but never in the first say 25 after the split. In 2017, there was brief discusssion but it wasn't really viable practically or financially. Mario had a second child on the way and needed to bring home the bacon anytime he ventured off his established calendar to do music, Kevin may have still been overseas, and the political climate was slightly less volatile than it is now.
Truthfully, I think Donald Trump, the pandemic, and just the hideous escalation of the political divide in this country played a bigger role in bringing about this reunion than anything else. It is still not financially viable or particulary practical for four dudes our age and at our points in life, but the urgency/relevance seems to have peaked and these particular screams seem well suited to what meets our eyes.
My only hesitation is the sad realization that I bring about 3000 pizzas and a few years on the couch with me to the field of battle.
You've been critical about hardcore bands reuniting and simply playing their old catalog when they tour. How important was it to write new 411 material to you? Was that a dealbreaker for you?
Two things occur to me.
Firstly, for the last two years or so, I've been in a slightly different place with that, you can hear me stating it on my podcast and in interviews pre-dating this by a long while. I had sort of a moment of clarity where I started to feel really out of line for dictating what people do with their own creations. I think it's on the 'consumer' for lack of a better word to act based on their opinion of the artist's motivation rather than me to issue a blanket statement that fails to factor in case by case realities.
Secondly, I was caught off guard by Mario's observation that some of our material has never seemed more relevant or more logical to be sharing with the world than it does now. That sparked me. He's not one to wear his politics on his sleeve.
With regards to new material, its absence wouldn't have been a deal breaker, but its presence is certainly a deal sealer. I am extremely proud of the fact that we are writing again.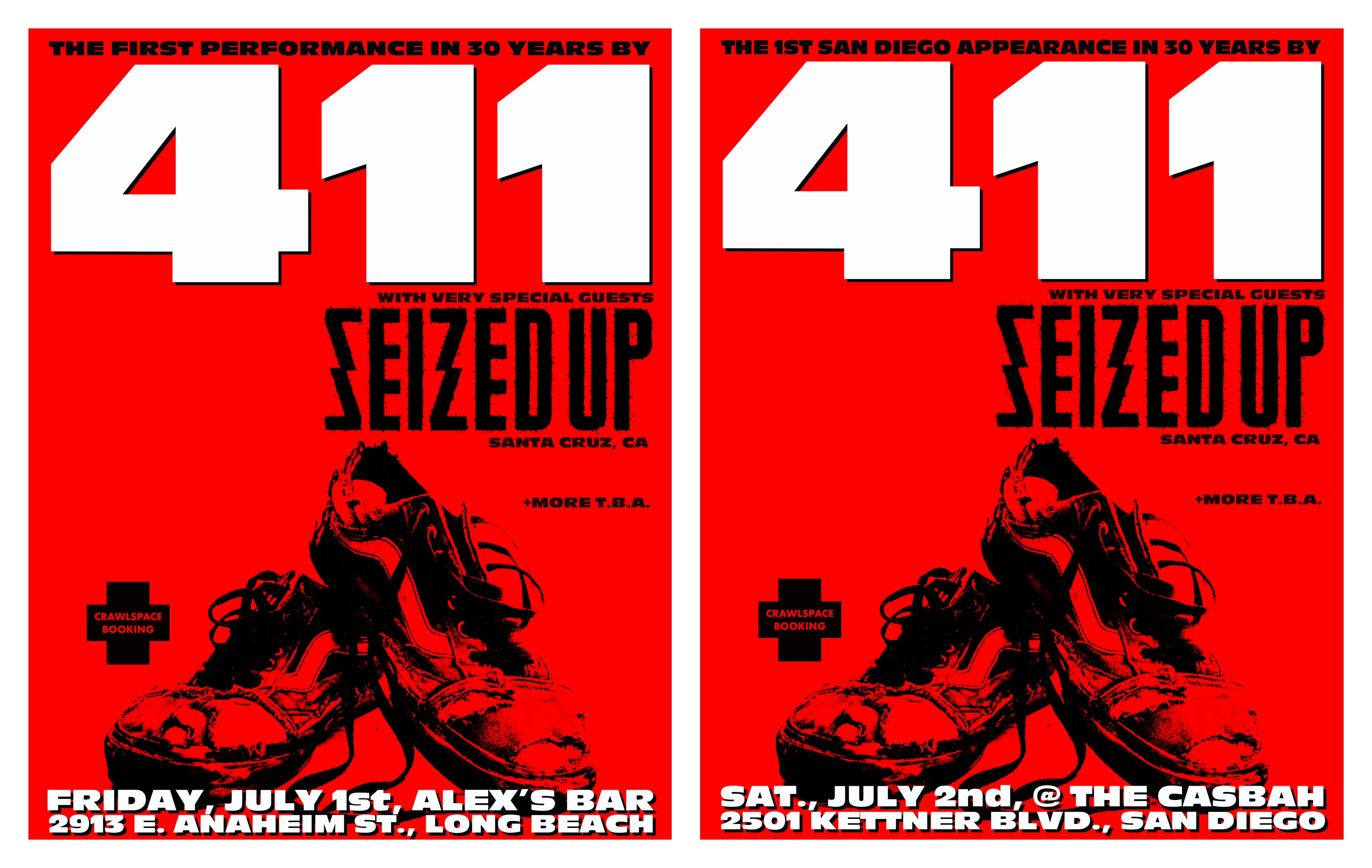 What's the plan for 411 from this point on?
We play two shows in July after a prolonged training camp of sorts in San Diego, kinda make sure the wheels don't come off. Then, we likely explore an EP and some additional dates this fall. We're booked to play on my 55th birthday. Ouch!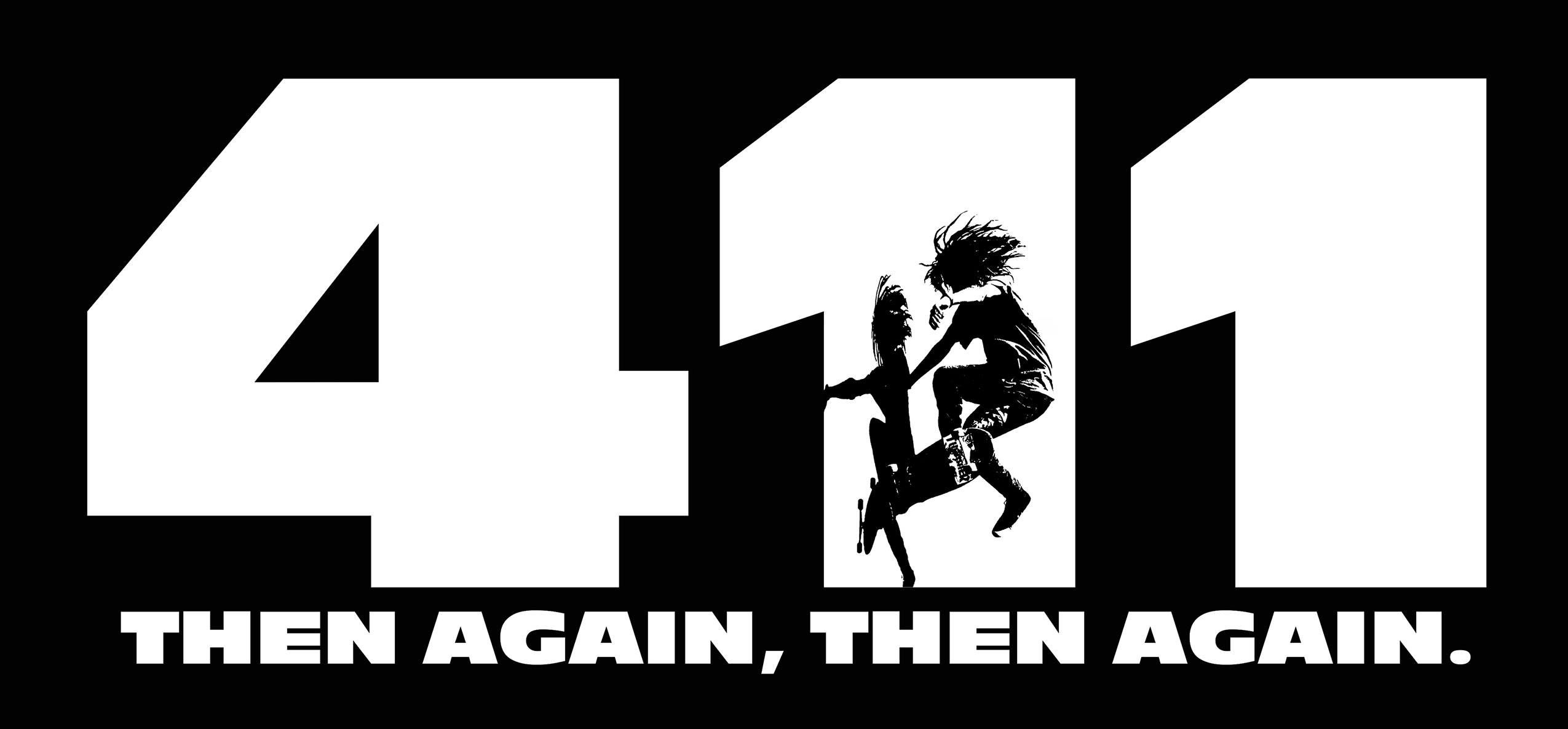 What is your favorite 411 song and why does it resonate with you so deeply all these years later?
Topically I'd say "Those Homophobic," particularly given what's happening in Florida and other Red States in recent months:
Sonically, I'd say "Life Minus Me," since it's musically interesting and vocally it contains the longest wail of my career!
***
Upcoming 411 shows:
July 1 - San Diego, CA @ The Casbah w/ Seized Up + more bands to be announced (tickets available here)
July 2 - Long Beach, CA @ Alex's Bar w/ Seized Up + more bands to be announced (tickets available here)
***
Help Support What No Echo Does via Patreon:
***
Tagged: 411, carry nation, no for an answer, shiners club