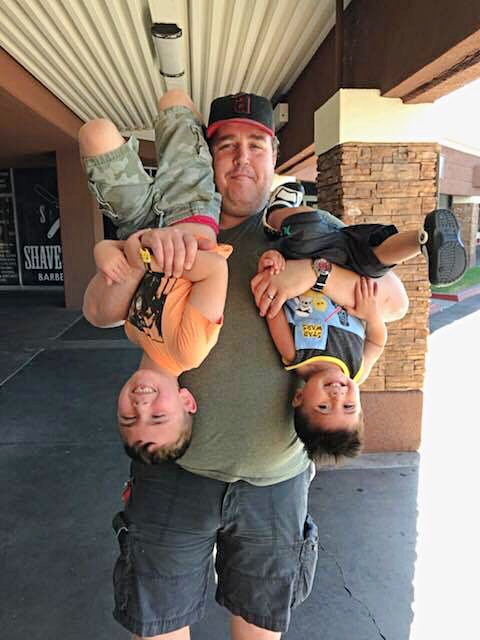 Jon Huskey lives in Riverside, CA where his works as an Early Education teacher. The married father of two keeps busy with work, home life, record collecting, and learning Pokémon and Minecraft with his six-year-old. He used to keep the It Folows music blog and also co-ran a music venue in the Inland Empire with Nate from Xibalba called the SOS Project. With Andrew from Glory Kid Records, it eventually became SOS Booking, which is going strong to this day.
Welcome Jon to the Record Collector club.
How long have you been collecting records?
I've been actively collecting for about 25 years now, but I'm almost 40-years-old, so I had books on 45 as a kid. My mom had lots of records and one of those huge record player/8-track/stereo combos that was the length of the living room window and probably waist high to your average adult. And she had that well before I was born clear up until at least the end of high school. So, my younger sister and I had these paper type records that were a page you ripped out of a book...Disney books. I had Mickey Mouse's Casey at the Bat and Mike Mulligan and his Steam Shovel, stuff like that, from as early as I can remember. At about 14 I started buying my own vinyl and haven't stopped.
Where/how do you usually find your records these days?
Nowadays, I do most of record buying in-store. I've definitely done plenty of mailorder, eBay/Skylab and those kids of auction sites, and places like Discogs/Dead Format. But I still love going into a shop and thumbing through things. The $1 and $2 bins are my friend! So many gems and unsuspecting finds. I'm also spoiled some. My general Inland Empire scene casts a wide net and encompasses things as wide as the almighty Spanky's Cafe/Showcase Theatre and bands as wide as Voodoo Glow Skulls, Justice League, Chain of Strength, and Man Is the Bastard, the Claremont colleges radio station KSPC, and Dr. Strange Records, which has not only been a store for a long time, but a record label and top of line mailorder for even longer. Bill, aka the Doc, is a class act record and music guy (don't let him fool you), so I've always had somewhere to go as other local shops have ebbed and flowed with vinyl.
What is the most you paid for a single record, where/how did you obtain it, and what was it?
I really don't pay a ton for records. A few years ago I picked up a really clean copy of Subhumans' The Day the Country Died for a touch over $40, from Dr. Strange Records. However, I just can't bring myself to go bonkers for records. I always look at the "I could get so much more if I don't go all in on this one record." I was definitely the kid in the store buying the 10 and 15 cent Lemonheads, Boston baked beans and that stuff and pissing the candy bars [laughs]. However, I did just drop $30 on a copy of Underdog The Vanishing Point while holding a copy of the Matchless vinyl. I have pushed hard on some things before on eBay and been outbid on stuff that would have cost me north of $50 if I won. I did sell a copy of Further Seems Forever's first album on Clear for almost $200 a few years ago. I loved the album but it was just too good to not flip for a record that is exactly the same as the CD. And given I'd bought it brand new for $9.
If you to pick one record label you feel had/has the best track record of quality releases, who would that be and what are some key titles you love?
Best track record: Dischord, hands down! I have a ton of Nemesis and Mystic stuff, but Nemesis was not a super long run and Mystic can be real hit and miss. But Dischord, the quality just speaks for itself. Every release is a quality effort. I don't love every release or band, but it looks good and sounds good and you know that it was put out with a purpose and not just "lets throw stuff at the wall and see what sticks." Key releases for me would be the Dischord First Year with Teen Idles, SOA, Government Issue, and Youth Brigade. Mostly for SOA and Teen Idles. I love GI, but really starting at their Make An Effort 7". Fugazi's Repeater is huge for me. As I got way into hardcore most of my punk friends kind of stalled out on it after the first wave of bands. Fugazi totally turned things on its head while also showing things that tied back to some of the grunge music I really liked.
Minor Threat's Out of Step is iconic. But as my friend Zack discussed on your site, the greatness of this little album kind of gets lost at times in the scope of how great the Discography is. There are little things that were cut out from the actual individual album release. Faith/Void split LP is paramount as is Embrace's LP. Dag Nasty's two Dischord LPs are incredible in totally separate ways. Can I Say was the first thing I ever heard described as emo-core. As far as more recently, The Warmers LP is incredible. Alec MacKaye's best since the Faith (no diss on Ignition) and Amy's drumming is so incredible. She's great in the Warmers, who I think get better with each release, but the Warmers is otherworldly.
Of everything in your current collection, what is your most prized record and why?
Oh man! That's tough. I have some records friends have done or released that are pretty damn special to me. I have a test press of a local band, Restrained. who are friends of mine and it was put out by our friend who runs Glory Kid. I got it from Andrew at GK when we were actually neighbors and he gave it to me at a time where there was rough stuff going on in life as gratitude towards or friendship and that means a lot! I'd say my copy of Bonds of Friendship but it doesn't have an insert [laughs]. Other than Restrained, my IRS press of Dead Kennedys' Fresh Fruit for Rotting Vegetables with orange cover the band didn't authorize and with the picture of an actual band on the back that got pissed and made them change it. That album was one of the first punk albums I got (on CD) and when I picked up that record, for less than 10 bucks shipped, I was over the moon. I was neck deep in Rev, Youngblood, Third Party, Underestimated records bands, hardcore all the way, and picking that DK album up made my whole year. It's just such a great album. Not that DK did a bad one, but it's a fond memory and still a great personal score!
Is there anything that frustrates you about the current record collecting scene?
There is definitely that ebb and flow of inflation depending on who's hot or not. At times, it seems far less lately but that could have to do with me not being quite as in tune with all those things as much right now. Supply and demand always works that way, but I've read more than a few pieces about collectors that buy things for the artistic value. Some enjoy the music and all, but get it digitally and buy the vinyl for display. I definitely think there can be a real misplaced value on pressing generation and limited run, especially in punk and hardcore. And while I've indulged in a few collecting adventures, namely Over My Dead Body, it can certainly get really wild, really fast. The festishization of vinyl with labels and music styles that had long abandoned the format can be frustrating. It's caused some real delays for some smaller bands and labels. A major repressing the Beatles catalog is always going to get preference. And that can really suck. On the upside, some of my first group of students who are in their mid-late 20s actually enjoy vinyl and they might not have without the resurgence.
Which records are still on your want list that you've had a tough time tracking down through the years?
The first Offspring album on Nemesis, due to their popularity that thing skyrocketed years ago. I haven't looked in years because it was always ridiculous. SSD's Get It Away. It baffles me that the SSD stuff and things like the Necros, which are owned by labels that are still active don't do some proper reissues. I'm all for a quality reissue. I have beautiful reissues of the Deep Wound 7" and Middle Class Out of Vogue 7" and am perfectly happy with them. The Reactors LP. They were a local punk band in the '80s that were really good. The 7" has been reissued but not the LP. And it's a KBD gem and not widely pressed so it goes for stupid amounts of money. Flux of Pink Indians' Strive to Survive is another. I've had a chance but didn't have the money. And it goes for a slightly more palpable range of high $30's, high $40's with good vinyl and intact booklet. Much like the great Ruts LPs, they always come my way when I just don't have the cash. One day, hopefully.
Lastly, I always seem to just miss the 411 This Isn't Me LP. It is hands down a Top 5 or Top 10 album for me and I'm always a day late on scooping it up. I have everything else and even did a really comprehensive collection on the blog before Dan O assembled the great collection LP a few years ago. All of those guys have done some fantastic bands (ahem- Farside, Rocket from the Crypt, Speak 714, Triggerman, and Dan's new band, Shiners Club, to name a very small amount of bands those guys have been in), but 411 is tops for me!
***
Follow Jon on Instagram.
Tagged: record collector