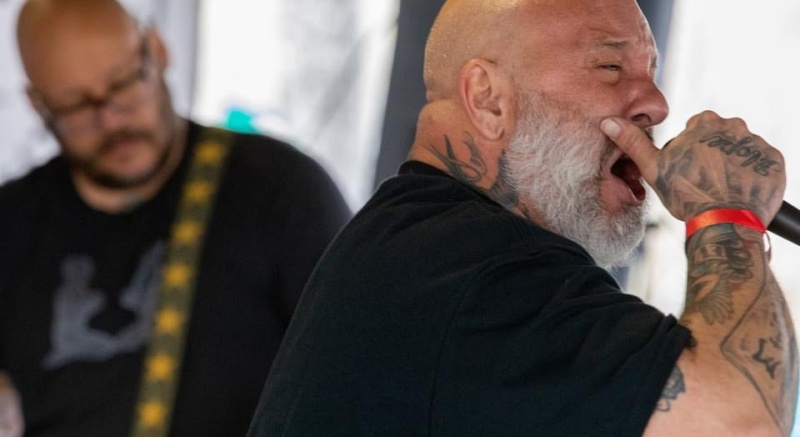 "The band name was suggested by our bass player Roxy, who is from the UK, where it's a slang term for a headbutt," says Michael Shepherd, guitarist of Kirkby Kiss. No Echo is chatting with Michael as he and his bandmates are gearing up for the release of Listen Closely, Kirkby Kiss' forthcoming EP. The hardcore group formed during the pandemic in 2020.
"We wrote songs for about 4 months and then recorded and mixed 7 tracks with the Chris Pierce (School Drugs, Doc Hopper) at his studio Volume IV in New Brunswick over a weekend. Max Caselnova mastered the tracks and we released our first 3-song EP titled Bleeder, DIY on Sunday, April 25th, one week after our first show. One night a week for 5 months during the pandemic, the band became our social life, our therapy and our outlet, creatively and mentally."
Listen Closely will officially be released this coming Friday (July 23rd), but No Echo got the early stream for our readers to check out below:
Kirkby Kiss vocalist Natale Amato the following to say about his lyrics on the EP:
"'Shepwrecked' is an expression about what drew me into the hardcore/punk scene/family as a kid and the unnerving similarities that I see within the community more recently as well. That is not to say I feel that way about the community as a whole but more of a microcosm, especially in the online community."
"In the wake of the murder of George Floyd and countless other killings of minorities by police officers, I was inspired by the BLM movement and other organizations to rise and stand together to make a change. 'Human Resources' is about having a cause and coming together to break down the systems that continue to be unjust and oppress the people."
"'Body Right' is about my frustrations and outrage with people's opposition to women's rights, lgbtq+ rights, and racial equality. The fact that these basic human rights are still being debated socially and politically is absolutely absurd to me and I wanted to draw a clear line on where I/we stand."
"'You're Not So Welcome' is a statement that misogyny, sexism, objectification and/or sexualization are not acceptable ideologies and will not be tolerated."
With the EP coming out, Michael fills No Echo in on Kirbky Kiss' upcoming plans: "We are playing a record release show the day after it drops on Saturday, July 24 in Forked River, NJ with Nihilistics, School Drugs (It's also their record release show), and a bunch of other great bands. It's a benefit show for a local drug recovery center.
"We have a few more shows set up over the summer and are looking to play out as much as possible. We are also headed back into the studio with Chris Pierce on July 30th to record a few more songs (one for an upcoming compilation) and 1 or 2 that we're not sure what we're doing with yet."
Listen Closely will be available July 23rd on all major streaming outlets. Digital downloads and a limited edition run of 100 CDs will be available on Kirkby Kiss' Bandcamp page.
Kirkby Kiss on social media: Facebook | Instagram | Bandcamp
***
Help Support What No Echo Does via Patreon:
***
Tagged: kirkby kiss