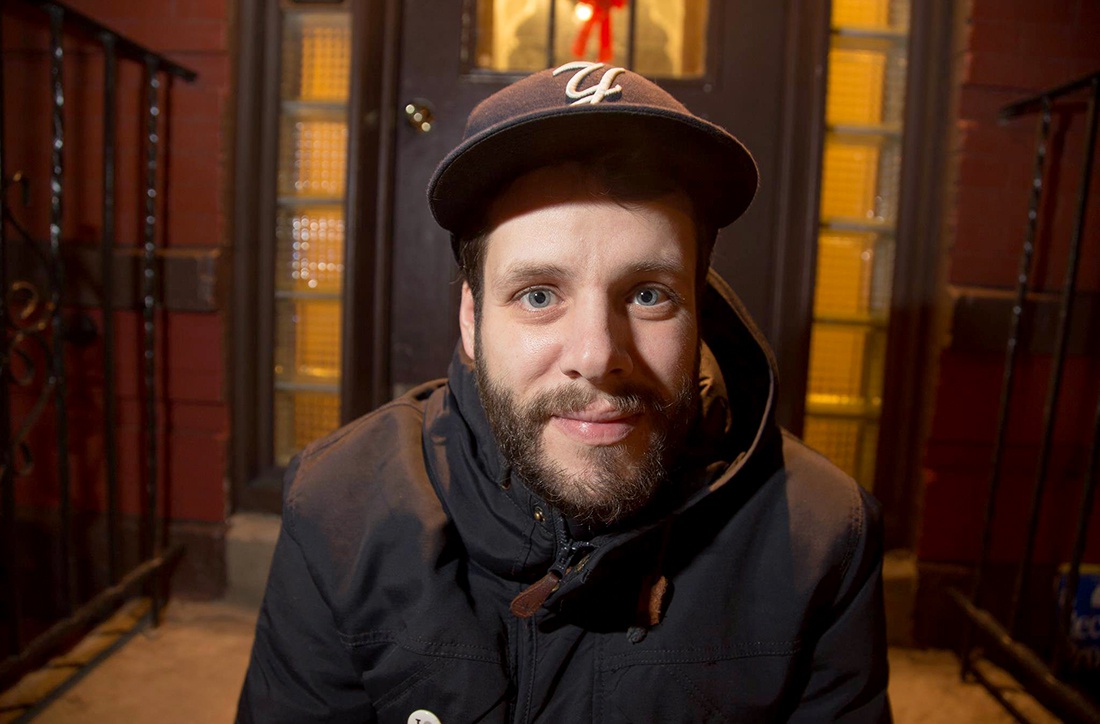 Currently based in Brooklyn, NY, Boston native Carl Gunhouse has been part of the hardcore scene since the '90s. A photographer by trade, his work has exhibited in such places as Photoville, Spring Break Art Show, the Center for Photography at Woodstock, the Rhode Island School of Design Museum of Modern Art, and all over the globe. The Yale graduate has also been featured in outlets like The New York Times, Vice, and Maximum Rocknroll. Carl is a co-founder and director of Transmitter gallery, and co-director of Waal-boght Press.
In this Photographer Spotlight, I focused on Carl's hardcore-related photography. So, dive right in!
Where were you born and raised, and were your parents into the arts?
I was born in Boston, but grew up in New Jersey, mostly in Summit, NJ. My mother was a house mom, but she had a passion for photography. So, when in high school, I took a photography class, f-stops and shutter speeds already kind of made sense to me. My father worked in computers but he grew up a big folk and jazz fan in the early '60s, so we were exposed to lots of art and music, and had lots of trips to museums. Every year we'd go to Clearwater's Great Hudson River Revival, so the first shows I went to as a little kid were Pete Seeger, Arlo Guthrie, and Odetta.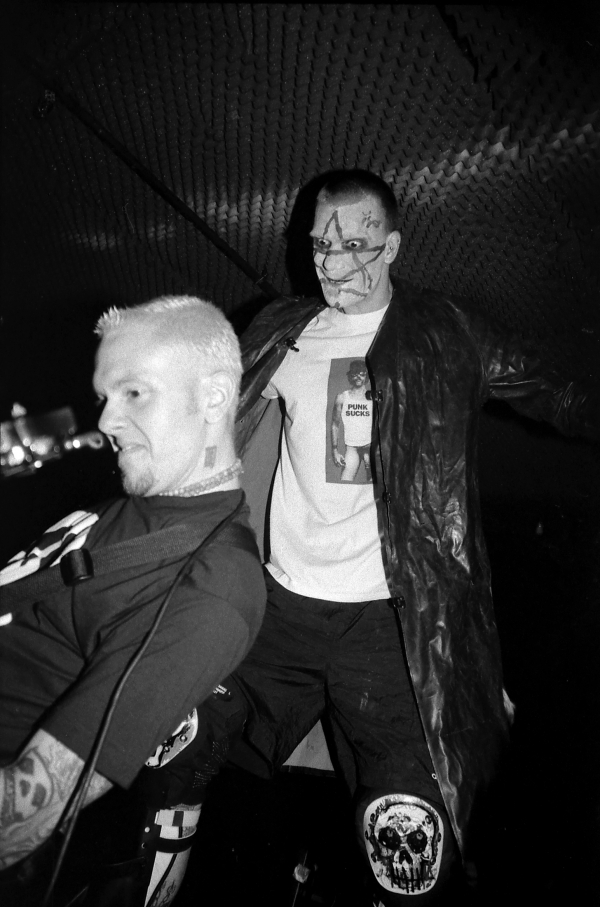 What came first, your love for music, or your love for photography?
Music for sure. I liked photography, and it seemed like an easy class in high school, but my interest in photography came about very much as a way to be involved in hardcore. I was socially awkward and not musically talented, so photography seemed like an attainable way to be part of things, to meet people and give back to the scene, which sounds hokey in my 40s, but in my teens, it was a very real motivation.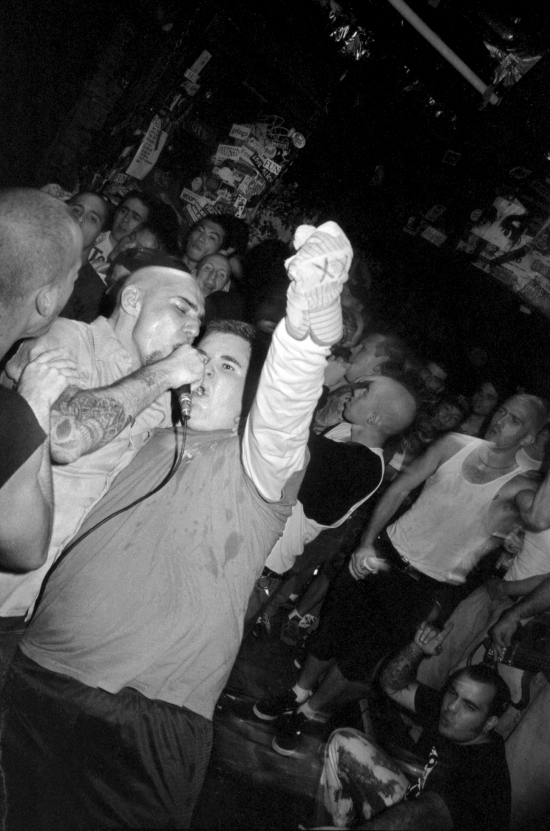 How did you discover hardcore/punk?
Through, as the now old people call it, "alternative music," or what we now call "indie rock." I was part of the grunge boom of the early '90s, and through that, my best friend, Geoff DeCicco, stumbled onto Fugazi and then early DC hardcore, which I liked, but what sealed my fate happened in a math class when an older kid said you hadn't moshed until you moshed in a Biohazard pit. So, Geoff and I went to see Biohazard play City Gardens with Sick of it All co-headlining and Sheer Terror as the opener. I remember being confused that the singer of Sheer Terror [Paul Bearer] seemed to be mocking me personally. Biohazard was boring metal, but man, Sick of it All was amazing, and it changed my life. I moshed and a skinhead woman walked up to me while I danced and cold clocked me in the face. This confirmed I was doing it, I could roll with a random older kid in math class.
A couple weeks later, Dave Murphy who was a couple years ahead of me in high school, came up to me and said he had heard I was into hardcore and gave me a mixtape with Vision, Slapshot, 7 Seconds, Killing Time, and a bunch of stuff I had no idea about, and from there on out, hardcore has been a constant in my life.
Who were some of the photographers you looked up to during your formative years?
B.J. Papas. Gabe Walters from Whole 9 Yards fanzine got a hold of B.J. Papas' archive and printed a huge photocopied fanzine of it and it was glorious. Early on, I found the Bri Hurley's Making a Scene book at Tower in the Village and loved it. Of course, godhead is the Banned in DC: Photos and Anecdotes from the DC Punk book that Cynthia Connolly put together, which I have pored over endlessly and still use as a style guide for titling my pictures.
But my favorite hardcore photographer has always been Justine DeMetrick, who did Intermission fanzine, which in a time of slow shutters and very blurry pictures made a rather clean picture where you could make out the crowd interacting with the band, what the club looked like in the background, all the stuff that I was endlessly fascinated by and made me feel like I was there and not in suburban New Jersey.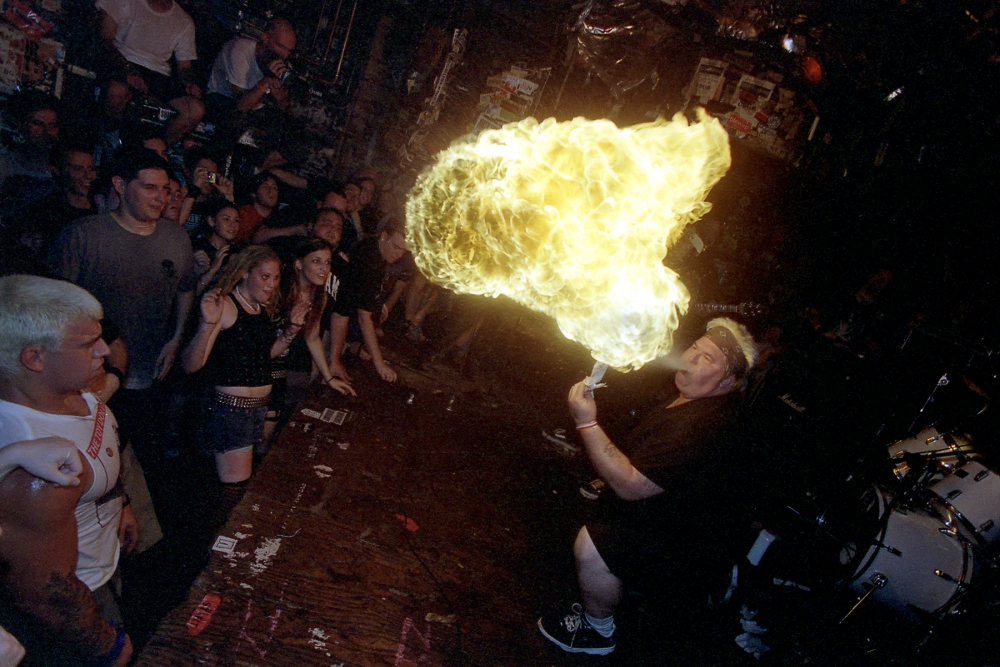 Also, more recently, Robby Redcheeks, who was the first person I remember shooting from up front in the crowd. His work
was always impressive and over the last couple of years like lots of people, I have shot more from the crowd but I am still more of a side of the stage kind of person.
What is your camera and post set up?
Just a Canon 6d and handheld Canon Speedlite, nothing that fancy, not much of a gear head.
Who are some of your favorite bands to shoot?
Oh, hard to say nowadays. Lots of older bands I've loved since I was younger are still going or have come back, which is fun but shooting them gets odd at times because the crowd is my age or older, so it's not as visually crazy as it used to be. So, I've been trying to make an effort to see bands that I might not love musically, whom kids seem go crazy for, which makes things more interesting photography-wise. Recently had a great time at Limp Wrist. They were great despite being older folks, Trash Talk always seems to bring the havoc.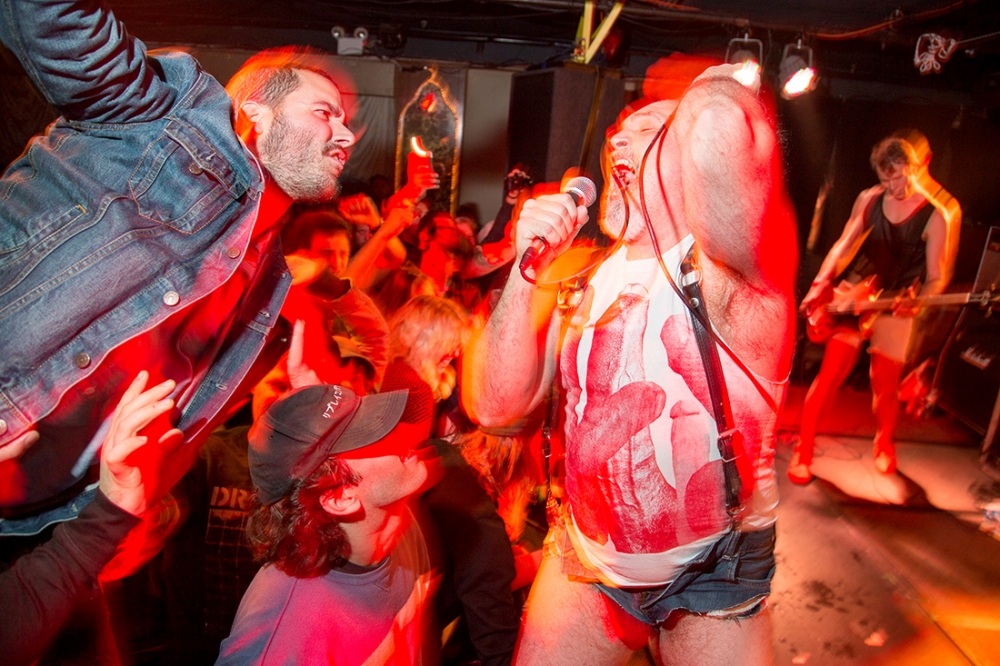 If you could go back in time, who are some bands that you would have loved to shoot?
From my era, but somehow, I never got to see Bad Luck 13 Extravaganza. They seem like they would've been photogenic, but then again, they just played Philly recently, and I didn't make it. I guess that's just being an old person. GG Allin, I wanted to go to what ended up being his last show at The Gas Station but was just a little too afraid to go. I regret that. Bikini Kill, I missed them at CBGBs because they were saying that men couldn't photograph them, but having photographed The Julie Ruin I am sure in retrospect it would have been fine. And I mean the obvious Minor Threat, Glen Danzig-era Misfits, any pre-breakup-era Black Flag?
What are the toughest aspects to shooting hardcore/punk shows?
I don't know, I find pretty it damn enjoyable. I guess dealing with "hardcore time." I feel the main thing in photographing shows is getting a good spot to shoot from and then holding on to it. So, I tend to get to shows on time, but it can get a little annoying when shows don't start till an hour or more after they were supposed to. Oh, and mic stands blocking my sight lines for guitarists who don't use them. I always wanted to make a "mic stands can suck it" knock off Chung King t-shirt for hardcore photographers. But otherwise it's great, I can highly recommend it.
Tell me about some newer bands that we should all be on the lookout for.
Man, I am old, I feel all the new bands I know broke up a while ago, so take this for what it is worth. I enjoy Krimewatch, Sick Shit, None Above All, Open Your Eyes, Chrome Skulls. I was in Japan over the summer for my honeymoon, and I loved Civil Defense and Stand United, both from Japan. In the category of bands that I
like and haven't broken up yet Give, Iron Chic, Ceremony, Fucked Up, Night Birds, Self Defense Family, Power Trip, Red Death, and Fury.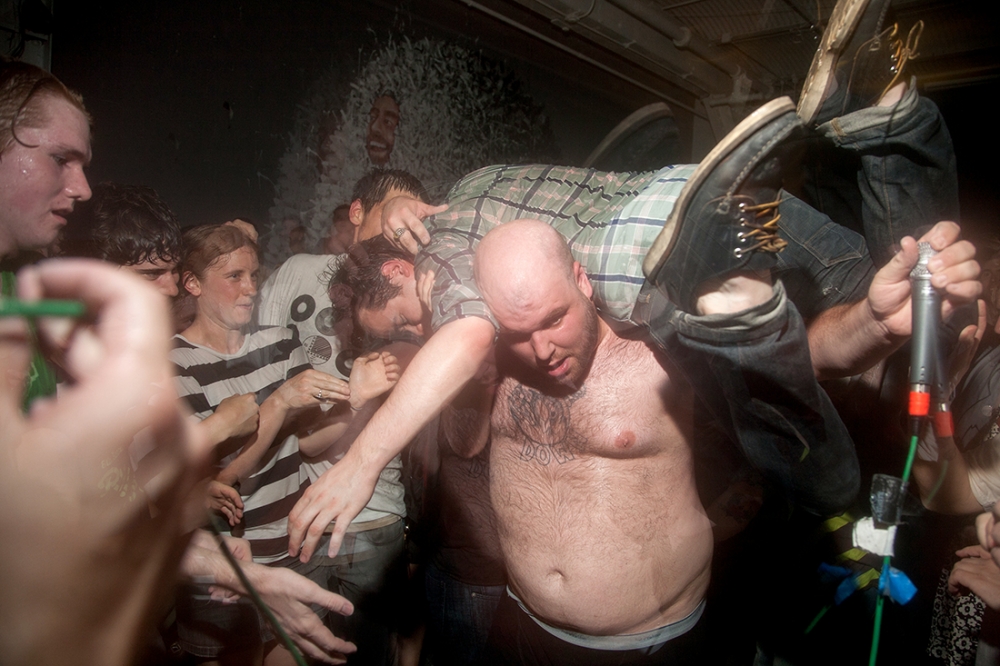 Who are some modern-day photographers that you admire?
Hardcore wise JC Carey is rad, and the master of shooting from the crowd now that Robby Redcheeks is in retirement, Angela Owens, who shoots real tight which is not what I do so I find her fascinating. Greg Pallante is also rad. And I am gonna say still reppin hard the master Ken Salerno whose later work taught me it is okay to drag your flash a little.
If you had to pick one of your photos that best encapsulates why you love shooting hardcore bands, which one would it be and why?
Huh, hard to pick one. I am gonna say this one of [Murphy's Law singer] Jimmy Gestapo who is just a personal hero, super sweet guy who has always been nothing but nice to me. He has been killing it forever and made what could seem like a very menacing scene seem very welcoming to 16-year-old from the suburbs.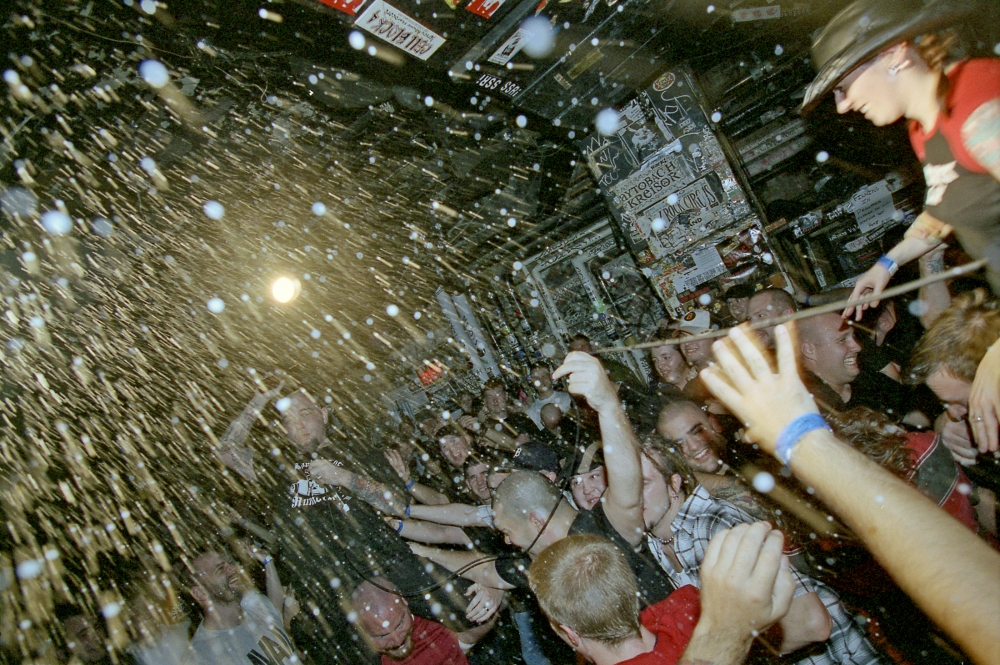 ***
See more of Carl's work on his website, and he's also on Instagram.
Tagged: photographer spotlight