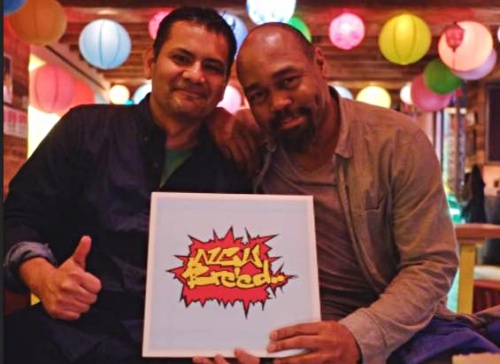 In 1989, along with future Burn and Orange 9MM singer, Chaka Malik, Freddy Alva assembled and released the seminal hardcore compilation, New Breed. The cassette collection included such influential hardcore acts as Raw Deal, Absolution, and Breakdown, and was reissued on vinyl in 2011, via Alva's own Wardance Records label.
2016 saw the release of New Breed Documentary 1989, a film offering the backstory behind the compilation and the bands that appeared on it. Later this year, Alva will be releasing Urban Styles: Graffiti in NYHC, a book that will surely end up on my year-end list come December.
In this installment of Record Collector, Alva tells us about his vinyl hunting days, and his current cassette mission.
I know you aren't digging anymore, but how long did you collect records for?
I started collecting hardcore records in 1985 and quit in 1997. This was due mainly to selling off most of my records to pay for such luxurious items as food, rent, and school [laughs]. I still love walking into record stores, as well as fairs, and just perusing through bins; I rarely buy anything but still really into learning about a particularly obscure record that I either had at one point or always heard about. That will never change.
Where did you usually find your records?
I was a classic digging in the crates type of guy, so I hit up all the record stores in NYC, as well as taking trips to the Midwest and the West Coast just to visit hole in the wall shops that might give up some gems. Trading records either in person or through the mail was a good to way to cross off stuff from my want list. I was also always on the lookout for people that were getting out of the scene and selling off their collections. I'll always remember this guy Andy, from Smash Apathy fanzine, pulling up in front of CBGB's matinees in 1987 with milk crates of records like the full X-Claim, Dischord, and Touch & Go catalogs, and selling them for pennies. I saw Porcell and Ray Cappo pulling kids by the ankles so they could get first in line to browse through this sick collection!
What was the most you paid for a single album, where/how did you obtain it, and what was it?
I always had strict policy of never paying more than $40-50 for an LP, and $20-30 for a 7". For me, it was always the thrill of the chase: browsing through bins or trading with other collectors. The one time I broke my rule and paid more than $50 for a record, that was the Big Boys/Dicks live LP at a fair. I promptly left it on the subway on my way back home. That really sucked but thought me the lesson to never spend too much money on something that can be gone in the blink of an eye.
What is your most prized record and why?
The most prized records that I could never part with, even when I was in dire financial straits, were my Latin American and Spanish hardcore records. Stuff like the Brazilian SUB comp, Olho Seco 7", and Ataque Frontal 7", as well as Spain greats like Decibelios, Ultimo Resorte, and Kortatu. I also consider prized possessions the more off-kilter hardcore records by bands like Spike In Vain, Power of the Spoken Word, Born Without a Face, Sewer Zombies...all of these no one really cared about back then and that perception hasn't really improved with time but no matter what, I cherish the hell out of them.
Was there anything that frustrated you about the whole record collecting scene?
I don't really hate on it, the trends in hardcore record collecting are the same as in the general music collecting world, so the supply and demand is to be expected. What I do find puzzling is how certain scenes become fetishized, with the prices going through the roof. Which brings me to forever kicking myself for not stocking up on those Judge Chung King Can Suck It! LPs when I had a chance. I could've made a small fortune on those puppies now!
Which albums are still on your want list that you've had a tough time tracking down through the years?
I don't collect vinyl anymore, so I don't have a want list for that, but I do occasionally buy tapes and 8-tracks. I also have a particular interest in '80s tape compilations; there are some classic ones that I don't have but once again I won't pay more than $3-5 for an item. I guess that leaves me with finding cheap deals at fair or online as well as depending on old friends to dump their collections on me!
***
Follow both Freddy's personal and Urban Styles Instagram pages.