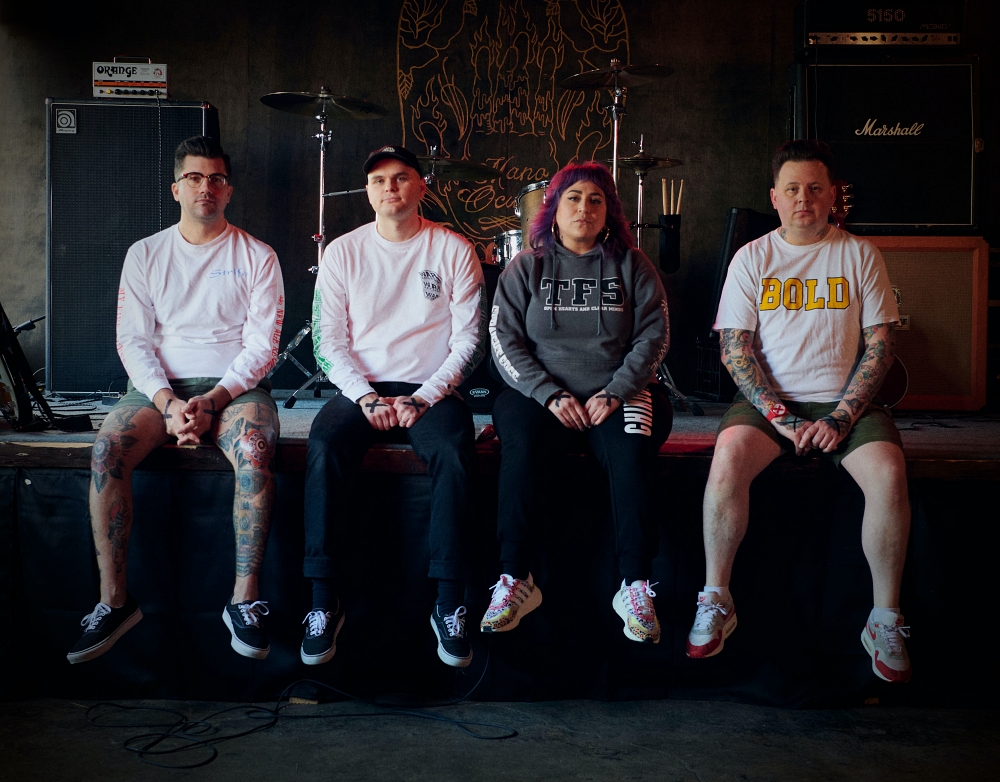 Representing the Pacific Northwest hardcore scene, Enact might be a more recent band from the region, but that doesn't mean they're new to the community. The members of the quartet have put in the work via such groups as Blue Monday, Cutting Through, and Get the Most.
Driving forth a fast-paced straight edge hardcore sound, Enact first appeared on No Echo via a two-song promo last summer, making quite an impression with the site's readership. The band is gearing up to release their eponymously titled debut album in May, which was tracked with engineer Jason McGhee (Dying Wish, WithxWar) and mastered by Wyatt Oberholzer (Year of the Knife, Chemical Fix).
In this No Echo exclusive, we're bringing you the premiere of "Redefined," the killer opening track on the forthcoming Enact album, plus an interview with guitarist Kyle De Ville, vocalist Rikki V, bassist Sean da Costa, and drummer Thomas Vandepol. Get into it, folks.
What can you tell us about the record, and how does it compare to the tracks on last year's promo?
Kyle De Ville (guitars): The new LP is a bigger serving slice of what we have to offer style wise. There are the fast traditional songs and also some more ambitious slower melodic material. Pretty much every musical idea came to me while driving or in the shower, which is pretty much how I write music nowadays.
The final track, "Still in Silence," is something I'm quite proud of because while not only it having some interesting layering of instruments, it tackles some very heavy issues that I feel need to be addressed on a hardcore record.
From what I understand, the formation story behind Enact is related to the break-up of Cutting Through.
Kyle De Ville (guitars): As Cutting Through was winding down and the members were interested in pursuing other projects, I figured it would be a good time to call it quits. Enact's mission is different in that I want the primary focus to be the message.
Having Rikki as our front person is great because not only is she a talented singer, we share so many of the same ideas.We definitely feel an urgency to get out and try to speak out and hopefully provoke some thought about issues not addressed enough.
Thomas is our drummer and he's super detailed oriented, I knew working with him would be a lot of fun. I really enjoy songwriting with Thomas as he understands a lot about the construction of a song. Sean is our bassist, he is super focused and has an ear for nuances. I love his chill attitude, I would take him anywhere.
Today we are premiering the track "Redefined." Tell us a bit about both the musical and lyrical sides of the track. The song must mean a lot to you since you've chosen it to launch the album.
Kyle De Ville (guitars): This should not come as a surprise, but this song is influenced strongly by my taste for NYHC. The opening reminds me of something Gavin Van Vlack (BURN, Absolution) may have written. The rest is pretty heavily influenced by the late greats BOLD and Youth of Today.
Rikki V (vocals): The lyrics are a series of questions and reflections on the choice to show animals compassion by not eating them. Simply put, it is just asking the listener to consider the impact of their choices in a way that is non-judgemental.
The hope is that it can empower the listener to focus not on their past choices as a reason to stay the same, but a chance to look into the future and see the opportunity to grow and progress into a lifestyle of compassion.
You worked with Simon Tripcony known for his art for bands like Be Well, Deadguy, Orange 9mm, and others. How did this collaboration come together?
Thomas Vanderpol (drums): Kyle and I came across Simon's work on Instagram shortly around the time the recording was finished. Right away, we loved the contrast of bright colors and bold text, and knew that it was unique and special. He has a way of creating layers and texture with text in a way that is legible and exciting and avoids looking too busy.
When he hit him up initially, the stars did not align with our schedules to make this happen. Thankfully, Andrew was able to work things out with Simon's schedule later on in the process, and we were able to have our number one pick for art create something really special that we are proud to present.
With bands like Brotherhood and Undertow, the Pacific Northwest has a rich hardcore pedigree going back to the '80s. What are some of your favorite bands from the hardcore scene up there?
Kyle De Ville (guitars): My favorite current band is Change. It's right up my alley in every facet. Representing the Pacific Northwest is important to me, because it's often an overlooked region and people need to know "the deal."
Rikki V (vocals): Punitive Damage and Go It Alone are a current and past favorites. I love this scene because there are no egos and the focus is on friendship. Our first show with FAIM/Change/Jade Dust made me feel those feelings in a big way and I'm looking forward to more of that.
Sean da Costa (bass): Current PNW hardcore that I'm listening to is mostly Change and Dying Wish, though the new Dry Socket stuff is great as well. Overall, my favorite PNW hardcore bands are Trial and Strain. As for repping PNW hardcore, I don't know if I feel 100% comfortable repping the scene super hard mostly because I am not from here and don't really think it is my place to do so.
Being in this band with Kyle and knowing people who were born, got into hardcore, and still are in the scene here in their 30s and 40s really makes me feel quite new to the scene here and not really my place to claim a place at the metaphorical table.
I was born in Orange County and got into hardcore there, lived in the Bay Area for almost a decade, and have lived here for almost a decade. For that reason I like to think of myself as a west coast hardcore kid, which makes sense to me as the bonds, both musically and socially, between bands up and down the coast have been and continue to be very strong.
Thomas Vanderpol (drums): Currently, some of my favorite PNW bands are Change, Insecure, Rejection Pact, and Dry Socket. They're all very different from each other and they're all putting their unique stamp on the region. My favorite hardcore band of all time has got to be Go It Alone.
Other PNW favorites from eras past are Blue Monday, Get The Most, Not Sorry and Keep It Clear. Early React! and Rivalry Records bands from this area were all doing something that I really admired. I am really proud to be a part of this scene and hope to do justice to the legacies of all of these bands.
Now that the album is scheduled to come out, what else can we expect from Enact in the near future?
Thomas Vanderpol: We have a weekend of shows in Portland and Seattle coming up with Chopping Block and Insecure on April 8th and 9th. After that, we are planning to do a west coast tour this summer. We have started writing some new songs for future releases and before the year is out, we are hoping to play some fun one offs throughout Oregon and Washington.
***
The Enact album will be released on May 27 via WAR Records and can be pre-ordered at this link.
Upcoming Enact shows:
April 8 - Portland, Oregon @ Mano Occulta w/ Chopping Block, Insecure, Furnace
April 9 - Tacoma, Washington @ Hammerhead House w/ Chopping Block, Insecure, Denial of Life
***
Help Support What No Echo Does via Patreon:
***
Tagged: enact