Whether you've been into hardcore since the '80s, or if you got into it more recently, you've undoubtedly come across the discography of No For An Answer. The Orange County, California band only worked together for a short period of time, but their legacy remains influential.
In the years following their split, No For Answer singer Dan O'Mahony kept busy with a myriad of projects, including 411, Carry Nation, God Forgot, John Henry Holiday, and Speak 714. For the past few years, O'Mahony has fronted Done Dying, a band that sees him joined by musicians with a strong pedigree. "Done Dying was formed in the spring of 2013 when Chris Lohman and Mike Hartsfield asked me if I'd be interested in fronting their pending new band," O'Mahony tells No Echo. "I'd never joined a band. I'd always formed them, so I asked up front if I could take point on name and visuals while they focused on the music. It clicked immediately as we'd all known each other for decades. Kevin Panter was the natural fourth piece as he, Chris, and I had been in John Henry Holiday together, and Kevin had also played on Speak's second record as well as all US and European tours.
"With that lineup we recorded two EPs (Dress for Distress on Irish Voodoo Records, and Shelf Life on Reaper Records) and one full-length (We Dream or We Die on Workshed Records). In late 2015, Mike seemed to be experiencing some overall fatigue and general creative malaise and started hinting at his reduced enthusiasm. He stuck with us through the completion and release of the album, as well as a few more shows and departed on good terms. We wish him nothing but the best. After Mike's departure, a great axeman named Justin Isham stood in for a show in Arizona and remains involved with us from time to time as mutual schedules ad opportunities arise."
So who will permanently replace Hartsfield in Done Dying you ask?
O'Mahony lets the cat out the bag: "Mike's long-term replacement is my on-again, off-again partner-in-crime for the last 32 years, Gavin Oglesby of No For An Answer, Carry Nation, Triggerman, and the Killing Flame." Yeah, pretty cool.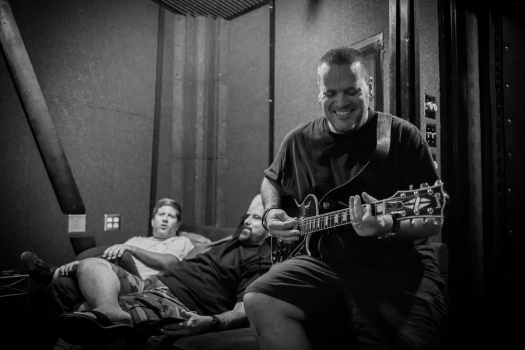 "Initially Gavin had been invited to come in and just sort of do a creative cameo in the form of a short EP we were going to call Geneaology," says O'Mahony. "Once in house however, the chemistry between he and the original three of us, combined with Justin's limited availability to make him the logical next chapter on guitar, it made him the obvious choice. His style is decidedly different than Mike's, which ads an interesting layer to the old material, while infusing something new into the writing. As the new head guy on visuals, he's an obvious upgrade over yours truly."
No Echo is thrilled to present the first taste of the refreshed Done Dying lineup, "Through You," a new track recorded by Paul Miner.
Through You (lyrics by O'Mahony, music by Oglesby)

How can I change my position?
Fight my addiction to you?
Shield my eyes with shades of logic
My true desires show through

A slavish devotion to one simple notion
To something that will never be
There's no obligation, just self immolation
It's through you I do this to me

Through you

Don't stand in my space, don't gaze at my face
Your language is one I don't speak
It's history repeating, it's self worth depleting
It's through you I do this to me

Through you

If it's not there for you, It's not safe for me
"By recording 'Through You,' Gavin and I sort of completed a piece of unfinished business. He'd written the music originally during our time together in Carry Nation, almost 30 years ago, and I'd thought it was one of the best things he'd ever done. The problem was for me the verses never clicked lyrically. There was something missing that apparently needed to be revisited by an older version of Dan, one less concerned with acting like anybody's hero. As it sits now, Done Dying's re-worked version of 'Through You' may be the most satisfying personal song I've ever put my name to. It's a very harsh and probing look at self abusive longing and my own difficulties with human touch, intimacy, etc. You know, standard hardcore fare for the back of a letterman jacket."
When I ask O'Mahony about Done Dying's future plans, he's clear on his commitment: "Writing, writing, writing, shows here and there, a new LP late in the year (no release date or info as of yet, we refuse to ever again rush the process), and a concentrated effort via our lyricism, public statements, and booking to be the pirate ship on the seas of retro hardcore. Big black sails, skeleton middle finger as our flag, no BS, no kissing ass for position, no going through the motions. Just four angry old men grateful for the opportunity to scream at strangers."
***
Follow Done Dying on Facebook, Instagram, and Twitter.
Tagged: 411, blackspot, carry nation, collateral damage, done dying, hardcore, no for an answer, third degreee