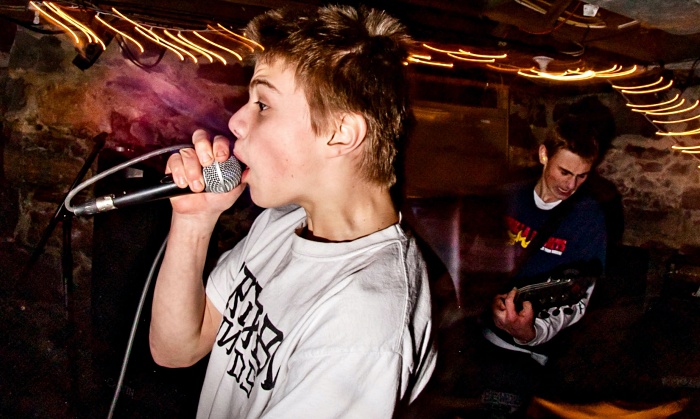 Hardcore and skateboarding are a beautiful combination. Speaking for myself, and many of my friends in the late '80s, the combination of meeting older punk skaters and reading Pushead's music column in Thrasher magazine exposed us to a world of hardcore bands during our formative years. That's why it brought a huge smile to my face when I was sent a link to check out Gone Wrong, a hardcore outfit made up of 4 skaters, aged 14-17, who also happen to be sponsored by Element Skateboards.
"In the winter of 2018, Talent Skatepark had closed and it was too snowy to skate anywhere else," Gone Wrong guitarist Levi tells me when I ask him to give me the rundown on his band's genesis. "There wasn't much to do, so Levi and Russell started messing around with hardcore. I wrote lyrics, and my brother, Axel, came down to make the first song. We added Myles the cello player a couple days before we recorded.
"We were super-inspired by Minor Threat at first, then moved on to Chain of Strength and Inside Out. Right now it's Conflict and Infest."
Before I move on with the rest of the Gone Wrong story, let me drop an attitude-packed track, "Attention," from the group's All Your Rage demo:
I ask Levi to give me some info on their lyrical approach on All Your Rage: "A lot of the lyrics for songs like 'Pattern,' 'Attention,' and 'Scared to Fight' are about the meatheads in school and 'New Song' is about the school system itself so most of the lyrics revolve around school. The way we make songs is by working through ideas while jamming so nothing is written or planned, which is the way we like it."
What else is poppin' in the Vermont hardcore scene in the eyes of Levi? "The local scene here is pretty dry, there's not many hardcore bands. Nevertheless, the scene is very nice and supportive to us which is really sick. Most of the people that go to our shows are college kids who want to mosh but don't know how. It makes the shows fun which is really what we care about.
"Our favorite bands in Burlington right now are The Path and Voidbringer cuz their shows are the sickest. In the future after this Corona stuff goes away we are going to have a show with another youth hardcore band called Certain Shapes from North Shore, Massachusetts."
You see, the youth are still restless, thankfully.
All Your Rage will be released on both cassette and CD. Hit up Get Stoked Records for the cassette pre-order, and State of Mind Recordings for the CD.
***
Donate a few bucks to help with No Echo's operating costs:
Tagged: gone wrong