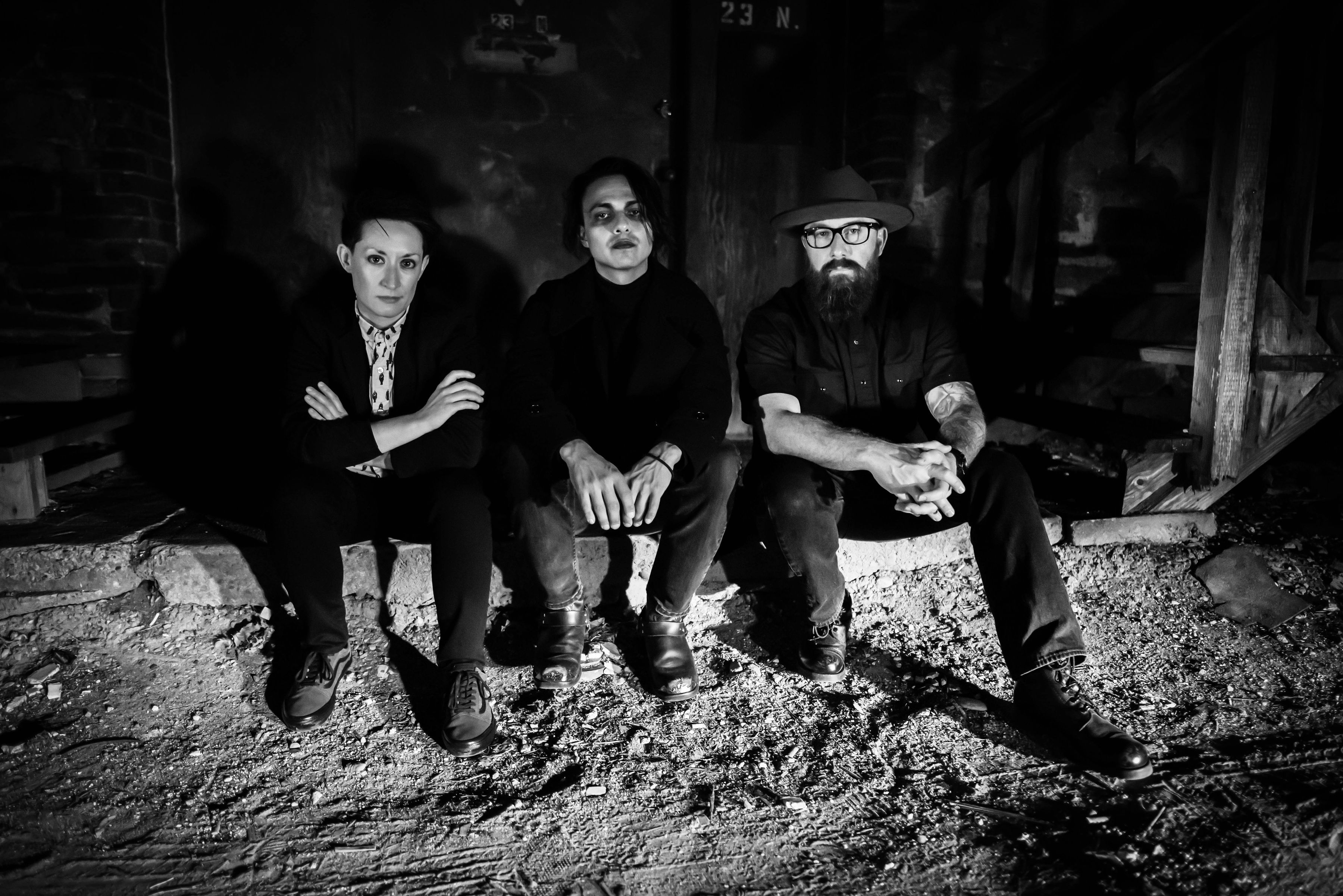 Datura is a trio that delivers a sound that appeals to music heads who love both '80s-era Beggars Banquet Records and the gothier side of punk, not that they're worrying too much about genre tags. "Though some may say we have a certain sound,' we don't want to close ourselves into a certain genre or category," guitarist/vocalist David Betancourt tells No Echo.
"Our sound varies along with the song writing and approach to structure. I love reverb due to the distance and 'cold vibe' it creates. The chorus effect on my guitar dances well with Tiffany's [Shafer] booming blows to the drum heads while Jake's [St. John] dark and melodic bass lines carry the sound with pure emotion. Our influences vary from member to member.
"My favorites are: Soda Stereo, Caifanes, The Chameleons, The Pixies, and too many others to list. Jake listens to tons of metal, but for this band, Echo & the Bunnymen, early Dead Can Dance, Death In June, Nick Cave, and Swans are big influences. Tiffany loves Siouxsie and The Banshees, Janet Weiss (Sleater-Kinney, Quasi), Calabrese, Bauhaus, The Smiths, and The Cramps. We are all really into Misfits, Ramones, and The Cure."
Based out of the Pacific Northwest, Datura's debut album, Arcano Chemical, will be out later this week. It follows the group's Orphans and Bury Me EPs, released in 2019 and 2020, respectively:
For the Arcano Chemical sessions, Datura recorded in their hometown of Wenatchee, Washington, and had the sessions mastered by none other than Tad Doyle (TAD, Brothers of the Sonic Cloth). Betancourt tells No Echo a bit about their local scene: "In our hometown, Wenatchee, we are surrounded by an amazing support of friends, family, bands, and fans. One of our local venues, Wally's House of Booze, has been a hub for local, regional, and out of state bands for over 1-10 years.
"We share a sense of unity, pure art and emotions of all sorts. However, COVID has been pretty hard on the scene. Things shut down for a long time, got going again, but now shows at Wally's are on hold again. It's just too risky right now, but we'll rise from the ashes. At the end of the day, we just have a blast doing what we can.
"Regional bands you should check out (not strictly post-punk): Himiko Cloud, Not All There, and The Nightmares from Wenatchee; Profit Prison and Old Iron from Seattle; Ils, Behalf, Atriarch, and Vueltas from Portland."
Arcano Chemical is out this Friday (January 28th) via Sell the Heart Records. Hit up the label's store for the album on CD and cassette, and Bandcamp for the digital version.
***
Help Support What No Echo Does via Patreon:
***
Tagged: datura