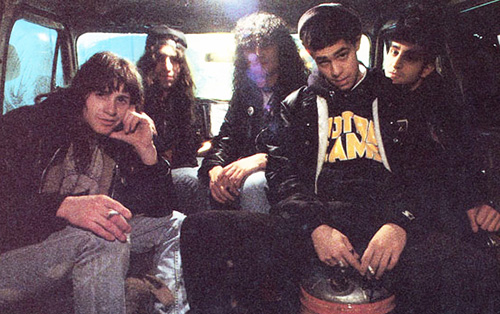 In terms of what became known as crossover (the melding of hardcore and thrash metal), Leeway is one of the most influential bands that ever performed the style.
Along with fellow crossover pioneers D.R.I., Corrosion of Conformity and the Crumbsuckers, Leeway blazed a trail bands like Power Trip and Iron Age still follow to this day.
Leeway's seminal debut album, Born to Expire, sounds as fresh today as it did when it came out back in 1988. Outside of Reign in Blood, it's hard to think of an album with as many memorable guitar riffs as Born to Expire. Songs like "Rise and Fall" and "Unexpected" had the wild energy of hardcore tempered with the tight precision thrash acts like Anthrax and Megadeth favored.
On their next album, 1991's Desperate Measures, Leeway steered their material into a less hardcore direction. While it alienated some of their fans, the record connected with a new crop of listeners who hadn't heard of the band the first time around. Leeway even made a video for album track "Kingpin," certainly introducing the group to even more new fans along the way.
Leeway would go on to make two more albums—Adult Crash (1994) and Open Mouth Kiss (1995)—before finally breaking up. Both records have their strong points, but most folks who love the band would agree that Born to Expire and Desperate Measures are their best work.
In this No Echo exclusive, we chat with Michael Gibbons, one half of the guitar team that played on both Born to Expire and Desperate Measures. It was an honor to talk with Gibbons, who spoke very honestly and candidly about his time in and out of Leeway.
First off, where were you born and raised?
I was born and raised in Middle Village, Queens, New York.
Do you remember what was the first band you got into as a kid?
I really got into Rush as my first band, and I still look upon them as my primary influence. Their first live album, All the World's a Stage, really hit me hard. I also got heavily into Black Sabbath, Led Zeppelin, Van Halen, The Kinks, and the Ramones.
When did you start playing guitar?
I started playing back in March of 1983. I performed live for my first time on Nov. 6, 1985 in a group called Beyonder doing metal covers at a club in West Hempstead, Long Island called February's. Everyone who was a local artist at the time got their start there.
This is kind of embarrassing, but I remember someone I knew mentioning that you worked at a beer/soda distribution place on Grand Ave. in Elmhurst, Queens called Community Beverage. Since I grew up in that neighborhood, I thought that was one of the coolest things ever. I also remember going there hoping to see you working, but it never happened.
I worked there as a beer hauler from 1986 to 1993. Lots of neighborhood kids worked there. I was never really in the building, though. I was driving the trucks and delivering merchandise to merchants.
How did you end up in Leeway? I know the band recorded the Enforcer (1985) demo with just A.J. Novello on guitar before you joined.
Leeway added a second guitarist right after it was recorded for more effect and power. His name was Gordon Ancis and he performed and toured with Agnostic Front beforehand. He left Leeway to form a band with TJ Scaglione (Whiplash/Slayer) and Pat Burns (Death Thrash) called Zero Hour [Ancis also played in NYC Mayhem], so that left the slot open for me. I auditioned and was accepted. I got into Leeway back in high school, so when I heard of the opening, I did whatever I could to land that audition.
Many fans of the band viewed you as the real metalhead of Leeway. Was there any truth to that?
Well, not really. I looked more like a metalhead with the long hair and all, but Eddie [Sutton, vocals], and especially A.J.,liked classic speed metal just like the rest of us. Metallica, Megadeth, Sabbath. I was more extensively into metal than hardcore, but Pokey [drums] and Jimmy [Xanthos, bass] also came from a metal type of musical background.
Born to Expire was recorded in late 1987, but it didn't come out till the beginning of 1989. What was the delay about and did you write any new material in that year while you waited for the album to come out?
It was delayed because we were looking for a major distributor, other than Profile Records, who, of course, as we all know now, didn't promote the record whatsoever and virtually killed it in the water, before it even had a chance to swim. So, during that time we were composing some of the fragmented riffs that A.J. and I wrote material that would eventually appear on the Desperate Measures album.
I was 14 when Born to Expire came out. I remember the first thing that struck me about the record was its guitar tone. Did the producer, Chris Williamson, have anything to do with the guitar sound?
You really can't beat a Marshall JCM800 for a guitar amplifier. It's just that simple and truthful. We experimented with lots of tones, re-positioning the cabinets, mic placements, etc. Having Tom Soares as the album's engineer, him knowing his studio so well, was also a huge help. In terms of the guitars, I used a Gibson Les Paul Custom with a Seymour Duncan custom pickup, and A.J. used his Gibson SG.
Chris Williamson, did he assist in any of it? Maybe, I really don't recall him having much input as far as the sounds being generated during the recording. He was there for the production of the record and the final mix.
Do you remember the reaction the record got when it finally came out? I remember a lot of my metalhead friends who didn't normally listen to hardcore loving Born to Expire. They just took it for a thrash record.
Well, I'm glad they all liked it, thank you. Born to Expire got rave reviews and was considered a groundbreaking record, especially its sound quality and production. A lot of the other NYHC outfits (Killing Time, Sick of it All, Cro-Mags, etc.) went to Normandy Sound [the studio where Born to Expire was made] to record after our album's release. It was a truly metallic sounding record. Much more metal than hardcore. I don't know, maybe it should've been classified as modern hardcore? [laughs]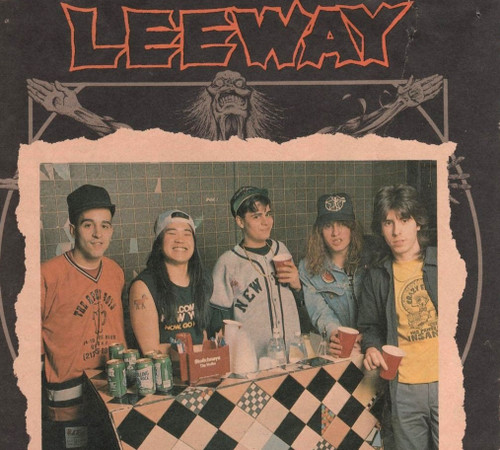 The first time I saw Leeway live was when you and Biohazard opened up for Exodus at L'Amour in 1989. I remember being blown away by the band's sound and Eddie Sutton's wild stage presence. I also remember it taking over two hours to get back to Queens after the show since the subway sucked so bad in Bay Ridge! What do you remember about that show?
Shit, I remember those subway rides back to Queens from L'Amour at 3:30am. It was very tough. The sun would be rising by the time I got onto the streets outside of the Woodhaven Blvd. subway station. What a way to bring your head down after a great show!
I remember the day of the Exodus show being so friggin' humid and scorching hot that day. We had a 5pm sound check and driving there with Pokey had us in stop and go traffic on the BQE [Brooklyn-Queens Expressway]. It was horrible. The show was great, though. We supported Exodus many times and they were always killer gigs.
You already touched on it a bit, but it seems like you guys were miserable on Profile Records and the way they handled the promotion of Born to Expire.
The label did no promotion. They also had no proper, accessible distribution of the album. Not to mention they didn't give us tour support and they had really low recording budgets. It was just a horrible record label, unless you were Run-D.M.C. or Rob Base. It was a rap label that experimented with signing three hardcore bands [Cro-Mags, Murphy's Law and Leeway] and a metal band called Wargasm, then did nothing for any of us. So, how in the world were their artists supposed to generate income for the company, let alone themselves ?
Let's talk about Desperate Measures. How much pressure did you feel writing the material for that album? The buzz in NYC at the time was high on the band and expectations were high for the second record.
As far as pressure, I don't believe we felt any, I know I certainly didn't. I loved the material we were coming up with. We composed an album that was much more metal-leaning than hardcore. That's a fact. It definitely gained us some metal fans, but it disappointed a lot of hardcore die-hards, we'd later learn. I was tremendously happy and proud of that recording, although the production was very flat. The power of the guitars saved that mix. The lead guitar sound wasn't so strong or thick, admittedly so. Good ol' Chris Williamson was back at the wheel. "Producer" [laughs].
You're correct about the buzz and high expectations surrounding the record. If it was released on time, properly, the band might've had a better chance at success, but the ball was dropped again. With that major delay, the buzz we had died down by time it was finally released.
In the reissue version of the album, A.J. says Desperate Measures was a "little too metallic" for his tastes. He also wasn't happy with the way Eddie's vocals were recorded. How do you feel about the album all these years later?
I still love Desperate Measures. Eddie's vocals were mixed too heavily, I agree. But, as a metalhead from Queens first, before I was even a hardcore fan, I've always loved that recording. A lot of hardcore fans also loved it, as well as some prominent people from the NYHC scene who have admitted that to me through the years.
Did you get to tour the album as much as you would have liked? I've always felt that Leeway should have been able to land support spots for some bigger bands that weren't so tied to the hardcore or punk thing. I think that could have helped you break on a bigger scale at the time.
Possibly, but we were always in that position to support major national acts. Overkill, Testament, Exodus, Megadeth, Suicidal, Bad Brains, of course, etc. Our management at the time always was able to book us with the nationals that came to town. We were always supporting these acts, so we were in the saddle, so to speak. It's just that the record label didn't support us, whatsoever. I mean, not investing dollar one into the band. Zero tour support. If we were signed to Columbia, Mercury, Elektra, Epic (these were some labels that were promoting their "heavy rosters" well), it would've been a much different story and outcome for the band, I've always believed. We were grossly mismanaged, as well, despite what I've stated above.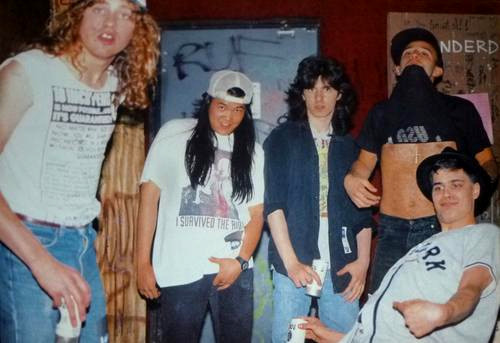 How soon after Desperate Measures did you and Leeway part ways, and why did you leave the band?
I was out of the band a little over a year after Desperate Measures came out. My last performance with Leeway was in June of 1992 at the Palladium, a big hardcore fest, with Agnostic Front headlining. There were creative differences between the members about the direction of the band and where to take it. I wanted to go back to Born to Expire and salvage the speed metal criteria, but the others wanted to turn towards grunge, because that was what was exploding at the time. It was purely a marketing/business decision on their end, I always thought, and the songs on the third record [Adult Crash, 1994] prove it, to me.
Honestly, I didn't "leave" the band, per say. Leeway truly broke up. A.J. was to form a band with John Joseph, Mackie, Zowie (the bassist on Born to Expire), a re-constructed Both Worlds idea? Under the guidance of Steve Aprea, a DJ at WSOU 89.5 FM in New Jersey, Pokey, Eddie, and Jimmy had other opportunities going on, maybe? I really don't know. But, A.J. called me and said, "Make your availability known, 'cause I'm outta here, done with Leeway." Then they reformed without me [laughs]. I spoke with Danny Illchuck (Bad Brains' crew chief), who was managing the band at the time, and he told me to leave the group, 'cause "Eddie didn't want to work with me anymore." Meanwhile, I found out that A.J. and Pokey shared the same sentiment, so, it was over at that point, and I was quite relieved, honestly.
What did you think about the two albums Leeway made after you weren't in the band anymore?
To me, Adult Crash sucked ass. It was the reason for the creative differences in the band. I didn't like the material whatsoever, and anytime I tried introducing a riff to the group, A.J. shot it down immediately. I knew then that my days were numbered. Open Mouth Kiss has some excellent songs on it. It's a killer record.
What bands have you played in since being in Leeway?
I started a progressive metal band called SP111 with neighborhood buddies and childhood friends. It was a solid, ass-kicking group, if I may say so myself. You can find the page on Facebook and download the music. Then I did a CD recording called Earl Sheib [laughs]. It was just a recording and two live shows. That material is on the SP111 Facebook page, too. That was heavier stuff. And finally, I did a self-titled CD and that's on ReverbNation.com. That's a progressive, heavy rock/metal mix of songs. It's commercially accessible and they are some solid tunes. I'm singing, so that's the drawback [laughs].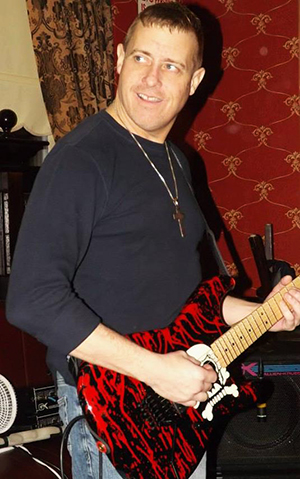 You were part of a Leeway tour in 2006. What was that experience like for you and would you be open to playing with them again in the future?
It was a good time—save perhaps certain dates on weeknights where the crowd just didn't make it out for the triumphant reunion and return of the legendary, world renowned, NYHC legends, Leeway [laughs]. The shows stateside were big 'cause they were in support of the Bad Brains and were held at CBGB's. Most of the shows in Europe were festival shows with Motörhead and Celtic Frost, so they were full capacity crowds, too. I don't think any member of the band would do a reunion tour again unless we're supporting Led Zeppelin or Black Sabbath [laughs]. Maybe a huge show or two locally in NYC, but that's about it.
What is your all-time favorite Leeway song?
I really don't have one. I've always liked everything from the first two records.
What are you up to musically these days?
I do a classic rock/classic metal tribute act called Black Ice. We do all the cool songs by the bigger bands that you grew up on. We're always playing out, primarily in Queens and Long Island.
Tagged: leeway, leeway nyc