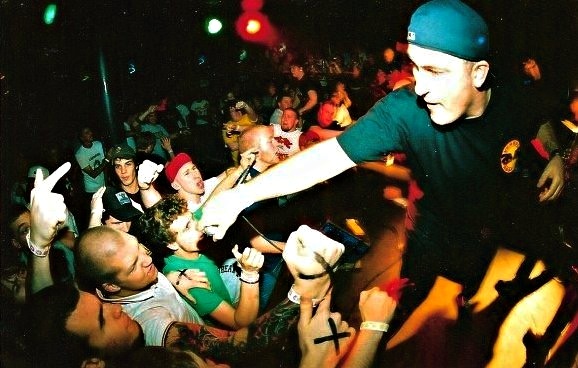 Lins Cuscani is a longtime member of the British hardcore scene. Born in Newcastle Upon Tyne, UK, and currently living in Redcar, N Yorkshire, UK, Lins tells me that despite working as a civil servant, he hates the government he works for. You gotta love No Echo readers! Previously the vocalist of hardcore group Break It Up, Lins also tells me that he's in a new band called Creepy Crawl, so stay tuned for that.
Some of you might also know Lins from the vinyl scene, so it's about time I invite him to be part of the Record Collector club.
How long have you been collecting records?
I've been properly collecting records since about 1985, when I was a fully fledged member of the teenage Metallica Metal Militia UK chapter! I pretty much bought every thrash metal record I could lay my hands on. I'd scour reviews in metal mags like Metal Forces and Kerrang! to see what was available. I bought my first hardcore record in '86, and weirdly enough, it was a really obscure Canadian band called Neighbourhood Watch (not to be confused with the Venice Beach skate punk band), who had released an EP on a local label. From there, I started to dabble in hardcore punk through reading Maximum Rocknroll until I was fully immersed in it by around early '87.
Where/how do you usually find your records these days?
These days because of varying factors like having a family, bills to pay and my other main hobby of cycling I tend to pick and choose records and don't buy everything I see like I used to. So, these days, it's mostly from my local record store the excellent Beatdown Records in Newcastle, UK. Sometimes I still foray on eBay, but it's a rare occurrence these days as there aren't really any bargains to be found as most sellers are wise to the game. Shows are a good option for those limited tour presses, and Discogs can throw up the odd gem. I stopped trading a while back as I'm now at a point where every thing in my collection is a keeper as I thinned the herd down over the years.
What is the most you paid for a single record, where/how did you obtain it, and what was it?

The most I've paid for a record was $400 for a coloured Misfits Earth A.D./Wolfs Blood. Considering it now goes for nearly five times that amount, I consider it to be $400 well spent [laughs]. At the time, I really thought I'd be eating cabbage and potatoes for a good few months! I got this via a friend of a friend who tipped me off that this was up for sale. I'll be honest, I nearly lost out to another dude because I notoriously hum and hah over spending large amounts of dough! And the seller thought I wasn't interested, but luckily for me, I pulled the trigger just in time. Receiving the record was something akin to the highest stress levels known to mankind! Would it be in good condition, would it make it in one piece through the mail, would it play ok! And more importantly would customs rip my eyeballs out with a charge and then would my partner find out I'd spent that much on a piece of fucking coloured plastic! Thankfully all was good.
Of everything in your current collection, what is your most prized record and why?
My first most cherished record is probably my Danzig Who Killed Marilyn EP on purple wax that I found in a local record store one day circa 2003. I couldn't believe what I was seeing in the rack, and even convinced myself it was a bootleg. I did a quick check and everything added up to a legit pressing. The cover, the purple vinyl, the paper sticker inside of the sleeve, and finally the label... Plan 9! This was akin to finding that pot of gold at the end of the rainbow, more so because I scored it for $5! I guess this is the essence of true record collecting, finding that one record whilst digging around crates in small second hand indie record stores and getting that killer bargain.I guess my other most cherished records are all of the ones I've appeared on in my past bands. Probably the best experience as a collector is to collect your own stuff haha, because you know you'll get all the variants.
As a side note, that also includes appearing on one of the CIV EPs (So Far, So Good, So What) where the B-side is recorded live in London, and you can clearly hear myself and a friend singing back ups on the song "Choices Made" on it!
Is there anything that frustrates you about the current record collecting scene?
What frustrates me most is that every fucker is clued up on what records are worth now [laughs]. There are very few real bargains to be found. Also, a first press with 30 different variants kinda sucks! I just want one, followed by one second press and if need be a third press! The amount of different presses for a single record can be tiresome and kinda dilutes the thrill of collecting.
I'm not too bothered about Record Store Day but occasionally I'll buy something on it. I guess because I have friends who own a record store it makes it easier to digest the extortionate prices that are for that day as it helps them out, so I don't really whine about it too much. Maybe in my head but not out loud! But on a whole these days buying records has become a very expensive hobby. It's cool to collect vinyl now so most standard releases are now double what they where when I first started collecting and add on the ridiculously high postage costs from the USA then it limits what I buy. It's a case of pick and choose!
Which records are still on your want list that you've had a tough time tracking down through the years?
Biggest want that I've had forever is an original Agnostic Front United Blood EP. These things are like hens teeth! Also a Necros IQ32 with skate park sleeve is a huge want that will also probably never happen.
***
Follow Lins on Instagram.
Tagged: record collector