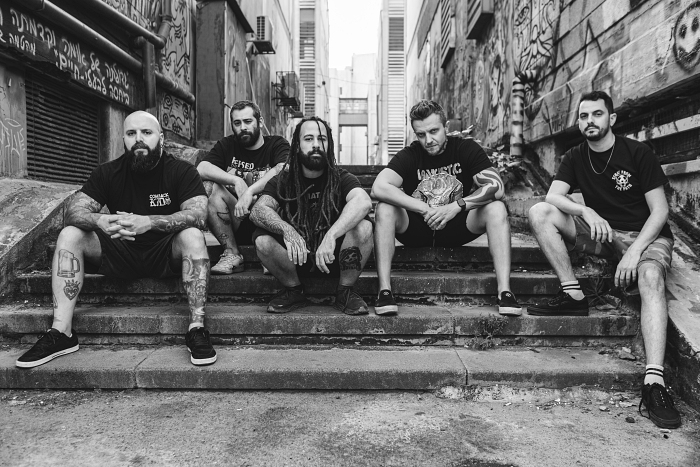 Eternal Struggle have been flying the flag for hardcore in Israel since forming back in 2015. To date, the quintet has released an EP entitled Breaking & Entering, and a full-length album, Year of the Gun.
For the album, Eternal Struggle worked with former Madball guitarist Brian "Mitts" Daniels who sat in the producer's chair for the sessions. On the road work side of things, the band has toured Europe a couple of times already, sharing the trek with Boston bruisers Death Before Dishonor, and also a run with Sick of It All. Not too shabby.
Today, the Tel-Aviv-based outfit is unleashing a music video for the title track to "Year of the Gun." Filmed and edited by Raph Crimson, check the clip out below:
"The title track of our album, is a retrospective view of the deceit and manipulation all members of this band (and all citizens of this country) underwent and will undergo before, during and after serving mandatory military service," says Eternal Struggle vocalist Ori Frank. "We've all served our time in the army and I can tell you this—both sides, in Israel and in Palestine, have been severely brainwashed into believing that there is an 'enemy' on the other side.
"Sure, there are radicals. In Israeli society, it is a common mentality to be proud of your service and to feel 'heroic' of you actions. For you scars to be something you wear with pride. It's normalized to defend and to not question the powers that be, who ultimately dictate your fate and use you as a weapon, A weapon that can destroy another family's livelihood and spirit."
The singer continues: "In Palestine, It is actually celebrated and rewarded to perform acts of terror against Israelis. Extremist leaders on both sides have turned us against one another and are manipulating the youth and filling them with hatred and lies. That said, 'Year of the Gun' is a song about accountability, unlearning hatred and the demonization of a false enemy. It's a widely unpopular stance that keeps us shunned out of any local mainstream press who only cover 'Israeli Pride' music but that doesn't matter much to us.
"If we can influence youth to question the greater narrative or strike up some important discourse between the kids and move that conversation forward, that may lead to change in their socio-political views and ultimately influence them to make a change for the betterment of our future—that is a great achievement for us.
"However, If they're missing our message that often get lost in screams, distorted riffs and pounding snares but can find community and a place of belonging where they can just let out some healthy aggression at shows, that's great, too. As 'political' as we may come off at times, we really just strive to create a space of inclusion, acceptance and equality and to create and share good times."
Eternal Struggle are currently writing their second album, which they are planning for a 2024 release. The band will be heading out on another European run this summer, so hit up their social pages to see where they'll be playing.
Year of the Gun is available at the following outlets: CoreTex Records, Demons Run Amok, Upstate Records, and Cold Cuts Merch.
Eternal Struggle on social media: Facebook | Instagram | Bandcam
Tagged: eternal struggle