Boston hardcore has got to be one of the most indignant scenes in the world and a band like Ritual Blade only heightens this animosity for our current society. The group formed in 2016 after the breakup of local hardcore act Rat Trap, which vocalist Tay, drummer Nik, and bassist Bennett all played in.
Wanting to take their aggression into a darker direction, they formed Ritual Blade and after recording their self-titled 2016 debut full-length they rounded the group out with current guitarist Nick, who has also played in local bands Burden and Grasp.
I recently was able to interview the band's drummer, Nik, who also designs the Ritual Blade's merch and album cover art. When I asked him how he would describe their sound, he explained, "We're definitely a punk band at heart but we all love hardcore, metal, power violence, grindcore, death metal, black metal, and all that shit. So we'll pull little snippets from all those things and put them in our songs."
This love of all-things heavy certainly translates in the Ritual Blade's music as well as their art direction. Placing their feet firmly within the hardcore scene yet bringing a certain heaviness and grime to their sound and aesthetic.
"We wanna bring all of that stuff into our setlist, we got D-beats, we got blast beats, we got mosh parts, we got two-steps, we got the whole shabang." This sound certainly makes for some diverse crowds as evidenced by their September 10th show in Allston; a sold out crowd of hardcore kids, metalheads, and crust punks all throwing themselves around the venue like clothes in a washing machine.
"Trap Them is huge for me especially with Ritual Blade, Converge, too, but then I also love The Hope Conspiracy and if you listen to Ritual Blade's first album, you can kinda hear that Hope Con sound 'cause they had that darker sound to them than other bands in the Boston scene back then," Nik says when explaining his personal influences in Ritual Blade.
He continues: "I can't speak for Nick and Bennett 'cause they do the riffing but I do know that Bennett is super into the D-beat stuff. Nick's into that stuff too but he's more of a power violence guy, like Weekend Nachos is a big one for him. Their album Still is one of my favorite fucking records ever, they knocked it out of the park with that one."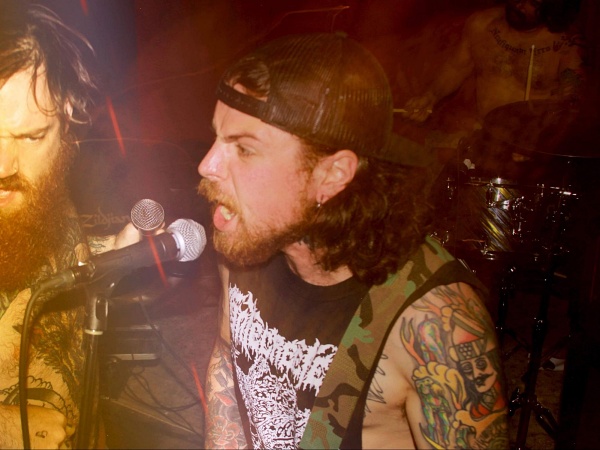 Ritual Blade never takes any of these facets over the line into the realm of being pastiche. Nik explained that the band may make some dark music but their main focal point is to always have fun. "We've all agreed, the minute this stops being fun we're fucking breaking up," he states about the high-spirited attitude the band carries themselves with through every show and every record.
While the music may be dark and brutal it never wallows in self pity as vocalist Tay has utilized his tortured vocals to craft songs that are both uplifting and yet reflective of the dark times we're all living through.
Elaborating on Tay's lyrics Nik states: "A lot of his lyrics deal with depression and are related to all the fucked up things that have happened in his life but he doesn't try to make it too deeply personal. The closer you listen the more you realize how moving and meaningful it all is." This avoidance of direct lyrics leaves room for individual meanings for each listener and his voice certainly carries over their urgency as it sounds as though he is taking his vocal chords to the threshold with every verse.
There's no need to waste time with theatrical screaming prevalent in the metal scene today, Tay just throws caution to the wind and belts out his lyrics over the grind and pushing the band's ferocity over the edge. There isn't a single drop of restraint to be found in the music of Ritual Blade.
Some of his best vocal and lyrical work culminated in their 2019 EP, Hell on Earth. This release saw the band fully embracing their dark aesthetic with their album art style being reminiscent to a lot of black metal artworks and saw Nik and the band coming into their own stylistically and aesthetically:
Ritual Blade also filmed a music video for the crushing track, "Circles Disconnect." The video, shot at Tay's house in Maine during the pandemic last year, displays the band's energy is just as ferocious and lethal even if there's no audience in front of them:
"I can't really speak for Tay and how he writes his lyrics but a lot of what has been recorded was just all off the cuff. Our first record he came up with the lyrics right in the studio and he's done that ever since," explains Nik on Tay's lyrics.
The future of the band seems to be the topic Nik loves talking and thinking about the most and it's easy as a fan to share this enthusiasm. Seeing the band play their set opening for Cruel Hand at the Brockton VFW they looked and sounded incredibly determined, as though a new life had been blown into their lungs.
For Nik, personally, it comes from him being sober for almost a year now, "All my focus has been on this band and doing the music and designs and whatever excites our fans."
It seems some time away from the typical motions of the hardcore scene allowed the band to refine their craft as they gear up for a couple more shows toward the end of the year and with even bigger plans for 2022.
Not only does the band feel rejuvenated but they notice a renewed enthusiasm in the hardcore scene with shows coming back a year and a half into the pandemic. Still riding off the thrill of a sold out headlining show 4 days prior Nik explained: "People are really stoked just to be coming back to shows. Like I'm even seeing young kids at shows all throughout the scene.
"I remember I saw Grasp for the first time a year after not going to shows and I was just in awe the whole time thinking 'this is hardcore right here.'" He continues: "I think everyone realizes now that we all kinda took this for granted and then when it was gone we were like 'fuck we need this.'"
Ritual Blade's main focus right now is the future and Nik's plans are already stacking up with both the band and with booking shows. "I'm not gonna say what band and what label but we're gonna be working on a split 12-inch that'll probably come out late next year. Springtime we're looking to do a short tour with Torn In Half. I also really wanna fly out and do a couple shows out on the West Coast. Cali pops the fuck off and I think Ritual Blade would do well with that crowd 'cause they love that fast grimy shit that we do."s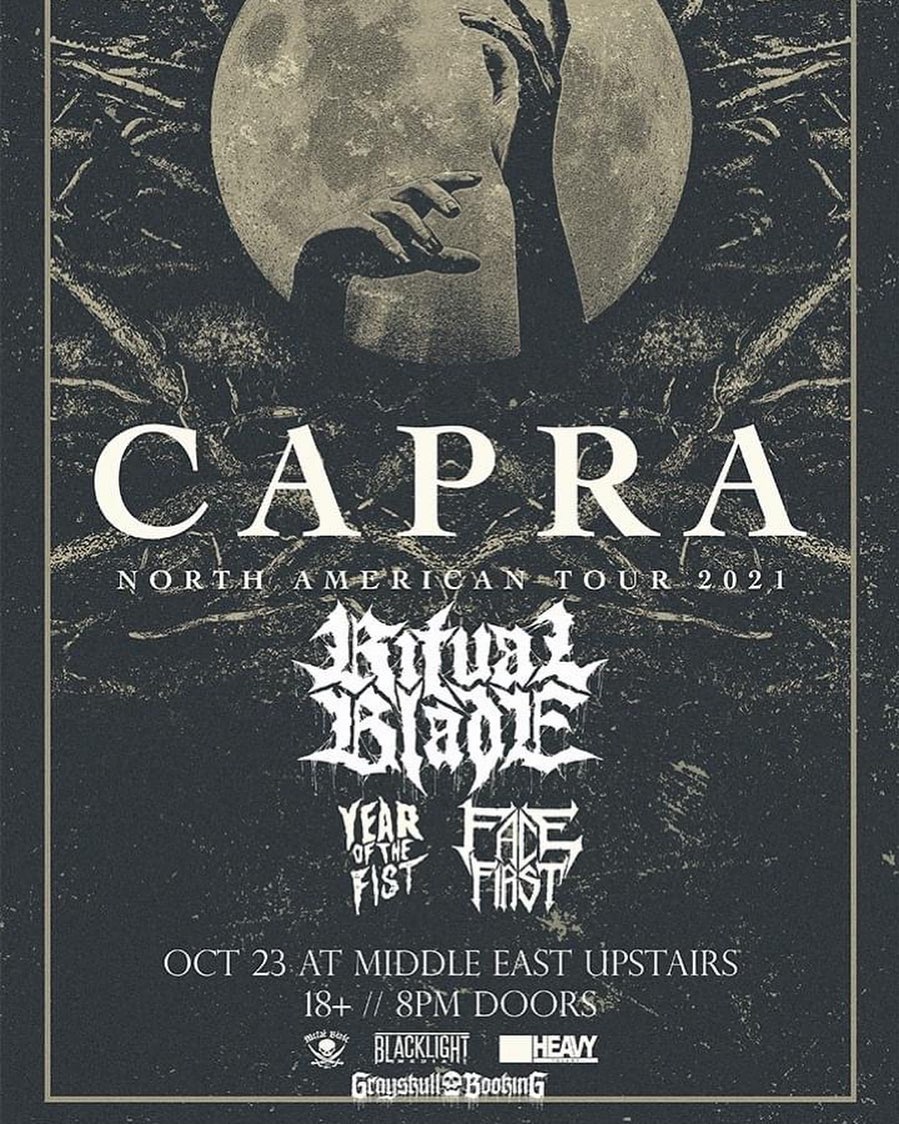 Ritual Blade recently released their 3-song cassette, Hate Overflows, through Patient Zero Records and it features some of their heaviest material yet, adding to the band's growth and determination for the future. Be sure to keep your eye on these guys because they show no signs of slowing down anytime soon.
***
Ritual Blade on social media: Facebook | Instagram | Twitter| Bandcamp
***
Help Support What No Echo Does via Patreon:
***
Tagged: ritual blade