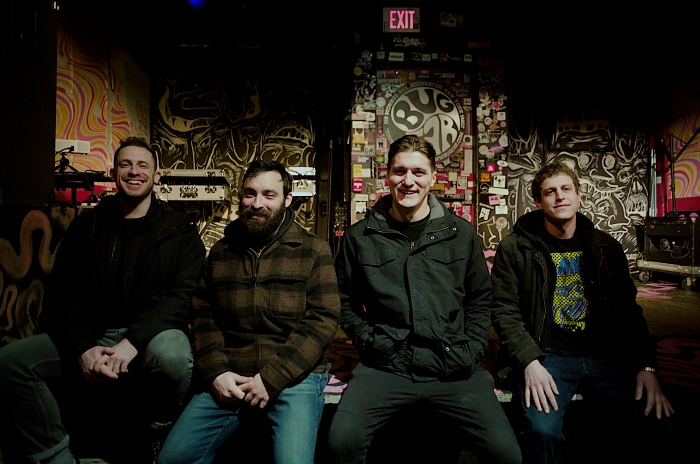 Based in Brooklyn, NY, Taking Meds is a band that shares members with a former incarnation of Such Gold. But unlike that latter's pop-punk-flavored songwriting style, Taking Meds take things in a completely different musical direction altogether.
"Angular" is such a rock critic term, but in the case of the band at hand, it fits so well. Taking Meds bring to mind groups like Dismemberment Plan and Chavez, merging melody with off-kilter rhythms and twisty guitar parts. Next month brings the release of I HATE ME, the quartet's sophomore album, and they've just sent No Echo the music video for the track "Tough Guy." Directed by NYC filmmaker Luke LeCount, and starring Summerhead's Grey Gordon, the clip can be seen/heard below:
To help promote the new record, Taking Meds will be out on a summer tour kicking off on July 6 in Buffalo, NY and closing out on August 9 in Rochester, the band's original hometown. Check out the dates below and follow the group on their social media pages (Facebook, Twitter, Instagram, Bandcamp).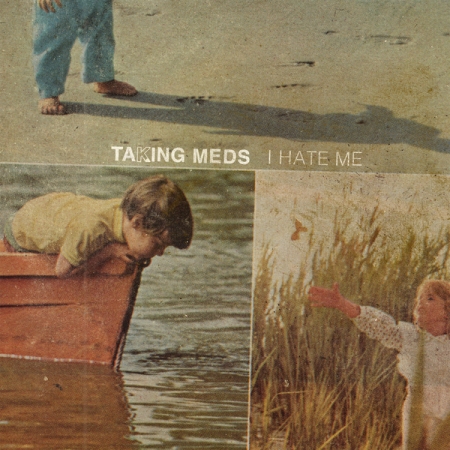 I HATE ME will arrive in stores on July 12 via Near Mint and can be pre-ordered now.
Taking Meds tour dates:
7/6 - Buffalo, NY - Mohawk Place
7/7 - Toronto, ON - Bovine Sex Club
7/8 - Detroit, MI - Sanctuary (w/ Sirius Blvck)
7/9 - Cleveland, OH - Mahall's (w/ Sirius Blvck)
7/10 - Pittsburgh, PA - TBA (w/ Sirius Blvck)
7/11 - Cincinnati, OH - The Hub (w/ Sirius Blvck)
7/12 - Fort Wayne, IN - Brass Rail (w/ Sirius Blvck)
7/13 - Elgin, IL - Side Street Studio Arts (w/ niiice)
7/14 - Milwaukee, WI - Nausicaa (w/ niiice)
7/15 - Minneapolis, MN - Paperhouse (w/ niiice)
7/16 - Fargo, ND - The Aquarium
7/17 - Winnipeg, MB - Handsome Daughter
7/18 - Bismarck, ND - Rhythm Records
7/19 - Billings, MT - The Scum House
7/20 - Missoula, MT - Zootown Community Arts Center
7/22 - Tacoma, WA - Real Art
7/23 - Portland, OR - Hawthorne Hideaway (w/ Dikembe and Pool Kids)
7/24 - Eugene, OR - TBA
7/25 - Arcata, CA - TBA
7/26 - San Francisco, CA - Honey Hive Gallery
7/27 - Oakland, CA - Twin Shrieks Fest
7/28 - Los Angeles, CA - Silver Lake Lounge
7/29 - Fullerton, CA - The Continental Room
7/30 - Phoenix, AZ - Trunk Space Basement
7/31 - El Paso, TX - The Rock House
8/1 - Odessa, TX - Cactus House
8/2 - Austin, TX - Fortress of Updog (w/ Stress Fractures)
8/3 - Houston, TX - East End Barber (w/ Stress Fractures)
8/4 - Denton, TX - Killer's Tacos
8/6 - St Louis, MO - The Sinkhole (w/ Stress Fractures)
8/7 - Louisville, KY - Mag Bar (w/ Stress Fractures)
8/8 - Columbus, OH - TBA (w/ Stress Fractures)
8/9 - Rochester, NY - Bug Jar (Record Release Show)
Tagged: taking meds