"We were a little out of step with the trends at the time as we played a style of throwback thrashcore while D-beat and metallic hardcore were taking over," says drummer Craig Hancock of his former band, RAD. The Sacramento-based outfit was in business from 2011 to 2018, and their last release has just been issued via a split 12 inch with Cross Class, another group he sat in the drum throne for.
Craig explains the project: "These songs are RAD's final unreleased recordings from 2016. On the flip side of the split is my other band, Cross Class which ran from 2014 to 2017. In that time we released two demos. These are our last recordings."
As heard below, RAD loved their tempos speedy, and songs had no room for any meandering bullshit. "Lory, Charles, and myself came up with the idea for the RAD at a Slayer show while joking about punk and metal songs about moshing.
"We decided to start a band based our shared love of thrashy '80s hardcore. We wanted to kind of rip off the sweet ass riffs of Pick Your King and mix it with the speed of the first D.R.I. record."
Craig looks back on his time with RAD with nothing but great vibes. "We were definitely a goofy band. Our lyrics were amied at making each other laugh; in-jokes, dumb pop culture refrences, punk, and hardcore rip-offs and refrences. But, we also took it really seriously in that we really tried hard to make it not suck.
"We played over 200 shows, mostly in Sacramento but we had amazing shows going up and down the West Coast. We played and made friends with bands like, Punch, No Statik, Replica, and Hummingbird of Death."
No Echo asks Craig about the Cross Class side of the new split. "Cross Class had also made a recording which we never put out before splitting up in 2017.
"We are all still friends across both bands and we all wished these recordings had come out while we were still together so we decided to put the energy into taking the 2 unreleased recordings and putting them out as a split LP."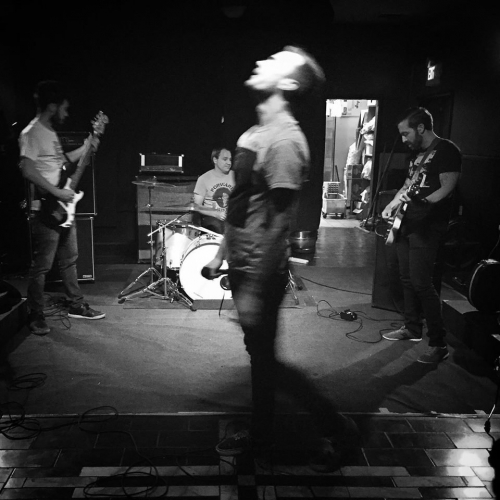 "As this is a sort of vanity project for two inactive bands, we decided we would give all of the sales to the Movement for Black Lives to try and do something positive with that energy."
The RAD/Cross Control split LP is available for sale via Sacramento Records.
***
Donate a few bucks to help with No Echo's operating costs:
***
Tagged: rad