Pissing Match is the perfect band name for this current political climate in the United States. "The band was formed in the fall of 2013, after I recorded a demo of 10 short, fast hardcore songs I had written and performed in a similar fashion to Vilently Ill," says guitarist Aaron Adkins, who has also previously been a member of such groups as Avulsion, It Dies Today, and Everything Falls Apart.
"Initially, I had no intention of actually starting a band as I had just moved to Syracuse, New York from neighboring Buffalo and, at the time, I was completely burnt out playing in bands."
Many of us who have played in a band before can relate to Aaron, but luckily he pressed on anyway.
"I posted the demo on the old Buffalo Shows message board and our vocalist, Jay Galvin (Slugfest, Face the Panic, Pure Heel), whom I had known after our previous bands played a weekend stint together in Puerto Rico a few years prior, responded to my post and said, 'This band is incredible and I am jealous of all members of this band,' which admittedly, had me pretty flattered."
Aaron continues: "Jay and I had previously discussed working together a couple of years prior but nothing had panned out. Against my initial inclinations not to start a band, I decided to call him. I advised him that this wasn't a band but it could be if he was interested in singing to which he promptly replied, 'Yes.'
Pissing Match is rounded out by drummer Rob Ohlenschlager, bassist Joe Villella, and guitarist Aaron Ratajczak (ex-Every Time I Die, Kid Gorgeous), who joined the fold in 2019.
How would Aaron describe Pissing Match's sound? "Most of the songs are short, fast '81 style USHC but with sudden time signature changes and low throaty vocals.
"Initially, I was inspired by the Swedish hardcore punk band, Pusrad, who were doing a similar thing, but eventually I drew from other influences such as classic US hardcore bands D.R.I., Koro, Hated Youth, Negative Approach, and YDI."
Check out Pissing Match's most recent release, 2016's Break the Seal, for some sonic proof of what Aaron said above:
Though they haven't been all that prolific since forming, Pissing Match will be upping their discography count now that they're aligned with Irish Voodoo Records (Concrete, Project Sell Out).
The group is gearing up for the release of Crossing Streams, a new EP for the California-based label. "Jay wrote all the lyrics on this record and there's definitely a noticeable difference between his and my lyrical style. My lyrics are more vitriolic whereas he balances the hate with a more sophisticated tongue-in-cheek sense of humor.
"These songs were written after Donald Trump took office, so there's a few pointed attacks at the cult of Trump as well as the ongoing struggle against police brutality. There's also some songs poking fun at bad punk hygiene, pro sports, American redneck culture, homophobia, and even shopping malls."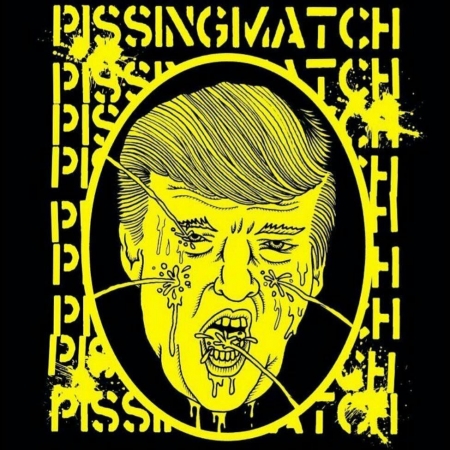 Pissing Match on social media: Facebook | Instagram | Bandcamp
***
Donate a few bucks to help with No Echo's operating costs:
***
Tagged: pissing match