If you weren't part of the Southern California hardcore scene of the '90s, you probably know Palefire from their appearance on the 1995 Guilty by Association compilation. During their short time together, Palefire played on mixed bills (remember those?!) throughout the region, releasing a demo and an EP along the way.
Combining the melancholia and dissonance of emo with elements of melodic hardcore, the band ended up breaking up in 1996. After that, Palefire's members went on to play in such groups as Stickfigurecarousel, FM Bats, Precious, and Dirty Black Summer, a fun Misfits/Danzig tribute project. Sadly, guitarist Brett Cutts passed away in 2006.
Palefire just released Vicarious, a compilation that collects all of their material, including a quarantine recording of an older song that they never got around to finishing.
No Echo spoke with vocalist Christine Doan about all-things Palefire and Vicarious.
Give us a little history on the band. How did Palefire come together?
So, I believe it was early '94, I was in my last years of high school and I met our guitar player, Dan Sena, while he was still playing in his band Entity with then guitar player, John Kelley, who eventually ended up becoming our awesome drummer. Dan also was jamming with a mutual friend at the time, who had a brother that apparently had just got his first bass and only started playing a few months before we got him to join us.
Sean Brummel may have started with only a few months under his belt but boy that kid advanced like none other. And as for Brett, he had only been playing guitar for a short time as well before he agreed to jam with us. He was absolutely the life of the band.
For half of us, this was our first band and from the get go, it just clicked. Soon after, we recorded our 4-song demo around Christmas of that year. We continued on for the next couple of years playing some really awesome shows with some serious heavy hitters back then, Snapcase, Earth Crisis, Strife, Unbroken, Undertow, Mean Season, Sensefield, and so many others.
In that time, we were asked to record a song on Indecision Records' Guilty by Association comp along with so many great West Coast bands. And then we recorded a 3-song 7 inch/5-song CD EP on Ammunition Records. The CD came out but up until recently, we hadn't seen the colored vinyl. Actually, only I've seen it, out of all of us. And very few are floating around out there in the world.
But we are hoping it becomes available soon. That record took 20+ years before anyone had the chance to lay their eyes on it. We recorded that 7 inch on October 13,1996. I finally finagled a few of them in 2018. That was a hell of a long wait for a piece of white vinyl [laughs].
When and why did the band beak up?
Getting back to 1996, after the recording, at some point we all started to drift apart, both musically and in life in general. A couple of the guys stuck together and started Stickfigurecarousel. And then Dan began his own journey, with Given Till Gone, Bullet Train to Vegas, and then DJing all over the place. Brett moved on to play in LeShok and FM Bats.
As for myself, I went beyond hardcore and started exploring different styles of music. I got into a couple of rockabilly/western swing bands and met some great musicians in that scene and then headed back to my punk rock hardcore roots and started a Danzig/Misfits tribute band, Dirty Black Summer, with a couple guys from Death by Stereo and Mean Season.
Then later I even started doing some classic rock and blues with some friends in Purple Jefferson. Did some folk acoustic stuff. I was all over the map.
During all that hoopla, sometime in 2006, we got the tragic news about our dear friend Brett passing away. I think I was in denial and truly never had the chance to properly grieve. But that's probably because as far as specific memories go, there's not one I can think of that didn't involve Brett going ape shit bezerk, playing on stage, or on the floor I should say [laughs].
That dude had an effervescent light within him. Full of talent and full of enthusiasm. And a hell of a human being. He is greatly missed.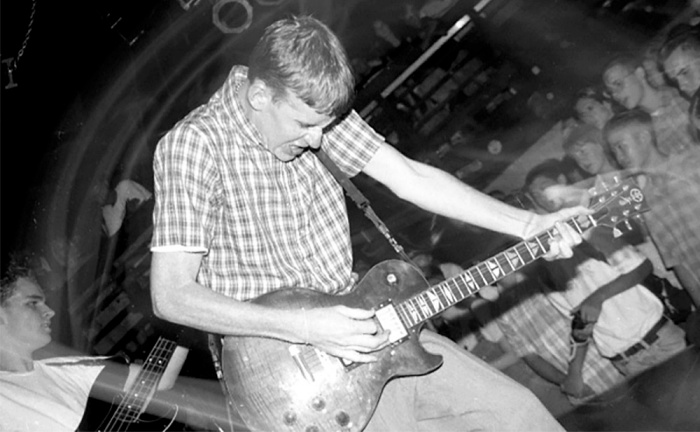 Tell us about the older song that you decided to finally record for this new discography.
Well, so early on this year in January, Stickfigurecarousel did a reunion show in town and for the first time in over 20+ years, the remaining members of Palefire were finally all together in the same room again. Then, some months passed by with a pandemic and the lockdown. When the guys got in touch with me about this unrecorded last song that I vaguely remembered at all.
It was something the boys came up with right before we called it quits and I didn't have one lick of a lyric written down for it then. Dan said the riff kept coming to mind a lot lately, so he did a rough recording of it and one by one, each member got called into the studio one final time. Once again, Dan managed to get us all together again, at least on recording, to finish up what we started all those decades ago.
Apparently, we played the song live, more or less as an instrumental, at the last two shows in '97 and I just went with it without so much as title for it. But when Dan came to me about recording it, I knew straight away what the song title was gonna be and what it would be about. And that's all I had when I went to record it.
This was by far the most emotionally difficult and yet heartfelt song I've ever recorded. The title I've held on to for years ever since I got wind of Brett's passing.
It's called "Stranger So Familiar" and obviously it's about Brett, it's for Brett, and I swear he was there with us during this recording because the lyrics, when they finally started coming, they just flowed right out of me without a hiccup. It really felt as tho he was right there with us.
Honestly, it's the best recording I've done to date. I don't think we could be happier with the outcome esp since there's a bit of Brett talking in the background about the most random shit ever. (So, like him of course) So yeah, this last song is truly the final chapter.
How did the relationship with Indecision Records come about?
Well I've known Dave since forever it seems. And there was the Guilty by Association comp. that we were so lucky to have been a part of. As of the last few years I know that Dan's had his other project, Precious, that had a couple releases put out by Indecision as well.
So, when he told me he shared this last song with Dave and how he wanted to do the digital release of all of our stuff, it just made perfect sense. We couldn't be more grateful to have Indecision take part in all of this.
For the first time ever, all of Palefire's recordings will be available to listen to, including the demo! Not even I have a copy of the freaking demo! But this time around, it's been magically remixed and mastered by our man Dan, for your audible enjoyment.
***
Vicarious is available now digitally via Indecision Records. Also, RevHQ has copies of Palefire's Last Breath 7 inch from 1996.
***
Donate a few bucks to help with No Echo's operating costs:
***
Tagged: palefire