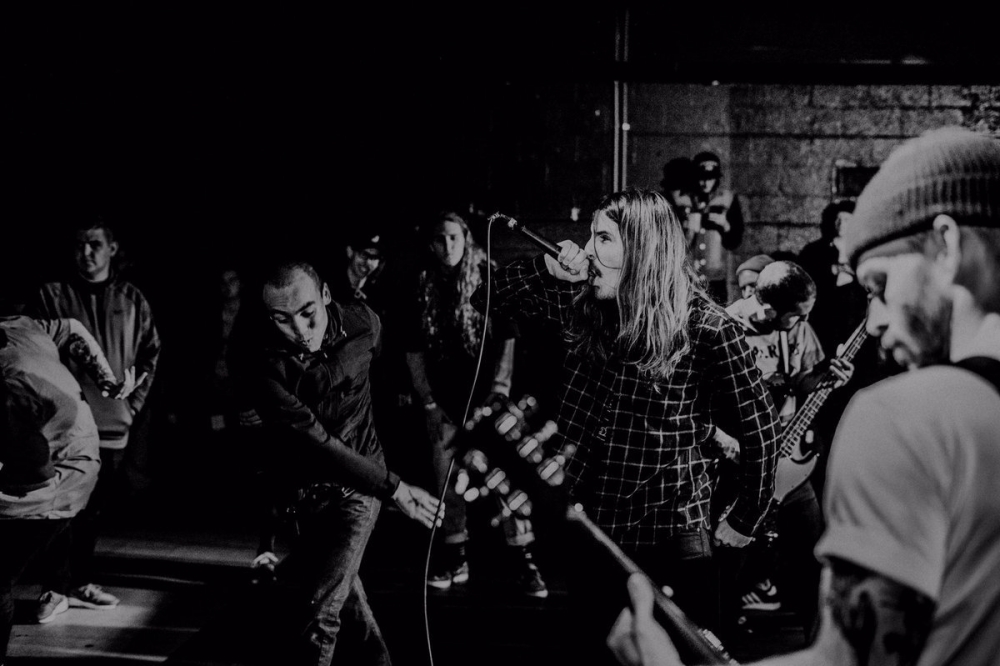 "I think initially we wanted to play a style of hardcore that no one else in Denver was playing," says Joey Hidalgo, bassist of one of my favorite new bands, Raw Breed. "There's tons of good bands here, but we wanted to play the style of hardcore we all grew up on, and hopefully get some of the younger kids involved in the scene into some of the bands we are influenced by." I'm chatting with the singer thanks to an email he sent me pointing me to his group's recent tour tape. Within the first couple of minutes of listening to the stuff on Bandcamp, I was hooked.
"I'd say our sound is a mix of NYHC bands like Breakdown, Altercation, and Killing Time, with a good amount of Boston influence sprinkled in," Joey explains. "Most of our members have played together in various bands over the years or been friends for a while. We met our drummer, Gordy, after playing shows with his other band, Combat Force. We added him to the mix as the previous band the rest of us were playing in was calling it quits. His contribution and playing in the band has really taken us to another level and we've just been trying to put out new material and play shows as much as possible."
Raw Breed just got home from a tour run and Joey is still fired up about the trek. "We just recently toured down to Houston, TX to play an after-show gig for the Summer Breeze festival. We had a great time and can't thank all the people enough who set up shows, watched us or bought merch. I think our highlight was probably checking out Kansas City and playing with Devil's Den. KC is a cool fucking city and Devil's Den rip and are super nice dudes. Also shout out to Drake in OKC for showing us a good time."
Denver's hardcore scene is one to keep an eye on as of late. Joey offers up his take on the current situation there:
"Aside from the lack of venues in Denver, the scene here is probably the strongest it's been in years. There's tons of bands going on that play pretty much every style of punk/hardcore. It's also cool to see a lot of support from the younger crowd. I think the fact that Denver is so far away from another major city makes people work harder to get recognition. That said, the scene could always be better. I'd like to see people who don't play in bands or book shows get more involved."
I push Joey for his favorite Denver hardcore band of the moment. "Cadaver Dog is easily the best band in the entire state, they are probably our favorite band to play with. If you haven't checked out their LP, do yourself a favor a grab a copy of it. I think they have the potential to really put Denver on the map. Herse is another sick band from here. I think they just recently started playing again, which is cool. It seems like their members are always playing in a cool band."
Now that Raw Breed are starting to play outside of Denver, I expect a ringing buzz around these dudes. "We're just hoping to continue to ride the momentum from touring and putting out a new tape. In the future we are working on releasing a 7" and doing some more touring on the coasts."
Hit up Raw Breed's Bandcamp page to pick up cassette copies of both their tour promo and demo.
Tagged: raw breed