Little Low hails from the Bay Area, formed by guitarist and vocalist Christine Atturio (Save Ends), drummer Mike Assatly (Spirits, BearTrap), guitarist Eric Pocock (Discourage), and bass player/vocalist Kris Moya (Jabber, Long Knives).
While we would attest Little Low sound something like a musical menagerie falling somewhere in-between Paramore, Weezer, and Cults, yes, their members have collectively played with punk/hardcore greats BearTrap, Discourage, and Long Knives. Originally started as a solo project in Boston by Atturio, Little Low released a self-titled EP of acoustic songs in 2020. After a move across the country in 2021 and missing the comradery of a full band, Atturio and Assatly asked Pocock and Moya to join and Little Low was born anew.
With each member bringing their unique set of musical chops to the table, Little Low melds together driving hardcore drums, sparkly emo guitars, melodic bass lines, and infectious hooks and harmonies from Atturio and Moya. The band's debut EP, Reasons to Grow, recorded at The Atomic Garden Recording Studio with Jack Shirley (Deafheaven, Gouge Away, Touché Amoré,) will be out later this month on Wiretap Records.
I was lucky enough to secure Christine, Mike, Eric, and Kris for a full-band interview on the making of Reasons to Grow. Check it out below, which has been lightly edited for general clarity.
Who are the various members of Little Low and what is each member's role within the grand scheme of the band?
Christine Atturio: I play guitar and sing, Kris [Moya] plays bass and sings, Eric [Pocock] is on guitar, and Mike [Assatly] is the drummer.
How long have each of you been part of Little Low?
Atturio: We've been a full-band since fall of 2021. I originally started Little Low in 2019 in Boston [Massachusetts]. My band, Save Ends, had been slowing down and I wanted to keep playing out in the area; so, I started a solo project in order to play more shows and have a place for some of the music I wrote that didn't fit the full-band setting.
I recorded an acoustic EP in 2020 with intentions of touring on it and moving the project forward, but, obviously, the world had other plans for that. In the end, though, it worked out great because Mike and I made the decision to move to The Bay Area and got to start the band with Eric and Kris!
Aside from or in addition to Little Low, which or your other projects might fans know you from previously?
Atturio: My main band is Save Ends. We started in 2009 in Holliston, Massachusetts. We've released two LPs, a few EPs, and a split with No Trigger in 2022.
Eric Pocock: Discourage.
Kris Moya: Jabber, Long Knives, Dead Ringer, [and] Coherence.
Mike Assatly: BearTrap, Crescent Ridge, [and] Hellish Inferno.
What can you tell us about the writing, creation, production, recording, etc. processes behind the Reasons to Grow EP?
Atturio: During the Lockdown days when I was still living in Massachusetts, I started to demo full-band songs using GargeBand. The GarageBand drummer, "Kyle," became my best writing pal! It was when I really started to realize how much I wanted to go in a full-band direction again, instead of just acoustic songs. When we started the band in the fall of 2021, we kicked practicing off with some of those GarageBand demos ("Move On," "I Am Not," and "Dream Dog") to get the ball rolling.
Kris took the songs and added dual vocal ideas. Their vocal work is really top-notch and added such a cool dynamic that we're going to be building on for future songs. I, also, had a bunch of half-written songs and ideas, which I sent over to Eric to pick through. "How Hard I've Worked," for example, was, maybe, a one-minute snippet of a song that Eric helped to structure and flesh out. "Whole" was just a verse and a chorus I had started; I always knew the song would be about the loss of my sister in 2005, but had been putting off writing the lyrics for years until we decided to make it a Little Low song.
We demo'ed the EP in our practice space with our friend, Matt Tyler [Discourage, Tuning,] to get preliminary sounds down and then booked time with Jack Shirley at [The] Atomic Garden [Recording Studio]. We did the whole thing live to tape in just two and a half days. I, personally, had never gotten the chance to record that way and loved how it captures the band's true form!
How would you say Reasons to Grow differs sonically from your last release, the Little Low Acoustic EP?
Atturio: The Acoustic EP is just me and a guitar! So, Reasons to Grow is a whole new ballgame. Kris and I started a dual vocal thing, too, which has really enhanced the sound of Little Low
Who or what would you readily cite as some of your primary sources of inspiration and influence while making Reasons to Grow?
Atturio: [The] Get Up Kids and The Anniversary will always be my main sources of inspiration because I listened to them so much growing up that both are ingrained in my song-writing.
Pocock: From a sonic/tone perspective, I really love Title Fight, Sincere Engineer (shout-out Reverend Guitars,) and Citizen.
Moya: When I first heard these demo songs, I heard a lot of potential of what could be done with them. I heard emo, pop-punk, power pop, and pop influences and was excited because these are all of my favorite genres of music. Instrumentally, I'd say I leaned more towards being inspired by The Get Up Kids, The Muffs, Jimmy Eat World, and Jawbreaker. Vocally, I tried to channel that dog., Letters to Cleo, Dashboard Confessional, Fleetwood Mac, and ABBA.
Assatly: My friend, Richard, once said, "damn, Mike can't not play drums like he's in a hardcore band…" so, that and Jimmy Eat World/The Get Up Kids.
In addition to yourselves, who else contributed to the Reasons to Grow EP; either on the musical, production, engineering, etc. or artistic end of the spectrum?
Pocock: When we recorded with Jack at The Atomic Garden, I knew I had a guitar tone in mind, but I didn't have the right gear to make it happen. I, basically, described what I wanted and what amp I thought would work for it and Jack set me up with this beautiful custom [Vox] AC30 that really brought out the sparkle and response that I was looking for. I love how the guitars sound on the EP and Jack is a big reason why.
Do you have any current plans to music videos to accomplish Reasons to Grow? If so, can you reveal any tidbits of information about the concepts behind them?
Atturio: We did a music video for our second single, "How Hard I've Worked." The concept is that no one likes band practice (except me, apparently,) so, we blow it off to go have fun together instead!
Without speaking on behalf of the artist themself, what can you tell us about the collage-style artwork for the EP's first single, "I Am Not?"
Atturio: The artwork for our releases was done by a Boston artist and friend, Lauren Ruggiero (@verythinslice on Instagram) I've always admired the intricacies of Lauren's collages and loved her unique style. I gave her the lyrics and some general direction and let her do her thing. Check out her work because it's really impressive!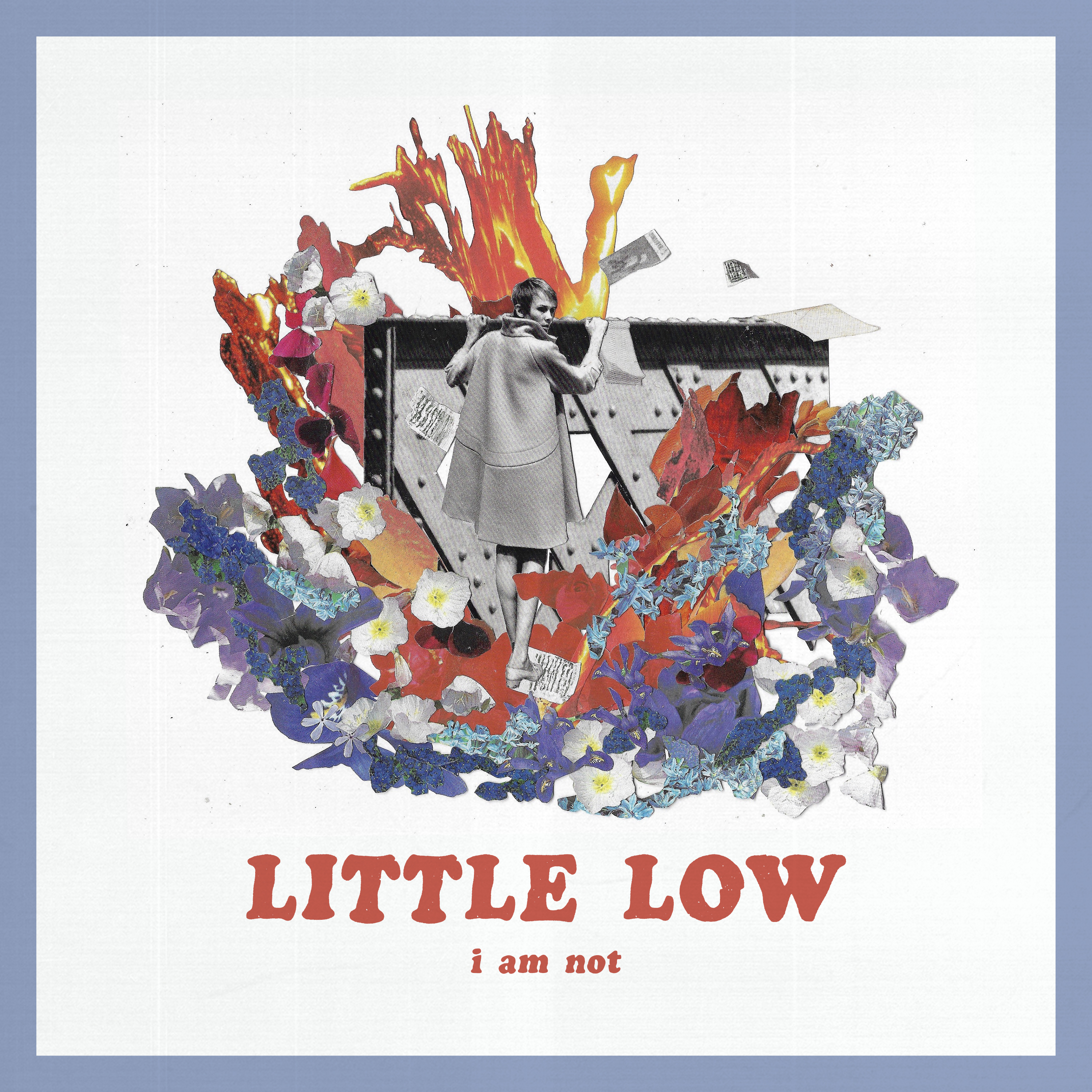 How did you guys link up, sign with, and ultimately partner with Wiretap Records?
Assatly: I had been checking out what labels' current artists I liked were working with and hit a few of them up with the EP to see if they [were] interested. Things clicked best with Rob [Castellon]/Wiretap and here we are today!
How would you say your time spent playing with your past/current bands helped make Reasons to Grow a more well-balanced, cohesive, and diverse-sounding project overall?
Assatly: I think that, honestly, we all have been in so many bands or been in bands so long that we all knew how to collaborate and not waste each other's time! The other three are really phenomenal at picking up new material and writing, so it's much easier than having to re-teach the same song over and over again! We all do our homework before practice [laughs].
What's planned next for Little Low?
Atturio: We've started writing more songs for a future LP and we're playing Attention! Fest in LA in October that we're really looking forward to! Wiretap Records started The Fest a few years ago and it's coming back this year. So, we're honored to be a part of it, plus, it will be our first show out of The Bay and know it'll be an awesome time.
***
Reasons to Grow will be out on October 21st via Wiretap Records.
Hit the Little Low Linktree to see all of their social media pages.
***
Help Support What No Echo Does via Patreon:
***
Tagged: little low