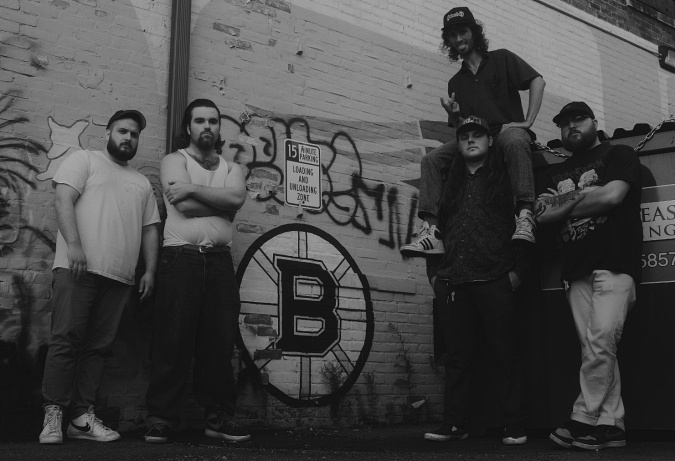 My friend Jim hit me up earlier this week to let me know his band, Burning Lord, had just released their debut demo. In fact, I had already added them to the '2021Hardcore Releases' Spotify playlist I keep updating throughout the year, but I didn't know Jim was in the Boston-based group.
"Burning Lord was a product of the free time the COVID lockdown provided and the joint acquisition of a Tascam 4-track," vocalist Matt told me via email, after Jim connected us. "[Bassist] Owen came up with the initial riffs and ideas. Naturally the always down [guitarist] Doug and [drummer] Booj jumped in. After the demo was recorded Jim Dee decided to bravely join the fight on second guitar. It all came together like a fine Italian sub," said the singer.
"We are musically influenced by New Breed-era/early '90s NYHC, and to a lesser extent, their Boston contemporaries, a la B'zrker, Wrecking Crew, etc. Plus, modern outfits like Skourge and Diztort.
"To make the tunes sound just how we like them we recorded it at the our practice space ourselves. DJ Doug put major work into learning the Tascam and made it happen." Heard below, the 5-song Burning Lord demo is a mean-sounding collection:
No Echo readers know how important I think it is for bands we cover to share some shine with other acts from their local scene, so Matt said the following: "Shoutout to Final Gasp, C4, Chaos Cross, Restraining Order, Vantage Point, Wound Man, the yout' champions Bullet Proof Backpack, hopefully Wanted puts out some shit, and there's plenty more in the works, I'm sure. Shoutout to Worn and their new LP, Human Work.
"Seeing a lot more youth at gigs, especially now, is a really good thing, because I'm sick of old people."
The Burning Lord demo is available on cassette via Tribe Dream Records.
Upcoming Burning Lord shows:
September 6th - Everett, MA @ Banshee Den (w/ Big Laugh, Hotline TNT, Subliminal Excess, & Crescent Ridge)
October 16th: - Cambridge, MA @ Hardcore Stadium (w/ Crown of Thornz, C4, Maniac, Chaos Cross, & Bulletproof Backpack)
***
Help Support What No Echo Does via Patreon:
***
Tagged: burning lord