Houston's own leftist Oi! heavy hitters Liberty & Justice (previously covered by No Echo) have a brand new music video out for their track "Halfway Home." The song is a driving, emotional anthem that hooks you with a haunting operatic intro and doesn't let go until the very end when you're met with the closing imagery of a rising mushroom cloud.
Through the course of infectious riffs over an undeniably head-bobbing rhythm section, vocalist Ryan Taylor's raw vocal stylings spout even more raw subject matter that anyone raised in this country will be able to relate recognize and relate to.
I was able to sit down with Ryan and talk about the music video.
Tell me a bit about this track.
This is the intro/first track on our sophomore full length, Pressure, which was released last year. We just got the second pressing in with slightly different colored cover art, and we'd always wanted to do a video for this song, so we figured this was the perfect excuse.

What was the lyrical inspiration for the song, and how did that inform the video's imagery?
There's this tired adage that goes something like, "the older you get the more conservative you get" or better yet "the older you get the more complacent you get," and that couldn't be further from my truth.
As I've taken the twists and turns throughout this political landscape over the past decade or so - with a wife, kids, and a small business -it's further radicalized my walk in this world and the song is a sort of letter of reckoning to myself.
I had a conversation with an old friend from the hardcore/punk scene who has since moved on to play more agreeable fun-loving music, and he was asking me why I still do this, and my answer was that I think it's sort of an ever-evolving process… there are peaks and valleys, but throughout all the bands, shows, records, zines, pamphlets, organizing, I still haven't run out of things to yell at or about, [whether it's] introspective, emotional, political, social or otherwise.
I still find myself an alien in a sea of passivity, in crowds of red and blue, of ketamine therapy, of marijuana maintenance, of "if we could just get this party in office there would be utopia" and I can't help but feel the collective boot is on a good chunk of us. We're all being played the fool and finding ways to escape, instead of [taking] direct reaction.
Halston (guitarist) ties it all together with this French oi! inspired riff, and my friend Heather did the "Ode to Joy" intro. We had our friend Lenora (an R&B singer here [in Houston] who works with Halston) start the video off. Then Dwayne (director) takes us on a ride of growing up with the direct influence of Western propaganda.
[A ride] of Fox, CNN, MSNBC, and the like determining what we take in, [a] ride of corporate interest determining what we do with our bodies, how we ingest information, and how [we] interact. It's the story of from birth to old age, of taking in the daily trauma, becoming radicalized, then becoming desensitized, then becoming hopeful again. Birth death birth repeat. 

What has Liberty & Justice been up to lately and what are your plans for the immediate future?
We just got back from an insanely fun Texas run with Concrete Elite, Bullshit Detector, and Violent Way; and we're headed out to California next weekend to do a string of [more] shows with Violent Way. A couple those (LA and The Bay) are with Yellow Stitches and Skinhead, really looking forward to that.
We play Houston at the end of the month with Fucked Up, [and] we finished recording a few months ago for a split 12-inch with the homies Empire Down. Hoping for an early 2023 release on that.
Other than that, just recording this next batch of songs we have before hopefully (fingers crossed) heading out to Europe next year!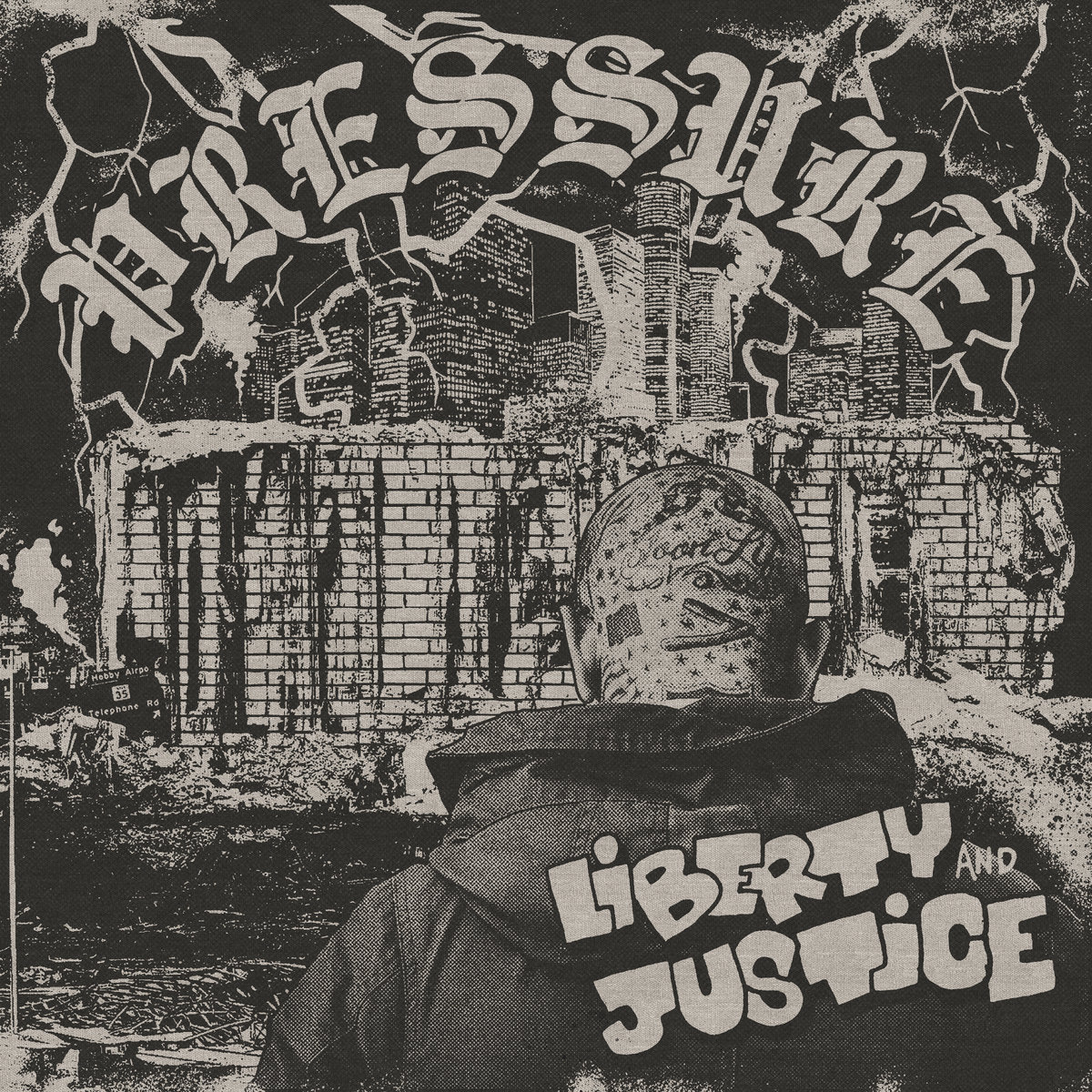 Well, I want to thank you for your time, and is there anything else that you'd like to add?

Listen to more Life Force! [laughs]
Our sophomore full length, Pressure, can be found in the States (Cold Cuts Merch | RevHQ), and in Europe at Contra Records.
Thanks, Flint!
***
Liberty & Justice on social media: Bandcamp | Instagram
***
Help Support What No Echo Does via Patreon:
***
Tagged: liberty and justice