It takes about one second of them playing, absolute maximum, for you to know from the pit that this Horsewhip show is about to be lit. At least that's how I felt about it when I stumbled across them at Tampa's Crowbar.
Horsewhip is Mike Grantham on vocals, Shaun Drees on guitar and vocals, Alex Bond on drums, and Jeff Howe on bass. A group of seasoned musicians, the crew has plenty of street cred with a longstanding history in the scene. This experience is unmistakable in their music.
The band defines themselves as being on "the heavier side of hardcore, noise and chaotic," which I find an apt description. I'm also reminded of classic metal, a sound of which I'm fond.
Hailing from St. Pete, the band plays regular shows in the Bay Area. Contributing their unique blend of heaviness to a region that must have something good in the water.
Heavy and grinding riffs coupled with beastly and brassy drums brutalize the listener. Made somehow more fierce by lyrics screamed in hellish strands, audiences are pleasantly pinioned, suddenly submissive. Both punishing and melodic, Horsewhip is quite the treat.
Having just finished a "brutal weekend of recording" for their upcoming LP, fans can expect new music soon. Additionally, with "big plans for 2020," we find ourselves in the blessed position of also being able to anticipate upcoming shows.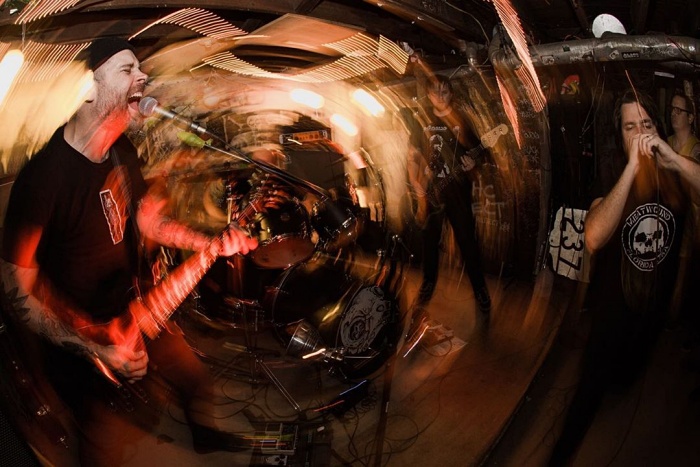 With a stage presence that is calculated and practiced, the quad's performances are as mesmerizing as they are intense.
If you do find yourself available on the night of a Horsewhip gig, don't make the foolish mistake of passing it up. Likely to be performing amongst a noteworthy lineup with bands like Big Business, Gouge Away, and Jerome's Dream, it's unlikely the night would be anything less than sublime.
If you can't wait to see them live, their music is available on vinyl via Dead Tank Records, and digital through Bandcamp and Spotify. For information on upcoming shows and updates on the band, follow their Facebook or Instagram pages.
If you do make it out, tell them Bateman sent you, and enjoy yourself one hell of a set.
***
Donate a few bucks to help with No Echo's operating costs:
Tagged: horsewhip