We covered FAIM for the first time on No Echo back in 2018 around the time of the band's excellent self-titled 7". In the time since then, it feels like the Denver-based hardcore outfit has found quite a following. "Things have been a whirlwind since the release of our 7"," vocalist Kat tells No Echo. "We put out a split 7" with Discourage and Lift, toured the US a few times, and Europe last summer – including Fluff Fest and one of the Have Heart reunions. We were also lucky enough to play a few shows with our friends in Defeater and Modern Life is War.
"Two of us have also moved out of Colorado – to Tacoma and Albuquerque, which has had us do a lot of stuff long distance and in intense spurts when we can all be together. However, there has been a lot of momentum built up behind this band, and we're grateful for the support from so many people.
"This band is more than we expected when we started it, but we love it. We are able to get our message out to so many and remind others of the importance of using hardcore as a platform to create social change."
Another big development in FAIM's affairs is the new partnership they've forged with both Safe Inside Records (Dying for It, Rejection Pact) and Version City Blues (Touch, Rained In). The labels will be partnering to release FAIM's forthcoming debut album, and guitarist Chris fills us in on the details: "After our 7", we hadn't really thought about what we wanted to do next, or with who. We had a few people expressing interest in putting something else out by us, and one of them was Safe Inside. All it took was an hour long phone call to realize that Safe Inside is the label we should work with – we share the same ethos and vision and we love all the bands they've been putting out. Safe Inside just feels like a place where we belong.
"Version City Blues is Derek from Defeater's (mostly tape) label. After we played with Defeater, he approached us about putting out a tape of our previously released material – most of which is currently out of print. That tape (Kill the Abuser Inside Your Head), will be released in April for our East Coast tour with Brother. After hearing us play some of the new songs from the LP, he expressed interest in putting that out on cassette. We are all very excited for that too, as Derek has become super supportive of us."
Since we're on the subject, what can we expect from the FAIM album? "The album is a lot darker, heavier, dynamic and more thoughtful than the 7". Overall, we would describe it as tense – both musically and lyrically. We're recording with Jack Shirley in Oakland (Deafheaven, Oathbreaker) and can't wait for it."
Even though they've had two members move out of Colorado, FAIM was birthed out of the Denver hardcore community, a region killing it as of late. Kat's definitely proud of their scene: "The Denver hardcore scene might be one of the best hardcore scenes in the country right now. There are so many bands, so many kids going to shows, and so much enthusiasm for all styles of hardcore. There is a show at least once a week, and no one takes the scene for granted. We love playing shows in Denver, and it's so fun to be part of a scene that cares so much about it's local bands.
"There are so many different styles of hardcore happening. You should check out Raw Breed, Goon, and Tuck Knee, just to name a couple."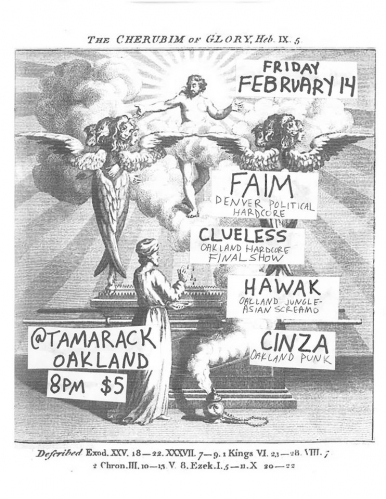 Stay tuned to the site as we'll certainly be covering FAIM once they have their album ready to roll. Also, if you're in the Oakland area, they're playing a show tonight (Valentine's Day) with Clueless (final show), Hawak, and Cinza at Tamarack, starting at 8PM (flyer above).
FAIM tour dates w/ Brother:
4/4 – Providence, RI @ AS220
4/5 – New York, New York @ Planet X
4/6 – Philadelphia, PA @ TBA
4/7 – Montclair, NJ @ The Meat Locker
4/8 – Washington DC @ Atlas Brew Works
4/9 – Lancaster, PA @ Lizard Lounge
4/10 – West Hartford, CT @ Joe's Garage
4/11 – Boston, MA @ The Democracy Center
***
Donate a few bucks to help with No Echo's operating costs:
Tagged: faim