Upon listening to It's What We Live For, the impending EP by Kings Never Die, had me reflecting on a line from a favorite author. V.E. Schwab's A Conjuring of Light not so famously posits, "Kings need not raise their voices to be heard."
Clearly, these bruisers didn't get the memo. Composed of literal music royalty, the band members boast a collective resume that includes Murphy's Law, Mucky Pup, Dog Eat Dog, Stigma, Subzero, Son of Skam, and more, all while splitting time between New York and the Garden State.
Having first been hipped to the group via No Echo's fearless leader back in 2019, they were one of countless victims of timing, as their debut EP, Raise a Glass, was birthed as the world was shutting down. I suppose the glass in question was ultimately raised to inadvertently toast the death of normalcy.
Kings Never Die fittingly refused to be silenced by a shutdown and took their unfettered passion back into the studio, following the aformentioned debut EP with the sterling It's What We Live For.
Handled by the inimitable Upstate Records, they're dead set on establishing themselves outside of their high-profile DNA. The merits herein should be more than enough to do just that. Should you need a cosign far more influential than mine, look no further than "Raise a Glass," a rousing and anthemic slice of hardcore punk featuring a Vinnie Stigma chorus and the unique talents of one Mike Gallo.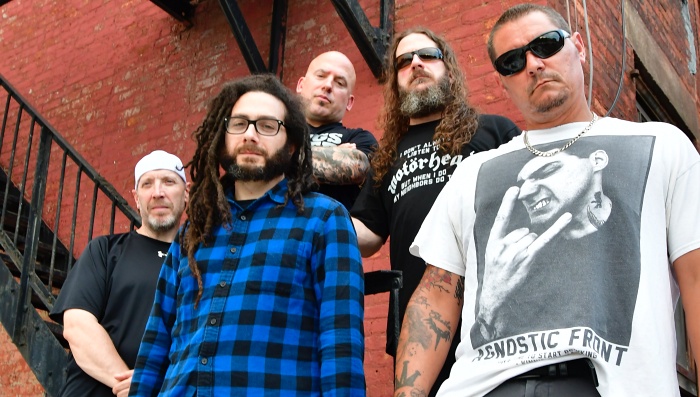 Though it appeared on their debut, the track returns here, but presented with an added sheen to balance the grit. The band didn't stop at the Agnostic Front luminaries, either, as "We Got Tonight to Fight" enlists the pit-ready embodiment of NYHC... Ratbones, who likely graces a significant portion of classic photos you've come across.
True to form, the band calls to mind classic NYHC and all things breakdown-baiting, but they manage to incorporate a great deal more. Not only am I catching bigtime Wisdom In Chains vibes, they manage to add a dash of Oi!, street punk, and mid-paced melodicism that recalls Epitaph-era Agnostic Front, Sick of It All's second act, and Blood for Blood's punk primitivism.
Far afield from bog standard hardcore, the band sneaks in sneering and sardonic vocal lines, cavernous and huge-sounding production, and an endless supply of whoa's bolstering the already fearsome gang vocals.
"Pure Gold" is, apart from a total rager, a touching tribute to guitarist and songwriter Dan Nastasi's father, who was sadly lost to COVID-19 in the fall. It rides in on a triumphant and speeding wave, finding its stride in the more punk-leaning end of early US hardcore.
I can think of few better ways to be memorialized than such a stirring and resilient hardcore punk anthem. As pugilistic as it presents, the silver lining of the track is its exposed and world-weary heart.
Elsewhere, "Minor Threats" showcases wailing solos and divebombs littered across a nihilistic hardcore punk banger. Other than the classic backward glance of the song title, there's a hint of Motörhead in both the rhythms and the unflagging bad luck attitude. Ripping stuff.
Lead single "It's What We Live For" sports not one but two of heavy music's best drum thumpers. John Milnes and Steve Gallo helped invigorate the proceedings on this track, both exploring the rumbling template with their rhythmic prowess.
The upcoming full-length record (see? Told you they were busy!) is slated to have Biohazard heavyweight Danny Schuler stand sentinel behind the kit. This sub 2-minute rager swings wildly between 4/4 bruising and wailing guitar solos tucked wisely lower in the mix, belying a band that could likely keep time with noted thrashers, and likely inspiration, Anthrax.
"We Got to Fight Tonight" revels in mid-paced menace, starting like a two-step stomper. While it paces anxiously back and forth, the listener waits for the speedup. Kings Never Die, though, subvert expectation and keep things at a reduced cadence. They again flash noticeable and significant chops, tossing in a rad dovetailing thrash riff.
Ultimately, the tempo plays like a springboard into the restless energy of the bass-heavy attack on display in "Never Know What You Might Find." This is hypermelodic yet undeniably tough hardcore.
The band's tradeoff vocals are employed to a superlative degree here, as the aformentioned Ratbones turns in a wicked performance that pairs the gritty Oi! inflections with a more manic and antagonistic register. Deftly alternating speeds, there's a groove-laden chug that expertly bridges the song's faster bookends.
Some kings deserve to raise their voices. Listen when they're talking to ya.
Get It
Tagged: kings never die