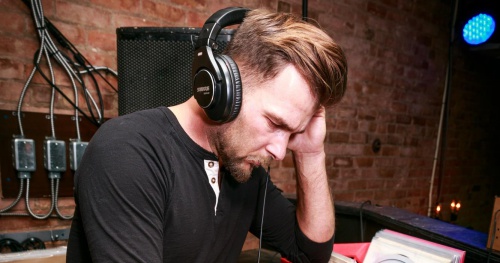 Any fellow KISS fanatic is a friend for life. That's why I like Kyle Bishop. The Canadian musician has been a member of Grade, Acrid, The Black Maria, and Swarm throughout his career, and he's always been vocal about his diverse listening habits.
Since he's recently started an Instagram page (Vinyl Vortex) dedicated to showing off his growing music collection, I figured he would be down to be part of the site's Record Collector series.
How long have you been collecting records?

The first record that was my personal choice was in 1979, and it was KISS' Dynasty. My Grandparents bought it and a Star Trek record for Christmas, along with a Mickey Mouse record player, where his hand was the arm and needle. I remember buying singles like Devo's "Whip It"/"Freedom of Choice," Eddie Grant's "Electric Avenue," and Thomas Dolby's "She Blinding Me With Science," and Van Halen. Before that, my uncle—who is only eight years older than me—gave me a stack of records with Pink Floyd, the Monks, and the Sex Pistols in it, and along the way my father's Stones, Animals, Deep Purple, and Zeppelin LPs found their way into my room. But that wasn't collecting, it wasn't until a few years later when I heard Black Sabbath and I had to own everything. Then Iron Maiden made its way into my life and the endless releases of singles, LPs, 12"s, and merchandise captured me. I've always bought stuff because I liked it, not because it was rare or valuable, rather because it was accessible or interesting. Records were what I grew up with and I can be a Luddite at times. Somewhere cassettes captured my interest, more for the convenience of portability, the invention of ghetto blasters and the easiness of stealing them from the local Zellers department store or from cars. Judas Priest LPs didn't fit well into my skin-tight skid jeans.
I'm not quite sure if collecting records is what I do. Typically, I don't acquire multiple copies, pressings or variations unless by accident, or if upgrading to a cleaner copy or better pressing. I grab it for the music and art. I do prefer an original pressing, but if a boot or repress is all I can find, then so be it. Realistically, I've been collecting for a few years but have been buying endless amounts of records for 35 years.
Where/how do you usually find your records?
I like to dig. The tactility of flipping and not knowing what's next is fun to me, along with the personalities of the people that own the shops, booths or collections you get into. Their knowledge and experiences are an asset and their friendships are valued. I did have the luxury of touring around the world for a long time, having access to many great stores and scored so many records. Too bad I had so little had money while being in a band. Now that the road is not my life, there are an incredible amount of places to dig between Hamilton and Toronto. Rotate This! Faith/Void, Parkdale Platters, Hammer City Records, Crash Landing, and Speed City are my favorites, but the shops seem to be endless around here. I really miss the Record Peddler in Toronto, Home of the Hits in Buffalo and Shattered in Cleveland.
Up until a few years ago I never purchased anything from eBay or Discogs, until I realized that there are a few things I would never find in the wild. Its not part of my routine and rarely do it because shipping and exchange is insane and supporting the locals is important to me.
What is the most you paid for a single album, where/how did you obtain it, and what was it?
I paid $500 for a pair of Minor Threat 7"s a few years back from a vendor I met at a record show that bought a crazy collection off a kid, who's father died. That popped my cherry for letting go and paying strong money for a record. The 7"s were mint, never played. I passed on them when they were $50 because I thought that was crazy, then they became $100 and thought, fuck that - then they still rose in value and I figured I better grab them before it gets really stupid. Its dangerous letting your limits disappear and have since emptied my pockets many times.
What is your most prized record and why?
It changes from day to day, whatever makes me feel good. It could be a Billy Squier single or a Big Mama Thornton lp. A $2.00 7" with a killer track on it is just as important as a $1000 KBD single. fter many years of searching, I finally found another copy of KISS' Dynasty with the poster still in it. My original is beat to shit and the poster I cut in half and put on my closet was destroyed by my brother. It's only a $10 LP but it makes me very happy.
Is there anything that frustrates you about the whole record collecting scene?
It's no different than anything else, the seller wants top dollar and the buyer wants it cheap. As long as people are fair, that's cool with me.
Which albums are still on your want list that you've had a tough time tracking down through the years?
The list is endless. I would like a Cheap Trick "Southern Girls" 7", anyone holding?
***
Follow Kyle's record collector Instagram page and you know what to do if you have that Cheap Trick single!
Tagged: acrid, grade, record collector, the black maria, the swarm