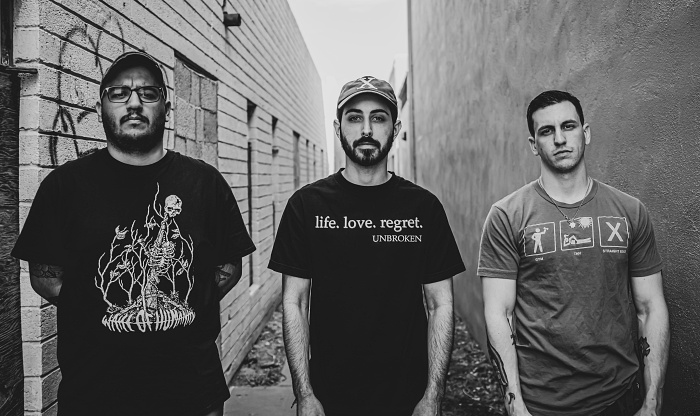 When Eric Pocock of Wide Eyed Noise Records emailed me about a new band he was working with, the following got my attention right away: "FFO: Go It Alone, Strife, Have Heart."
Once I checked out Civilian Mind's Buried in Memories demo, I heard what Eric was talking about. Featuring current and former members of Pointbreak, Ritual Decay, and Blank Look, the Mesa, Arizona-based trio rocks a strain of hardcore that is definitely in the spirit of the aforementioned bands.
"Civilian Mind was started in late 2020 as a result of the pandemic putting the whole world on hold," says vocalist Martin Miramontes. "Bryan [Greenberg] is Front of House/Tour Manager for Fit for a King, and with them unable to tour, he had some extra time on his hands to write some music. I had bugged him about doing a straight edge band with me since Pointbreak was on a brief hiatus due to member changes.
"I have a lot of emotions to let out and figured Civilian Mind would be another source for me to cry and complain about those feelings. Shortly after recording, Ryan [Walkney] joined on bass and we partnered with Wide Eyed Noise to release this demo."

Martin said the following about the material on the Civilian Mind demo: "Lyrically, I wanted to talk about the effects of abuse in the household. Growing up and reflecting on my own childhood experiences, it's taken a lot of work to recognize patterns in my behavior, and make the changes needed to better myself and my loved ones.
"Sometimes we can't help but see our demons reflected in the mirror, but we can still choose how we react and control them."
Wide Eyed Noise Records will be releasing the Buried in Memories demo on cassette (limited to 50 tapes, 25 on red tint and 25 on solid yellow) at this link starting at 12pm ET today (February 19th).
Civilian Mind on social media: Facebook | Instagram | Bandcamp
***
No Echo has launched a Patreon with 3 tiers offering all kinds of hardcore-related goodies to help support the site:
***
Tagged: civilian mind