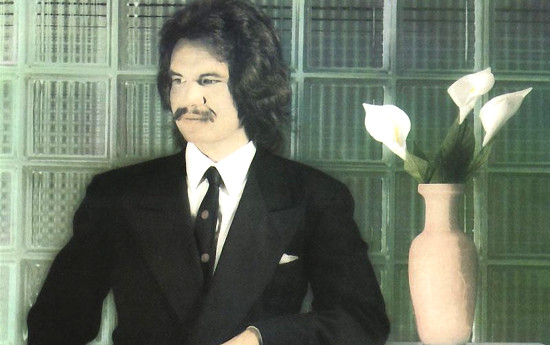 Before I get started here, I want to make something clear: I'm an Atheist.
Secondly, I used the "yacht rock" genre description in the headline, and in the body of this post, but I'm fully aware that it's a term some people use to goof on the sound, much like some critics use the "hair metal" tag to deride '80s hard rock. When I use it, the term "yacht rock" is just an umbrella for any style of soft rock and Westcoast AOR. You know, artists like Michael McDonald, Gino Vannelli and Toto.
With that out of the way, let's move on to this whole Christian yacht rock thing. With soft rock at an all-time commercial high in the early '80s, Christian record labels like Word Records and Myrrh Records started signing artists of the smooth variety. Some of the records, lyrically speaking, were steeped in the gospel tradition one would expect from a musician on the roster of a Christian label, but that wasn't always the case.
Often, many of the Christian music albums released during this period featured many lyrically secular tracks. Many times, even in the songs that did feature religious themes, the message wasn't heavy-handed.
I know what most of you are thinking: "Why would anyone who is an Atheist listen to Christian music of any kind?"
The answer is really simple. Just like when I listen to any heavy metal band that identifies itself as Satanic, I don't pay mind to their lyrics. Well, what I mean is, I don't have to buy into someone's religious beliefs to enjoy their music. So, if it's Dark Funeral spouting off about the benefits of the "black arts," or Stryper telling me how we're all "soldiers under God's command," I just let the music do the talking, and look past the lyrics.
I've put together a list of Christian yacht rock artists below any fan of the smooth stuff should check out, regardless of their religious beliefs (or non-beliefs).
Steve Archer
First finding success in the '70s as a member of The Archers, singer Steve Archer has gone on to release a slew of solo releases since the early '80s. "I'll Do My Best" comes off his 1983 Through His Eyes album and sounds like it was lifted from one of those soft rock compilations they sell on late night television.
Bruce Hibbard
After several songs off his first album, 1977's A Light Within, were recorded by other artists, singer-songwriter, Bruce Hibbard, landed a deal with Christian music powerhouse, Word Records. For his 1980 sophomore album, Never Turnin' Back, HIbbard joined forces with Hadley Hockensmith, a musician who was once a member of Koinonia, a '70s jazz fusion band that also featured Dean Parks, one of the most sought after guitarists in the studio session world. The light rock, R&B-tinged songs on Never Turnin' Back bring to mind the work of Pages, the group Richard Page and Steve George were in before they struck commerical gold with Mr. Mister in the '80s. In the years after releasing the album, Hibbard found success as a songwriter, penning material for CCM (contemporary Christian music) stars such as Amy Grant and Jaci Velasquez.
David Pack
By the time David Pack recorded his debut solo album for Warner Bros., 1984's Anywhere You Go, he had already established his place in yacht rock history as the frontman of Ambrosia, the soft rock greats behind such radio smashes as "Biggest Part of Me" and "How Much I Feel." Anywhere You Go is a liner junkie's wet dream, with names like Paulinho Da Costa, Stanley Clarke and Jeff Porcaro showing up in the session credits. Michael McDonald and James Ingram also lend their vocal and songwriting talents on the album, making Anywhere You Go a must-own for any fan of the era.​
Roby Duke
Roby Duke's 1984 album, Come Let Us Reason, is a tough record to find, but that's what YouTube is for. Richard Page and Steve George of Mr. Mister (I see a pattern!) join other soft rock/light jazz renegades like bassist John Patitucci and drummer Bob Wilson, on the album.
Sweet Comfort Band
Hailing from Riverside, California, Sweet Comfort Band's original run from 1974 - 1984 yielded six albums. With tight vocal harmonies reminiscent of the Eagles and Little River Band, the group had a bit of a country rock feel to their musical approach, but their material was rooted more in the poppier, adult contemporary sound that dominated radio in the early '80s.
Russ Taff
Do you love Toto? How about the first two Christopher Cross albums? If the answer is yes to either of those two questions, then you need to find a copy of Russ Taff's Walls of Glass album from 1983. Nathan East, Robbie Buchanan, James Newton Howard, and Frankie Previte are just a few of the session musicians who supported Taft on the album. He might not have known it at the time, but the Christian singer was making a yacht rock (semi) classic with Walls of Glass.
Rick Riso
Like Frankie Bleu, I know next to nothing about Rick Riso. That said, I couldn't have left him off this list. "Gotta Have the Real Thing," the title track to his 1985 debut album, is a funky little jam that reminds me of Al Jarreau and Ray Parker, Jr. But I have to say, Riso's jacking of the Coca-Cola logo and color scheme on the album's cover art seems a bit unChristian.
Jim Schmidt
The mere fact that two dudes from Mr. Mister (Richard Page, Steve George) appear on his 1983 Somethin' Right album is more than enough reason for me to give Jim Schmidt a thumbs up. Schmidt might look like an extra from Joanie Love Chachi on the cover of Somethin' Right, but anyone who's hung in the studio with the guys behind "Kyrie" and "Hunters of the Night" is A-OK in my book (no, not that book).
Chris Christian
A Christian pop artist named Chris Christian? You can't make this stuff up! Released on Boardwalk Records—a label founded by late Casablanca Records (KISS, Donna Summer) head honcho, Neil Bogart, Chris Christian's eponymous 1981 album was produced by Bob Gaudio, a former member of the Four Seasons. A soft, soft rock record, Chris Christian features session work from Dan Huff (Giant), Tommy Funderburk and Amy Holland, among other musicians. Christian has enjoyed a successful career as a songwriter and producer, working with names like Natalie Cole, B.J. Thomas and Olivia-Newton John.